Banana Facts
Banana facts and general information about bananas.
Kids Cooking Activities Teaching Materials
Make teaching easier with our activities and recipes compiled in theme sets and books with an easy to read format
Perfect for teaching!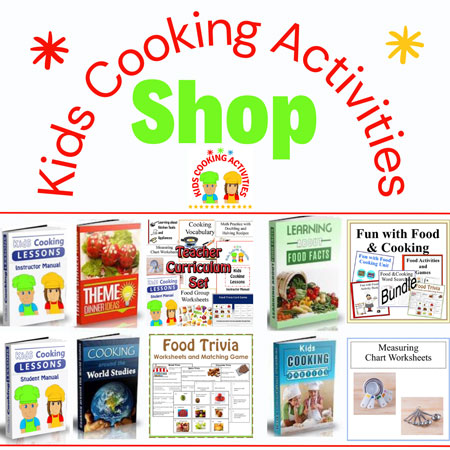 ~This post may contain affiliate links and I'll earn a small commission if you shop through them. There is no extra cost to you. This is how we help support our family and continue to bring you amazing content. To learn more see the
affiliates disclosure here.
~
Bananas are Available:
Bananas are available year round.
How do Bananas Grow:
Bananas grow on a giant plant that looks like a tree but it is not a tree. The plant flowers and as each leaf of the bud opens it reveals a double row of flowers. These flowers become individual bananas. Each row has 15 or more fingers (bananas) and that makes up a "hand." Each stem develops 7-10 hands of bananas. They are picked when they are green and shipped all over the world.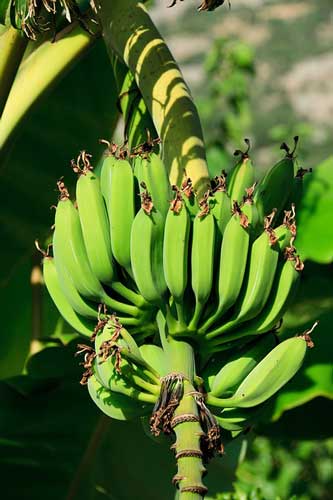 What to Look for When Buying Bananas:
Pick bright yellow bananas without bruises. Some people prefer their bananas greener than others and some darker so it is a matter of preference. Darker and brown bananas make the best banana bread.
Banana Facts-Storage Tips:
Store bananas on the counter.
How to Cook Bananas:
Eat as is. They can also be grilled and baked. You can freeze bananas if they are overripe. Freeze whole and use for breads or muffins when baking.
Banana Nutrition Facts:
Bananas are a great source of potassium. They are also high in Vitamin C and fiber. They are good for digestion and help reduce the risk of cancers as well.
Banana Recipes:
Banana Bread
1 -1/2 Cups sugar
3/4 Cup shortening
4 eggs
4 mashed bananas
½ teaspoon soda
3 ½ Cup flour
1 teaspoon salt
1 teaspoon vanilla
1 Cup walnuts (optional)
Mash bananas and add soda. In a separate bowl cream sugar, shortening, add eggs 1 at a time, add salt, and vanilla. Then flour. Stir in banana mixture and fold in nuts. Pour into 2 greased loaf pans. Bake in the oven at 350 degrees for 40-45 minutes or until toothpick inserted into middle comes out clean.
Banana Wrap
Banana
Whole wheat bread
peanut butter
Roll bread flat with a rolling pin. Spread with peanut butter and place peeled whole banana on top of peanut butter. Roll up and eat as is or cut into chunks.
More banana wrap recipes here.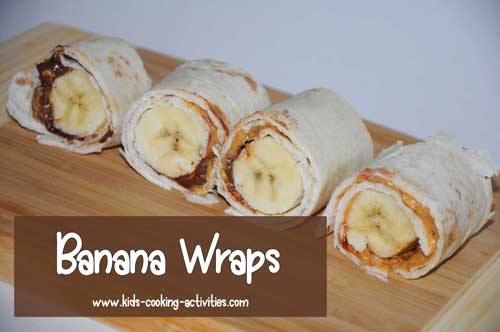 Banana Smoothie
Banana Hotdog
by Juno
1 banana
1 hotdog bun
Peanut butter
Chocolate chips
Spread peanut butter on hotdog bun. Place peeled banana on bun. Spread more peanut butter on top. Top with chocolate chips.
Banana Simple Dessert
by Patricia gaspar (Philippines, cabuyao)
Ingredients:
bananas
1 or 2 nestle cream
1 or 2 condensed milk
toothpicks
1. Cut the bananas to little circles.
2. Mix the nestle cream and condensed milk in a bowl.
3. Place the bananas as much as you want in a presentable plate.
4. Spread the the mixed sauce into the bananas.
5. Put the toothpicks into the presented bananas.
6. Enjoy!!
Banana Chips
If you have been looking for a healthy snack that is easy to prepare ahead of time, why not make some banana chips? You can buy these in bags at the store, but they often contain preservatives in order to keep them fresh. You can reduce the additives and save money by making them yourself.
The important thing to keep in mind is that you need to use raw or barely ripe bananas so they aren't too mushy. Slice the bananas into thin slices and coat them with salt and any seasonings you want to use. Add some olive oil to the chips and place them in the air fryer basket for about 15 minutes.
Learn more about using an Air Fryer.
Strawberry banana smoothie
by Amber McClanahan
Ingredients:
1 banana
5 or 6 strawberries
1 cup your favorite flavored yogurt
Put the banana, the strawberries and the yogurt in the blender. Then mix them together and then you have a strawberry banana smoothie.
Kids Cooking Video: Banana Bread with Dates and Walnuts
Banana Cooking Ideas
Share your recipes.
Share your food facts and recipes
Do you have a food facts or recipe to share?
---
Related Food Facts Pages:
~
Apple
, ~
Apricot
, ~
Avocado
, ~
Banana
, ~
Berry
, ~
Cherry
, ~
Coconut
, ~
Cranberry
, ~
Dates
, ~
Figs
, ~
Grapefruit
, ~
Grapes
, ~
Kiwi
, ~
Lemon and Limes
, ~
Mango
, ~
Melon
, ~
Orange
, ~
Papaya
, ~
Peach
, ~
Pear
, ~
Pineapple
, ~
Plums
, ~
Tomato
, ~
Artichoke
, ~
Asparagus
, ~
Beets
, ~
Broccoli
, ~
Brussels Sprouts
, ~
Cabbage
, ~
Carrot
, ~
Cauliflower
, ~
Celery
, ~
Corn,
~
Cucumber
, ~
Eggplant
, ~
Garlic
, ~
Green Beans
, ~
Kale
, ~
Lettuce/Salad Greens,
~
Mushrooms,
~
Okra
, ~
Onion
, ~
Parsnip,
~
Peas,green
, ~
Peppers,
~
Potato
, ~
Radish
, ~
Rhubarb
, ~
Spinach
, ~
Summer Squash and Zucchini
, ~
Sweet Potato
, ~
Turnip
, ~
Winter Squash, including Pumpkins
, ~
Beans
, ~
Eggs
, ~
Nuts
, ~
Seeds
, ~
Meat
, ~
Dairy
, ~
Grains
---
Follow Kids Cooking Activities