Princess Tea Party
A Princess Tea Party - Let Your Guests Make the Treats! Tea parties are a favorite celebration with little girls - who doesn't want to dress as a princess or fairy and eat sugary treats and drink from little tea cups? Here's how to plan for this very special royal party, but with a twist - your guests will make some of the food!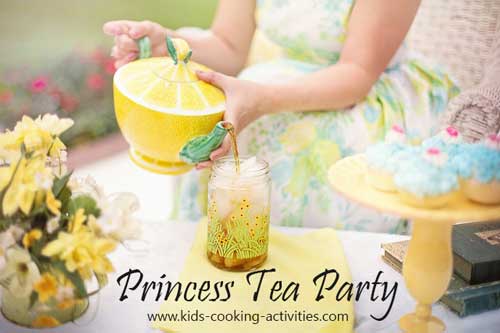 Kids Cooking Activities Teaching Materials
Make teaching easier with our activities and recipes compiled in theme sets and books with an easy to read format
Perfect for teaching!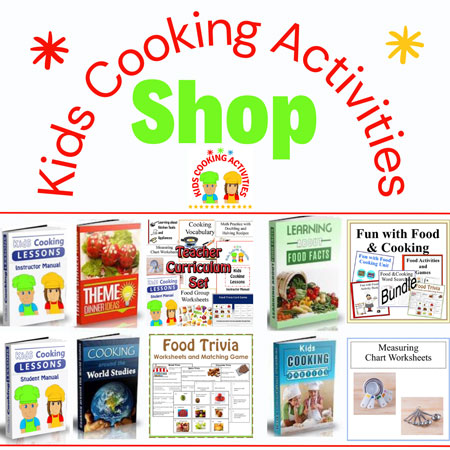 ~This post may contain affiliate links and I'll earn a small commission if you shop through them. There is no extra cost to you. This is how we help support our family and continue to bring you amazing content. To learn more see the
affiliates disclosure here.
~
Princess Tea Party Invitations
First, most parents experienced with parties will imagine this to be yet another cute, fun and passive party. Perhaps the kids will do crafts, but then they'll be loaded with sugar and sent home. Time to surprise them! On your invite, have an icon of a princess hat and a tea cup, but also a stove and a cooking mitt (though the kids won't actually be near a stove!)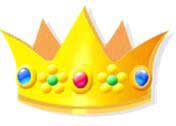 Inside, announce a cooking party! Ask your guests to arrive in plain clothing (in case they get messy), but perhaps a fancy hat to keep with the theme. Announce that they will together be making some of the finger foods as their fun activity. Let the parents know what they will be making, and word it in such a way that it will feel like a craft. For instance, instead of saying simply "fruit on a stick", say "Your child will experience the joy of creating their very own royal fruit shish kabobs!"
Note that baked goods and refreshments will be prepared in advance, and stress how their child will learn some fun and healthy snack making skills. If you leave out some information, some people could make the mistake that their child will be forced to make all the food - and that just won't do!
Setting the Royal Table
Just like a traditional
tea party,
decorate the room or area with gold, pink and white lighting, décor and supplies. A good idea is to use two rooms or separate areas - one as a play area for games, and another with the large table where they will be making their snacks.
Cover the table with a pink paper tablecloth, and set each station with the proper tools necessary to make their food - a plate and a butter knife, for instance. Allow refreshments like iced tea or juice to be served while they make their food, but don't yet lay out any of the baking you have previously prepared. It will only increase the clutter, and the kids will likely wish to munch on those snacks rather than make their own.
Set out all the ingredients necessary to make the first snack. (When choosing snacks, be aware of any food allergies.) If it's a larger party, it's best to have two sets of ingredients, so little hands can reach everything. Three to four children per set should be sufficient. Space them out enough so kids in the middle won't be confused as to which set of ingredients they should make their snack from.
Of course, you should have two other adult servers to help with your princess tea party - you'll be going back and forth from kitchen to dining room with new sets of ingredients.
Your Little Princess Tea Party Chefs
After half an hour of play, and when all the guests have arrived and are comfortable, it's time to invite them to the table. Let them know that for this princess tea party we need snacks and they are the chefs! With clear, step-by-step instructions, show them how you make the first snack.
After everybody has finished their culinary masterpiece, it's time for the next. Remove the ingredients and replace with the next set. Have your little princesses make two or three snacks (two if it's a large party.)
---
Make teaching easier with our activities and recipes compiled in one easy to read format.
---
Princess Tea Party Snack Ideas to Make
Fruit Shish Kabobs
Lay out the following, pre-cut ingredients in separate bowls:
Maraschino cherries, drained
mandarin orange slices, drained from a can
other fruit slices
small block of cheese
Wooden skewers
Have each child make their own, sticking fruit slices and cheese on a skewer in any order.
Cheese Princess Fairy Wands
Lay out the following ingredients on plates and small bowls:
unwrapped cheese slices
bread sticks
cream cheese, out of the refrigerator to soften
Give each child a star-shaped cookie cutter. Have them press it into the cheese slice to cut out a star. With a butter knife, dab cream cheese on the bread stick, then press the cheese slice on top to make a wand.
Fairy Eggs
These are deviled eggs, but with a fairy twist. Lay out in separate plates and bowls:
Boiled eggs, cut lengthwise and with yolk scooped out
Previously prepared yolk mixture, mashed with mayonnaise and mustard
Small bowl with the following spices mixed up - paprika, dill and salt
Give each child two small spoons. Each little chef will take half an egg and scoop the yolk mixture into the center. With the second small spoon, scoop some of the spice mixture and lightly powder on top. Tell them this is the fairy dust!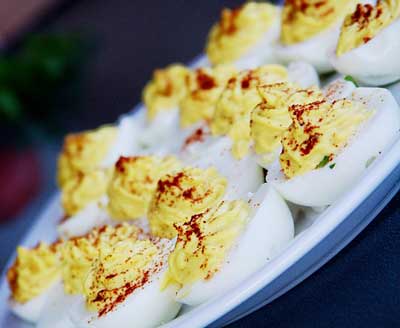 Teatime Sandwiches
Prepare sandwich slices as follows - cut off all crusts, then gently roll with a rolling pin to slightly flatten them. Then, cut in half to make long rectangles.
Also, prepare a favored sandwich filling the night before - egg, cucumber or tuna salad, for example. When it's time to prepare, lay out the following:
Slices of bread
Sandwich filling
Have each child spread a thin layer of filling on their bread. Have them tightly roll the sandwich, then gently press down so it doesn't unroll.
Time For Tea!
Once their own treats and snacks are finished, remove all ingredients and utensils. All they will have is their cup of refreshment and their plate with the snacks they proudly made. Now, it's time for them to eat everything!
Have them begin eating their creations, and while that is happening, prepare the table with your own baked goods, cookies, cake and other appetizers. Set out saucers and tea cups with a small spoon, and new napkins.
Have actual tea ready and cooled, though most kids will likely not drink much. Have alternatives such as iced tea and lemonade, served in the fancy tea cups.
In the goodie bags, have the usual toys and trinkets, but also include recipes for what the kids made, so they can make it again at home.
Princess Tea Cup Cookie
Enjoy, and bon appetit!
This Princess Tea Party article was written by Chris Molnar, a writer and father of two preschool girls. He writes about
theme party ideas
and tips for various websites, and owns a blog at Themeaparty.com.
---
Related Theme Dinner Ideas:
~
Theme Dinner Ideas
, ~
A-Z
, ~
Animals
, ~
Backwards
, ~
Dinosaur
, ~
Disney
, ~
Farms
, ~
Fiesta
, ~
Flowers
,~
Fondue
, ~
Frogs
, ~
Hawaiian Luau
, ~
Homes
, ~
Insects
,~
Italian
, ~
Mother Nature
, ~
Movie Theme
, ~
Mystery Party
, ~
Owls
, ~
Paris
, ~
Penguins
, ~
~Princess and Prince Dinner
, ~
Princess Tea Party
, ~
Rainbow
, ~
Reindeer
, ~
Sleepover Party
, ~
Snakes
, ~
Snowman
, ~
Space
, ~
Sports
, ~
Sunflowers
, ~
Teddy Bear Tea Party
, ~
Transportation
, ~
Under the Sea
, ~
Western Cowboy
---
Follow Kids Cooking Activities