Insect Theme Party
This insect theme party is perfect for younger chefs or older ones who love to create and make things that resemble other objects. For this party creativity shines so it is a lot of fun to invite friends to join in this bug theme party.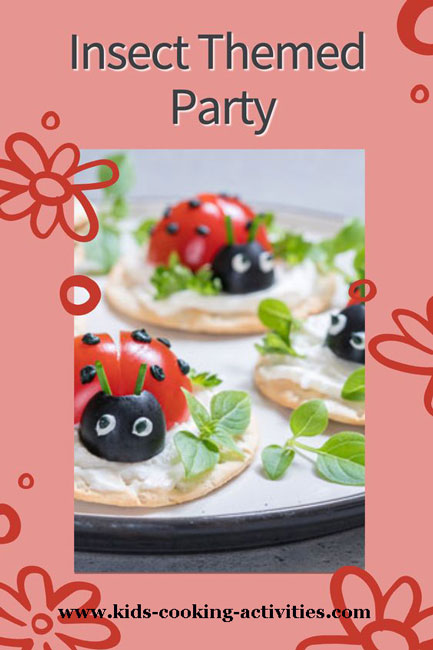 Try using one of the ladybug recipe ideas below for your party centerpiece. Make simple party hats with headbands and pom poms for antennas.
Kids Cooking Activities Teaching Materials
Make teaching easier with our activities and recipes compiled in theme sets and books with an easy to read format
Perfect for teaching!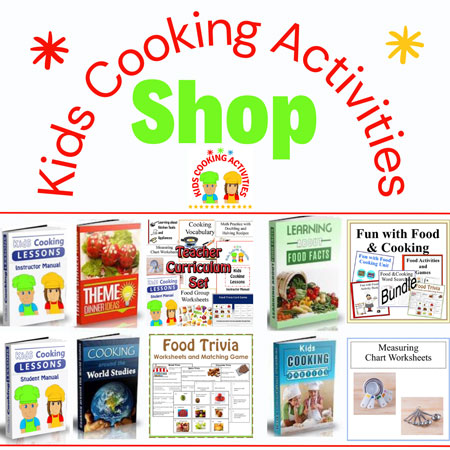 ~This post may contain affiliate links and I'll earn a small commission if you shop through them. There is no extra cost to you. This is how we help support our family and continue to bring you amazing content. To learn more see the
affiliates disclosure here.
~
Bug Party Menu Ideas
Bug Farm
Ingredients
Graham crackers or light brown cookies
Raisins
Red hots or red candies
Chocolate sprinkles
Directions:
Crush several graham crackers in a Ziploc baggie with a rolling pin or kitchen mallet. Add to the bag several raisins (for bugs), red hots (for ladybugs) and chocolate sprinkles (for ants). Enjoy eating your eatable bug farm.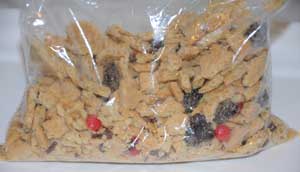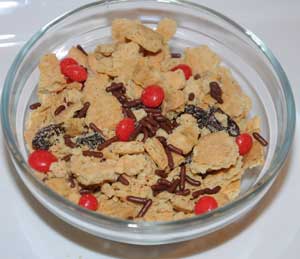 Ladybug Theme Party Ideas
Make ladybug on crackers. Cut cherry tomatoes in half. Spread a cheese spread on a cracker. Top with tomato halves. Add olive for his head and add small pieces of olive for his spots, eyes and antenna.

Make ladybugs from cupcakes by decorating with white frosting and sprinkle with red sugar. Add black licorice for legs and mini chocolate chips for spots.


For another type of ladybug, use a large red apple sliced in half. Remove core and seeds. Place on a plate with the red on the top. Attach with peanut butter, licorice for antennas and chocolate chips for eyes.


Slice the top off of a cherry tomato and stuff with tuna salad, find the recipe here. Use whole cloves for eyes but make sure kids take them out before eating and decorate spots with cream cheese or chopped black olives. Antennas can be chopped chives or green onion stems.



Caterpillars and Chrysalis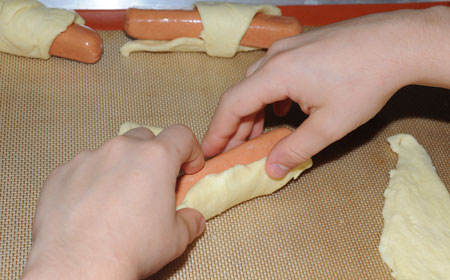 Ingredients
Refrigerated dough biscuits, crescent rolls or homemade dough
Hot dogs whole or cut in half
Slices of cheese
Directions:
If using homemade biscuit dough roll out and cut into circles with glass or round cutter. Press a circle flat and place a hot dog on top of the dough. Add a slice of cheese the same length of the hot dog, if desired. (this is the caterpillar).

Fold dough over around the caterpillar and press seam edges together. (this is the Chrysalis) Place on cookie sheet and bake until golden brown.
Pancake Caterpillar
Make mini size pancakes and create a whole caterpillar scene like this one.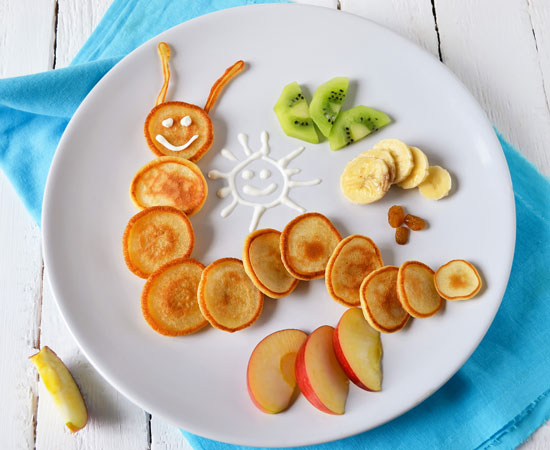 Ants on a Log
The popular snack for ants on a log. Cut celery into 3-4 inch pieces. Fill middle with cheese spread or peanut butter. Add raisins to top to get the ants crawling on the log.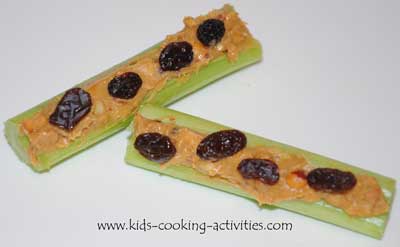 Fruit Bugs
Make butterflies, caterpillars, and other bugs out of fruit and vegetable slices.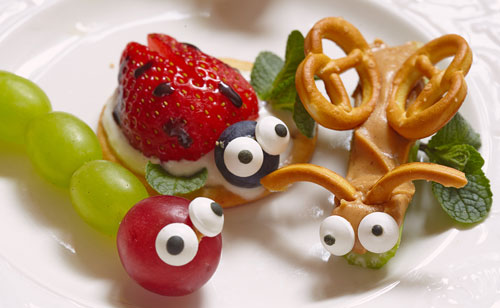 Caterpillar Cheese Ball
See more
caterpillar food ideas on our cook and books caterpillar page.


Spiders
See our
Halloween page for spider fun food ideas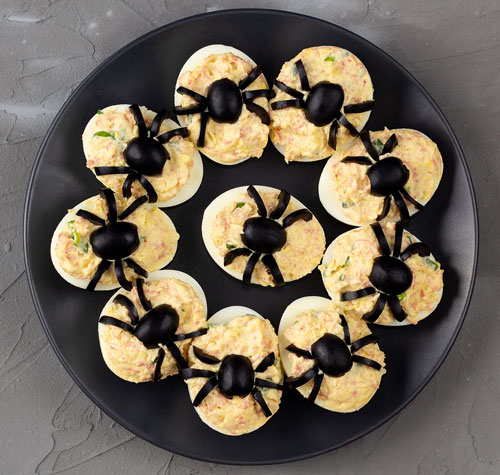 A simple idea is to create a spider out of a mandarin orange.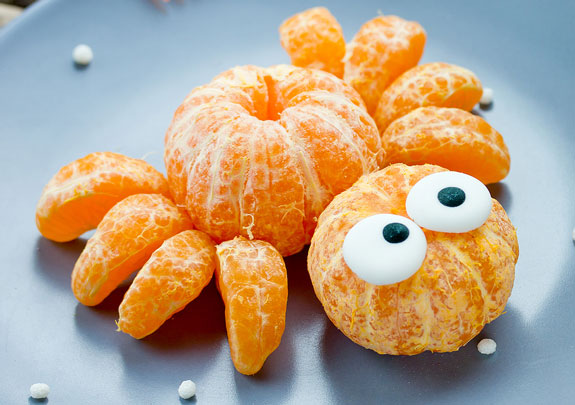 Lady Bug Cake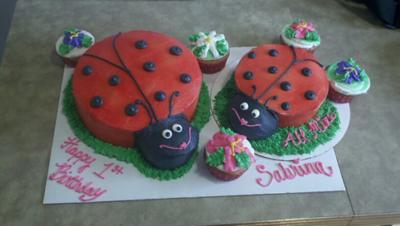 by Laura Root (Washington)
There are two lady bugs. One is a double layer 9in round cake and the second one is a 6 inch single layer round cake. I frosted both cakes with white butter cream. Then I used red food coloring mist to spray both cakes red.
With the left over batter from the 6 inch cake, I made cupcakes. I cut two cupcakes in half and stacked them on top of each other and placed the cut ends to the round cake for the heads of the lady bugs.
For the smaller cake I only used one half of the cupcake instead of two. I used black colored butter cream to color the heads of the ladybugs black. I used a #5 tip to do the lines for the wings. I used a tip with a large hole to do the spots.
I used tip with a large hole to do the white spots on the head for eyes and the #5 tip that I used to do the wings with for the black spots on the eyes. I used a #3 tip to do the mouths. I use a grass tip to put grass around the lady bugs as if they were sitting in some grass. I used the left over cupcakes and made them into flowers.
This cake is very simple to do. Anyone can do this. I had some troubles with the head and trying to frost it while keeping it stuck to the cake. Make sure when you cut the cupcake in half and stack them on top of each other, put a little frosting in between the layers so they stick together better. I will do that next time if I have to do this cake again.
Ladybug Cake with Ball Pan
Use a ladybug shaped cake pan or
ball pan
to create a ladybug shape. To finish off your cake all you need is a cupcake, red frosting, twelve Junior mints for spots or small chocolate round candies, two green gumdrops for the eyes and black shoestring licorice for the antennae.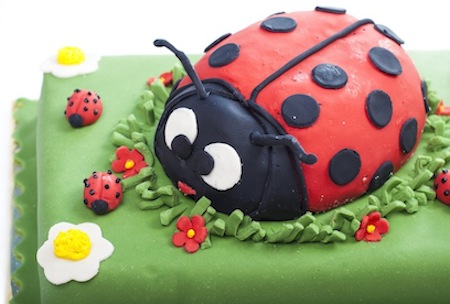 ---
Get all of our Theme Dinner Ideas in
one ebook
, free of ads and easier to use at parties and cooking activities with kids.
30 theme dinner ideas with recipe menu plans, decorating ideas and printable invitations all included in this 83 paged electronic book.
Theme Dinner Ideas
---
Ladybug Crackers Video
For a Ladybug Theme Party
For a kids ladybug party a fun game to play would be sticker tag. You will need white circle stickers or dots. Give a sheet of stickers to each child and have them each color their dots a different color. To play "ladybug tag" each child runs and tags a spot (sticker) on their team mates.
Do you Have Idea for an Insect Theme Party?
Make your own Theme Dinner Party page.
Have you put together your own Theme Dinner Party? Do you have a theme menu or theme dinner idea to share? Tell us about it and we will create your own theme dinner party page.
Reader's Submitted Recipes and Ideas
Click below to see contributions from other visitors to this page...

Butterfly Cake Not rated yet
Simple Butterfly Cake Ideas Create a Pull apart butterfly cupcake cake. Create a butterfly cupcake. Start with creating molded chocolate butterflies …
---
Related Theme Dinner Ideas:
~
Theme Dinner Ideas
, ~
A-Z
, ~
Animals
, ~
Backwards
, ~
Dinosaur
, ~
Disney
, ~
Farms
, ~
Fiesta
, ~
Flowers
,~
Fondue
, ~
Frogs
, ~
Hawaiian Luau
, ~
Homes
, ~
Insects
,~
Italian
, ~
Mother Nature
, ~
Movie Theme
, ~
Mystery Party
, ~
Owls
, ~
Paris
, ~
Penguins
, ~
~Princess and Prince Dinner
, ~
Princess Tea Party
, ~
Rainbow
, ~
Reindeer
, ~
Sleepover Party
, ~
Snakes
, ~
Snowman
, ~
Space
, ~
Sports
, ~
Sunflowers
, ~
Teddy Bear Tea Party
, ~
Transportation
, ~
Under the Sea
, ~
Western Cowboy
---
Follow Kids Cooking Activities