Sports Theme Party
Lots of fun recipes to start your Sports Theme Party. Where a jersey or any sports t-shirt to the party. Try making the cheese ball and placing in the middle of your table for a centerpiece or fill a container with small bouncy balls.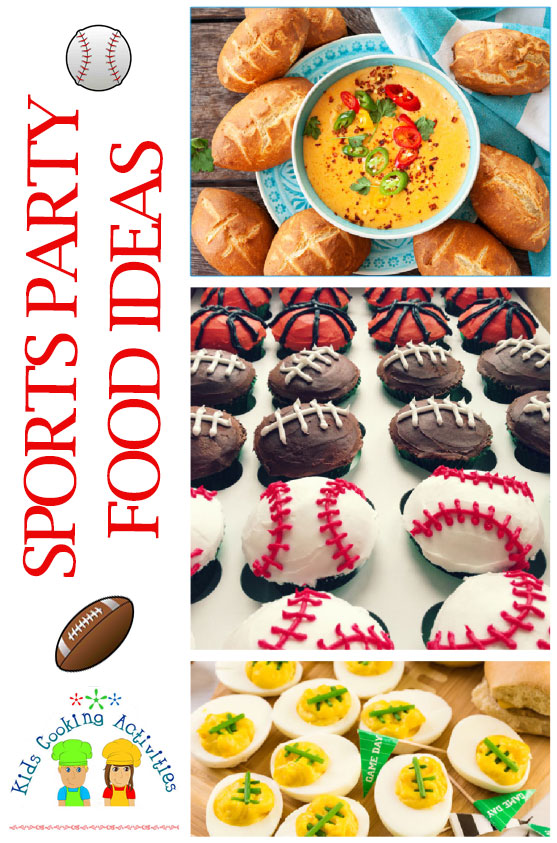 Kids Cooking Activities Teaching Materials
Make teaching easier with our activities and recipes compiled in theme sets and books with an easy to read format
Perfect for teaching!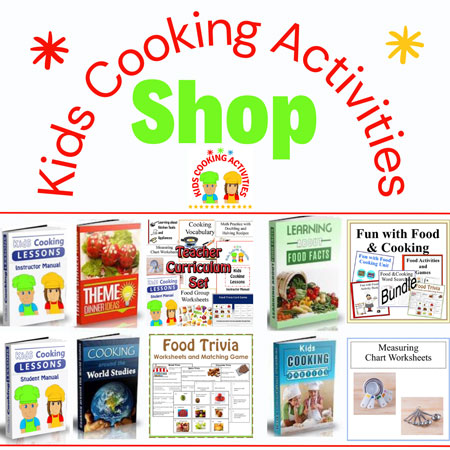 ~This post may contain affiliate links and I'll earn a small commission if you shop through them. There is no extra cost to you. This is how we help support our family and continue to bring you amazing content. To learn more see the
affiliates disclosure here.
~
Football Theme Recipes
Football Sandwich
With a small ball of bread dough, shape into an oval shape to resemble a football. Bake and cool bread rolls.
Cut in half and prepare sandwiches. In a sandwich bag with the corner snipped off add softened cream cheese.
Pipe lines on top of the sandwiches to resemble an American football.
If you are baking your bread from scratch, you can add lines to resemble football laces before baking.
Football Rice Krispies Treats
Using Cocoa Krispies prepare treats according to the package directions. Shape into footballs and let set for one hour. Before serving decorate with white icing stripes.
Ball Theme Recipes
Cheese Ball
Prepare a
Cheese ball
and serve with round ball shaped crackers.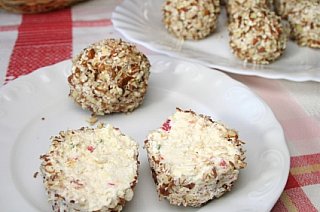 Baseball Hat
Large Cookie
Mini muffins or cupcakes
Frost bottom and sides of cupcake and place on top of cookie leaving an edge in the front for the baseball hat. Decorate with frosting or sprinkles.

Dessert Ball
8 oz. cream cheese, softened
1/2 cup butter, softened
1/4 teaspoon vanilla extract
3/4 cup powdered sugar
3/4 cup chopped cookie crumbs or miniature chocolate chips
Additional nuts, chocolate chips or cookie crumbs for rolling
graham crackers, plain vanilla cookies or shortbread cookies
In a mixing bowl combine cream cheese, butter and vanilla. Cream together. Add in powdered sugar. Blend. Stir in cookie crumbs. Shape into a ball. Lay out a sheet of waxed paper and scatter more cookie crumbs (or whatever toppings you are using) over the top. Place dessert ball on top of crumbs and roll around to coat entire ball.
If mixture is too soft to form ball, lift edges of waxed paper and press cookies into cheese mixture. Wrap up in plastic wrap and chill several hours. Serve with graham crackers, plain vanilla cookies or shortbread cookies.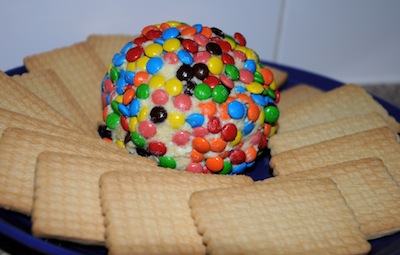 Try making a ball shaped cake
Broccoli Balls
Add some nutrition to a sports theme snack with these
broccoli balls.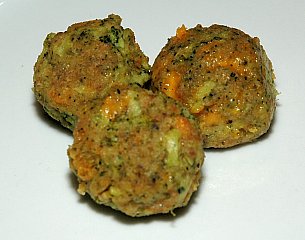 Football Deviled Eggs
Using a
recipe for deviled eggs
, finish off the eggs with chives cut in pieces and added to make football laces.
Sports Cakes
For a sports theme party we made one cake mix and divided into two round cake pans. After baking we left the round top on the cake and didn't level it off.
One was frosted with white and added red frosting for the laces using a round tip.
One cake was frosted orange, we used cookie frosting that comes in Wilton tubes because we had it on hand. We added Reese's pieces for the brown lines but you could also use M&M's. The type of frosting dried smooth.
Easy and they were a hit with the sports fans at the party.
It is easy to whip up some
sports cupcakes
like these too. They use very little cake decorating skills since you just create lines in different ball designs.
Sports Craft
Make your own bouncy ball.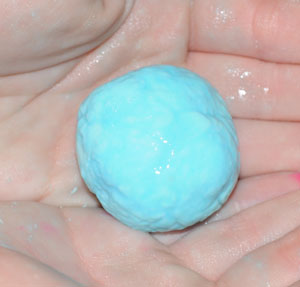 ---
Get all of our Theme Dinner Ideas in
one ebook
, free of ads and easier to use at parties and cooking activities with kids.
30 theme dinner ideas with recipe menu plans, decorating ideas and printable invitations all included in this 83 paged electronic book.
Theme Dinner Ideas
---
Sports Sundae Chocolate Bowl
Need Sports Themed Supplies?
Here are some we like.
Make your own Theme Dinner Party page.
Have you put together your own Theme Dinner Party? Do you have a theme menu or theme dinner idea to share? Tell us about it and we will create your own theme dinner party page.
---
Related Theme Dinner Ideas:
~Theme Dinner Ideas, ~ A-Z, ~ Animals, ~ Backwards, ~ Dinosaur, ~ Disney, ~ Farms, ~Fiesta, ~ Flowers,~Fondue, ~Frogs, ~ Hawaiian Luau, ~Homes, ~Insects,~Italian, ~Mother Nature, ~Movie Theme, ~Mystery Party, ~ Owls, ~Paris, ~ Penguins, ~~Princess and Prince Dinner, ~ Princess Tea Party, ~Rainbow, ~Reindeer, ~Sleepover Party, ~Snakes, ~Snowman, ~ Space, ~Sports, ~Sunflowers, ~Teddy Bear Tea Party, ~Transportation, ~Under the Sea, ~Western Cowboy
---
Follow Kids Cooking Activities