Paris Theme Party
Create a Paris theme party for a unique international dinner night. Although many of us can't visit Paris we can still enjoy some fun Paris inspired food ideas.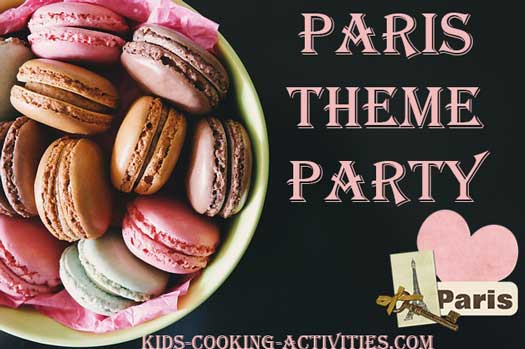 Kids Cooking Activities Teaching Materials
Make teaching easier with our activities and recipes compiled in theme sets and books with an easy to read format
Perfect for teaching!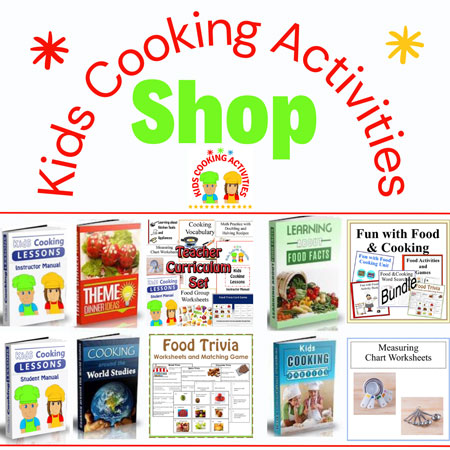 ~This post may contain affiliate links and I'll earn a small commission if you shop through them. There is no extra cost to you. This is how we help support our family and continue to bring you amazing content. To learn more see the
affiliates disclosure here.
~
Paris Theme Ideas
For your Paris dinner add a
checkered tablecloth,
a basket of fresh French bread or baguettes and a cheese platter to your dinner table.
Have guests wear berets and put on a fashion show. Paris is known for fashion so having each guest dress up and put on a show is fitting for a Paris theme party.
Paris Theme Party
Croissants
5 cups flour
1 1/2 cups butter, cold
1 cup water warm (105° to 115°)
1 package yeast active dry or 1 tablespoon yeast
3/4 cup half and half
1/3 cup sugar
2 eggs
1 1/2 teaspoons salt
1/4 cup butter or margarine, melted
1 tablespoon water
Cut cold butter into smaller chunks or slices. In a mixing bowl blend 4 cups of flour with 1 cup cold butter. Mixture will be crumbly. Set aside. In a separate bowl dissolve yeast in warm water. Add a sprinkle of sugar to the yeast mixture. When yeast is bubbly and foaming pour into empty mixing bowl. Add 1 cup flour, half and half, 1/3 cup sugar, 1 egg, salt and melted butter. Blend together then add yeast mixture and crumbly butter mixture. Blend together until just moistened. Chill for several hours in the fridge.
Take dough out of fridge after chilling and knead on a floured surface. Divide dough into 4 smaller balls. Keep the dough you aren't working with in the fridge to chill.
Roll one ball into a large circle. Cut into triangles or wedge shapes. Roll triangle up starting at the wide end and rolling up toward the pointed end. Bend ends to look like a croissant shape. Place on a ungreased cookie sheet and finish rolling remaining dough. Cover with plastic wrap or a light towel and let rise 1-2 hours.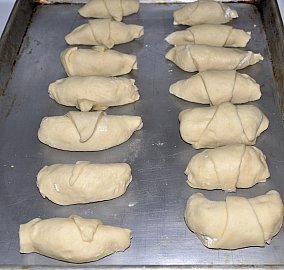 In a small glass beat together one egg and 1 tablespoon water. Before baking brush each croissant with egg mixture. Bake at 325 degrees for 25-30 minutes or until golden brown.
**To
add fillings to croissants
place a tablespoon of filling on triangle and roll up. Fillings could be a fruit filling, chocolate, chicken mixture or a cream filling.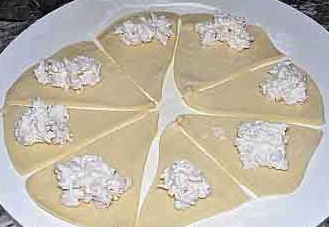 ---
Make teaching easier with our activities and recipes compiled in one easy to read format.
---
Beef Bourguignon for Kids
2 lbs or 1 kg beef stew meat
1 onion, grated
2 carrots, peeled and sliced
6-8 Cups beef broth
1 bouquet garni (in spice section) or 2 Tablespoons mixed herbs
1 garlic clove, minced
1 small can whole mushrooms or 1 lb fresh mushrooms
2 Tablespoons tomato paste
dash salt and pepper
In large soup pan, saute meat and grated onions in 2 Tablespoons oil. Season with salt and pepper. Add sliced carrots, beef broth, herbs and garlic. Stir to combine, place a lid on the pan and cook on medium heat for 1 hour. Add and stir in mushrooms and tomato paste. Cook an additional 20-30 minutes.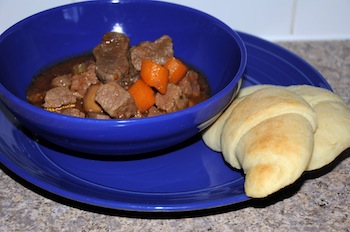 More Paris theme party recipes
French cooking lesson
Cheese Souffle
---
Get all of our Theme Dinner Ideas in
one ebook
, free of ads and easier to use at parties and cooking activities with kids.
30 theme dinner ideas with recipe menu plans, decorating ideas and printable invitations all included in this 83 paged electronic book.
Theme Dinner Ideas
---
French Macaroons Video
Need Paris Theme Party Supplies?
Here are some we like.
Make your own Theme Dinner Party page.
Have you put together your own Theme Dinner Party? Do you have a theme menu or theme dinner idea to share? Tell us about it and we will create your own theme dinner party page.
Reader's Submitted Recipes and Ideas
Click below to see contributions from other visitors to this page...

French Macarons with Chocolate Ganache

Ingredients: For Cookie: 150g almond flour 150g powdered sugar 105g egg whites 98g castor sugar Few drops of gel food color For Filling Chocolate …
---
Related Theme Dinner Ideas:
~Theme Dinner Ideas, ~ A-Z, ~ Animals, ~ Backwards, ~ Dinosaur, ~ Disney, ~ Farms, ~Fiesta, ~ Flowers,~Fondue, ~Frogs, ~ Hawaiian Luau, ~Homes, ~Insects,~Italian, ~Mother Nature, ~Movie Theme, ~Mystery Party, ~ Owls, ~Paris, ~ Penguins, ~~Princess and Prince Dinner, ~ Princess Tea Party, ~Rainbow, ~Reindeer, ~Sleepover Party, ~Snakes, ~Snowman, ~ Space, ~Sports, ~Sunflowers, ~Teddy Bear Tea Party, ~Transportation, ~Under the Sea, ~Western Cowboy
---
Follow Kids Cooking Activities