Home Theme Party
Home theme party celebrates the fact that every creature great and small needs a home to live in. Here are some fun recipes for different homes and houses.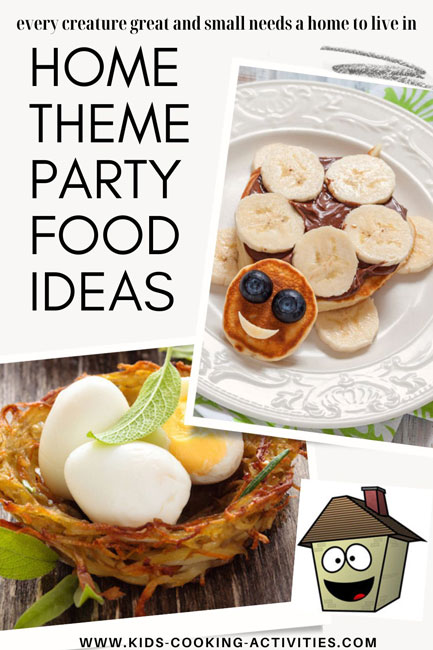 Kids Cooking Activities Teaching Materials
Make teaching easier with our activities and recipes compiled in theme sets and books with an easy to read format
Perfect for teaching!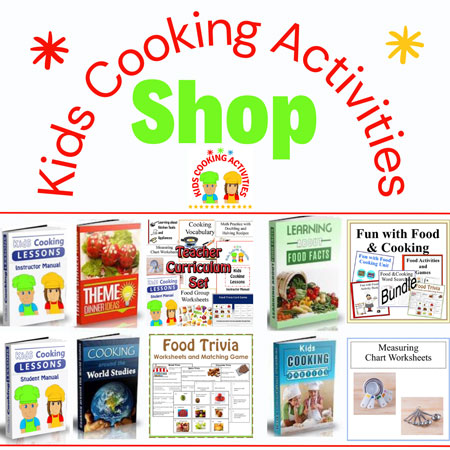 ~This post may contain affiliate links and I'll earn a small commission if you shop through them. There is no extra cost to you. This is how we help support our family and continue to bring you amazing content. To learn more see the
affiliates disclosure here.
~
Home Theme Party Menu Ideas
Gingerbread houses
aren't just for holidays. Make a traditional gingerbread house or try a miniature gingerbread house from graham crackers.
See both recipes here.
Use this for a centerpiece for the party.
Igloos Three Ways
Create an igloo for your home theme party.
Make your favorite cheese ball recipe. Instead of rolling in nuts leave outside white. Score squares with a toothpick around the outside to resemble ice blocks.


Create an igloo with cheese cubes. Use a small paper cup if needed to prop up cubes. Use soft cheese or cream cheese to attach them together.



Apple igloo. Cut an apple in half and core out seeds and middle. Lay flat and spread cream cheese or peanut butter around outside. Lay miniature marshmallows all around outside of apple.
Add some
edible penguins
to your scenery!
Turtle Bread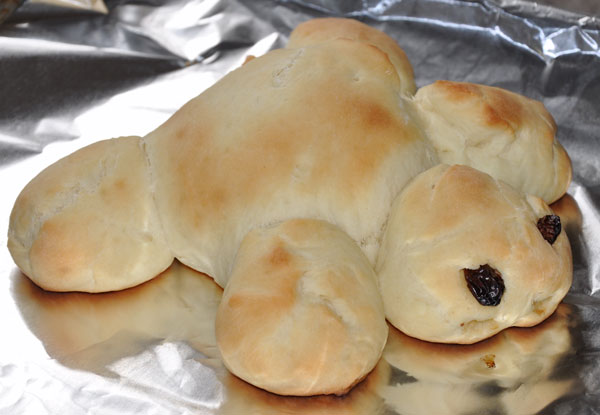 Some animals have to carry their homes with them wherever they go.

2 1/2- 3 cups flour
1 Tablespoon sugar
1 teaspoon salt
1 Tablespoon yeast
½ cup water
1/3 cup milk
1 Tablespoon butter
2 eggs, one for brushing the top
Raisins for eyes
In mixing bowl blend flour, sugar and salt. Set aside. In Microwave safe bowl add water, milk and butter together. Heat until warm about 130 degrees with a candy thermometer. Stir in yeast and allow to foam. Stir yeast mixture into flour mixture. Add egg. Blend together. Place on a floured surface and knead 5 minutes until dough is smooth. Cover and let rest while you grease a cookie sheet and preheat oven to 400. To create a turtle with your dough, make a small ball for his head, 4 balls for legs and a ball for a tail. Shape the remaining dough into a body and place on the cookie sheet. Attach the legs, head and tail to turtle body. Add raisins for eyes. In a glass beat egg with a fork. With a pastry brush, brush egg over turtle body. Let rise 30 minutes and bake for 20 minutes or until golden brown.
Turtle Pancakes
Creating a turtle can be easy by using different size pancakes, spread, banana slices and blueberries.
---
Get all of our Theme Dinner Ideas in
one ebook
, free of ads and easier to use at parties and cooking activities with kids.
30 theme dinner ideas with recipe menu plans, decorating ideas and printable invitations all included in this 83 paged electronic book.
Theme Dinner Ideas
---
Edible Teepee's
Sugar cones
White frosting
Candy sprinkles or colored frosting
Pretzel sticks
Frost a sugar cone and place pointed side up. Decorate tepee with sprinkles or pipe lines and decorations with colored frosting. Poke a hole in the pointed end of your cone and poke pretzel sticks inside for poles.

Nests
Check out a quick and fun recipe for Bird Nests from our Easter page

Potato Nests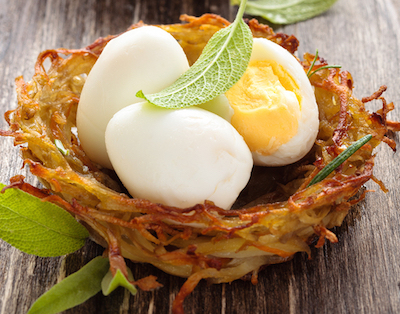 Here is another
potato nest recipe here.
Or try a
Noodle Nest
Make your own Theme Dinner Party page.
Have you put together your own Theme Dinner Party? Do you have a theme menu or theme dinner idea to share? Tell us about it and we will create your own theme dinner party page.
---
Related Theme Dinner Ideas:
~Theme Dinner Ideas, ~ A-Z, ~ Animals, ~ Backwards, ~ Dinosaur, ~ Disney, ~ Farms, ~Fiesta, ~ Flowers,~Fondue, ~Frogs, ~ Hawaiian Luau, ~Homes, ~Insects,~Italian, ~Mother Nature, ~Movie Theme, ~Mystery Party, ~ Owls, ~Paris, ~ Penguins, ~~Princess and Prince Dinner, ~ Princess Tea Party, ~Rainbow, ~Reindeer, ~Sleepover Party, ~Snakes, ~Snowman, ~ Space, ~Sports, ~Sunflowers, ~Teddy Bear Tea Party, ~Transportation, ~Under the Sea, ~Western Cowboy
---
Follow Kids Cooking Activities