Farm Party Ideas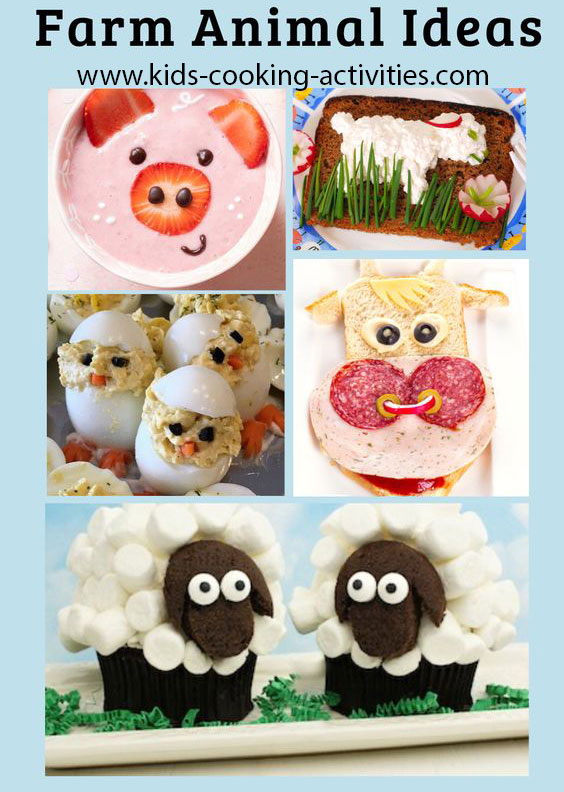 These farm party ideas include eatable recipes that the kids will enjoy putting together. Getting the kids involved in the decorating, creating centerpieces and making these easy recipes can be a great activity for them. Also include a dinner menu and invitation for the farm party.
Kids Cooking Activities Teaching Materials
Make teaching easier with our activities and recipes compiled in theme sets and books with an easy to read format
Perfect for teaching!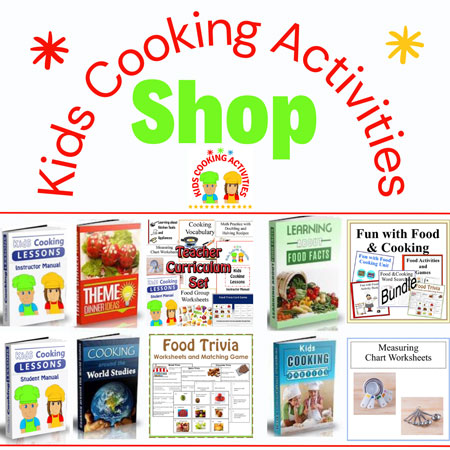 ~This post may contain affiliate links and I'll earn a small commission if you shop through them. There is no extra cost to you. This is how we help support our family and continue to bring you amazing content. To learn more see the
affiliates disclosure here.
~
Farm Centerpiece Ideas
Use the edible vegetable garden below as a centerpiece.
Create a farm scene with kids toys and a barn made out of cardboard. Put the kids in charge of creating the design.
Farm Party Ideas and Dinner Menu
Edible Vegetable Garden
Create a mini vegetable garden and fashion a scarecrow for this farm theme dinner.
On a platter or large plate, layer different types of lettuce and salad greens. Design your garden by laying out your vegetables in rows, we used:
cherry tomatoes
carrot sticks
cauliflower tops
green onions
Other ideas could be:
Fresh whole mushrooms
broccoli tops
small cucumbers or zucchini
radishes
baby corn
Once you have your salad greens on the bottom and rows of vegetables add a little character in your garden by creating a scarecrow. We made ours with a green onion stem and a wooden skewer. Then used barbie doll clothes and a few pieces of hay stuffed in. Place the skewer in a piece of carrot or whatever hard vegetable you might have.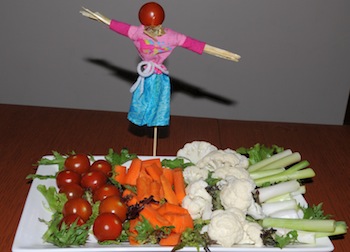 This makes a great centerpiece for your farm party!
Vegetable Salad on sticks
Going with the vegetable garden theme. Arrange fresh chopped vegetables on a skewer. Cherry tomatoes, cauliflower or broccoli tops, cucumber circles, fresh mushrooms all work well on skewers.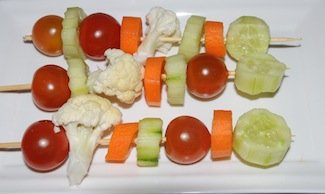 ---
Get all of our Theme Dinner Ideas in
one ebook
, free of ads and easier to use at parties and cooking activities with kids.
30 theme dinner ideas with recipe menu plans, decorating ideas and printable invitations all included in this 83 paged electronic book.
Theme Dinner Ideas
---
Egg Chicks
You will need:
5-10 boiled eggs
olives, for eyes
carrot, for beaks
salad greens for decoration, optional
Once your boiled eggs have cooled, cut the top off the eggs and scoop the yolk into a bowl. Save the egg white tops for later. Be careful not to damage the boiled egg while doing this!
Prepare egg salad with the egg yolks.
Line your serving plate or platter with greens. Stuff each boiled egg with egg salad making it rounded on the top for his face. Place on a platter. Cut small dots out of olives for eyes and a small triangle for a beak. Place on to the top of your egg salad. Add the egg white top on the egg salad head.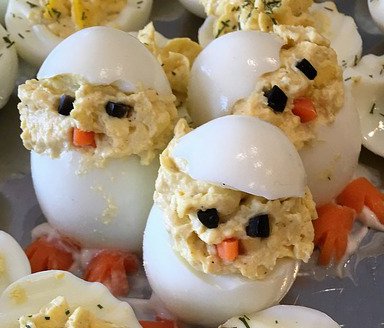 This is another hard boiled egg idea but works great for the farm theme!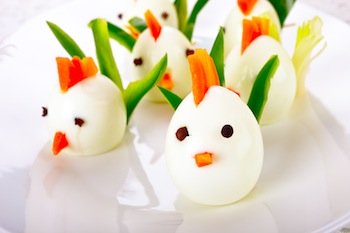 Use cut pepper slices for beaks, tail and tuft on top. Small pieces of olives can be placed inside a small cut for eyes.
More Farm Theme Food Ideas
Any of our apple recipes would work well for a farm theme as many farms have apple orchards.


Make fresh butter and homemade biscuits to go with it.


Make homemade bread and talk about how farmers grow the wheat that gets ground into flour.


Here are two farm theme sandwich ideas...

Make a cottage cheese sheep snack.



Create a smoothie into a fun work of art with smoothie bowls.

Sheep Cupcakes
These lamb cupcakes are super easy. Prepare cupcakes with black cupcake wrappers.
Place a second cupcake (make sure it doesn't have a cupcake wrapper on it!) on top of a cupcake. Add icing to the bottom cupcake to keep the top layer in place. Frost the entire top and sides of top cupcake and press mini marshmallows into the top layer. Leave a space for the face.
With extra cupcakes cut out a lamb shape face out of the tops. Add candy eyeballs to the face by attaching with frosting.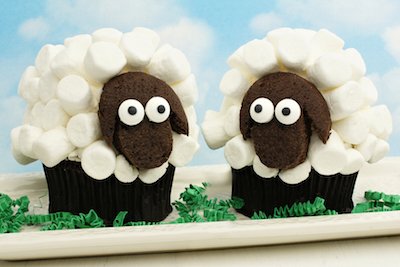 Farm Animal Cupcakes and Barn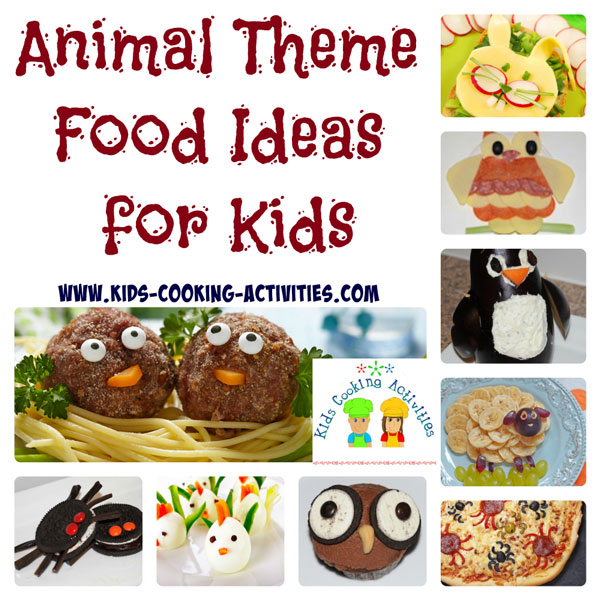 See more animal theme food party ideas here.
Make your own Theme Dinner Party page.
Have you put together your own Theme Dinner Party? Do you have a theme menu or theme dinner idea to share? Tell us about it and we will create your own theme dinner party page.
Reader's Submitted Recipes and Ideas
Click below to see contributions from other visitors to this page...

Farm Red Barn Cake Not rated yet
Red Barn Cake One of the easiest farm themed cakes is making a red barn cake. You can use the house cake pan like we did in this tutorial or cut a 13x9 …
---
Related Theme Dinner Ideas:
~Theme Dinner Ideas, ~ A-Z, ~ Animals, ~ Backwards, ~ Dinosaur, ~ Disney, ~ Farms, ~Fiesta, ~ Flowers,~Fondue, ~Frogs, ~ Hawaiian Luau, ~Homes, ~Insects,~Italian, ~Mother Nature, ~Movie Theme, ~Mystery Party, ~ Owls, ~Paris, ~ Penguins, ~~Princess and Prince Dinner, ~ Princess Tea Party, ~Rainbow, ~Reindeer, ~Sleepover Party, ~Snakes, ~Snowman, ~ Space, ~Sports, ~Sunflowers, ~Teddy Bear Tea Party, ~Transportation, ~Under the Sea, ~Western Cowboy
---
Follow Kids Cooking Activities