Snake Theme Party
For this snake theme party it doesn't matter if you love snakes or can't stand looking at them. Kids will love to create these snakes, share them with their friends and eat them up. Try making one of your snake recipes below into your centerpiece.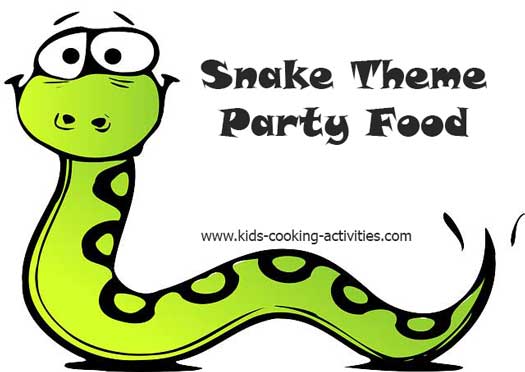 Kids Cooking Activities Teaching Materials
Make teaching easier with our activities and recipes compiled in theme sets and books with an easy to read format
Perfect for teaching!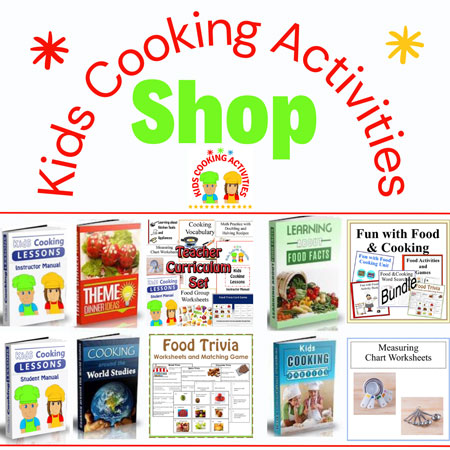 ~This post may contain affiliate links and I'll earn a small commission if you shop through them. There is no extra cost to you. This is how we help support our family and continue to bring you amazing content. To learn more see the
affiliates disclosure here.
~
Snake Theme Menu
Fruit Snake
Use cut fruit to create a snake like this one.
Snake Hot Dogs
Make long horizontal slits through hot dogs leaving about 1 inch in the middle uncut. Cook hot dogs in boiling water. The hot dog slits will curl up and look like snakes.
Snake Stromboli
Bread dough or pizza dough
1 egg, separated
1 Tablespoon Parmesan cheese
2 Tablespoons olive oil
½ Tablespoon parsley
½ Tablespoon oregano
Pizza toppings: such as pepperoni sliced, ham, sliced vegetables, shredded cheese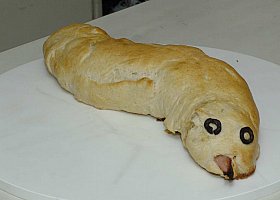 Using your favorite bread dough recipe or store bought bread dough, unthawed, roll bread into a rectangle. If making your own dough roll out after the first rise. In bowl combine 1 egg yolk,(save egg white for later) 1 Tablespoon Parmesan cheese, 2 Tablespoons olive oil, 1/2 tablespoon parsley and ½ tablespoon oregano. Brush over the dough with a pastry brush.
Add desired pizza toppings and shredded cheese. Roll up jelly roll style starting with the long side. Pinch seams at the end to seal and tuck ends under. Place seam side down on greased baking sheet twisting and turning like a snake. Brush with egg white. Press two olive slices into one end of the dough for eyes. And a slice of ham for a tongue. Sprinkle with Parmesan cheese and bake 350 for 35-40 minutes or until golden brown. Slice loaf and serve with warm pizza sauce.
See more
Stromboli recipes
Snake Roll Ups
Ingredients
1 small red bell pepper, seeded and cut into strips
1 (11 oz.) can refrigerated breadsticks
1 pkg. hot dogs
1 Tablespoon of processed cheese spread
Small raisins
Directions
Preset the oven temperature to 375 degrees.
Cut small pieces of red bell pepper to look like a tongue.
Remove the breadstick dough from the cans but do not unroll.
Separate each one of the breadstick dough into 6 pieces.
Unroll 1 roll of the dough and press to seal the center perforation.
Loosely wrap the dough around a hot dog.
Continue until all the smoky links have been wrapped.
Place the wrapped hot dogs on an ungreased cookie sheet.
Make a small slit in each piece of dough to form a mouth.
Bake 15 minutes or until the dough is a golden brown.
Place the baked snakes on a platter.
Place a tiny amount of the cheese spread onto the head of each snake where the eyes and tongue would be placed.
Place two raisins on each snake for the eyes and a piece of bell pepper on each one for the tongue.
---
Get all of our Theme Dinner Ideas in
one ebook
, free of ads and easier to use at parties and cooking activities with kids.
30 theme dinner ideas with recipe menu plans, decorating ideas and printable invitations all included in this 83 paged electronic book.
Theme Dinner Ideas
---
Strawberry Shortcake Snake
A perfect Snake Theme Party Dessert.
Strawberry Shortcake Snake
Strawberry slices
Cool whip or whip cream
Homemade shortcake recipe
1 1/2 teaspoons salt
3 cups all-purpose flour
4 teaspoons baking powder
2 tablespoons sugar
3/4 cup milk
Blend salt, flour, baking powder and sugar together. Add milk in slowly and combine until moistened. On a greased cookie sheet drop spoonfuls of dough to make a S shape or the shape of a snake. Bake at 450 degrees for 10-12 minutes until golden brown. Allow to cool. Have an adult slice through the middle all the way through the S shape. Top bottom half with sliced strawberries and add whip cream. Place top half of shortcake on the cool whip and strawberries. Add a sliced strawberry for a tongue and two strawberry pieces on for eyes.
Make your own Theme Dinner Party page.
Have you put together your own Theme Dinner Party? Do you have a theme menu or theme dinner idea to share? Tell us about it and we will create your own theme dinner party page.
---
Related Theme Dinner Ideas:
~Theme Dinner Ideas, ~ A-Z, ~ Animals, ~ Backwards, ~ Dinosaur, ~ Disney, ~ Farms, ~Fiesta, ~ Flowers,~Fondue, ~Frogs, ~ Hawaiian Luau, ~Homes, ~Insects,~Italian, ~Mother Nature, ~Movie Theme, ~Mystery Party, ~ Owls, ~Paris, ~ Penguins, ~~Princess and Prince Dinner, ~ Princess Tea Party, ~Rainbow, ~Reindeer, ~Sleepover Party, ~Snakes, ~Snowman, ~ Space, ~Sports, ~Sunflowers, ~Teddy Bear Tea Party, ~Transportation, ~Under the Sea, ~Western Cowboy
---
Follow Kids Cooking Activities