Berry Facts
Berry facts and general information about berries including...
Raspberries
Strawberries
Blackberries
Gooseberries
Blueberries
Huckleberries
Currants
Kids Cooking Activities Teaching Materials
Make teaching easier with our activities and recipes compiled in theme sets and books with an easy to read format
Perfect for teaching!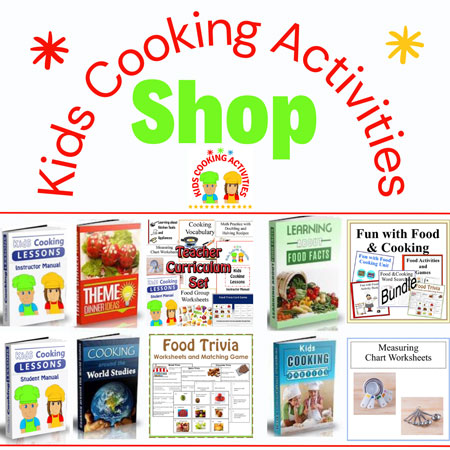 ~This post may contain affiliate links and I'll earn a small commission if you shop through them. There is no extra cost to you. This is how we help support our family and continue to bring you amazing content. To learn more see the
affiliates disclosure here.
~
Berries are Available:
Depending on the variety of berry: May-July.
How do Berries Grow:
Berries grow on bushes. Strawberries grow on plants.
What to Look for When Buying Berries:
Select berries that are plump and a good color for their variety. They should not be mushy and if buying in a box, inspect all berries closely.
Berry Facts- Storage Tips:
Store in fridge but do not wash until ready to use. Berries also freeze well.
How to Cook Berries:
Berries are great for baking in muffins or pancakes. Use as a topping for pies or cheesecakes. They make great sauces for ice cream or other dessert dishes. Wonderful eaten as is.
You can freeze berries easily by laying a single layer on a cookie sheet and flash freezing. Store in Ziploc bags and use for desserts, fruit dishes and smoothies.
Try dried berries on your cereal, for added nutrition each morning.
See our suggestion of
kid safe knives
to use.
Berry Nutrition Facts:
Strawberries are high in Vitamin C and potassium. Blueberries are a great source of antioxidants. Blackberries are high in manganese. Raspberries are high in niacin.
Berry Facts- Recipes:
Three Berry Jam
4 Cups fresh strawberries
2 Cups fresh raspberries
1 Cup fresh blueberries
1 (1 3/4-ounce) package no-sugar needed powdered pectin
Mash berries with blender or by hand to equal 4 cups. Stir in pectin, let stand 10 minutes. Stir often. Pour into saucepan and bring to a boil over medium heat. Cook and stir 1 minute while boiling. Fill clean jars or freezer containers and store in fridge until jam is set. Store one in your fridge and the remainder in your freezer.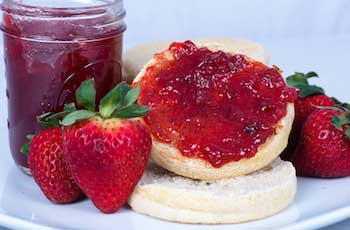 Berry Rice Cakes
1/4 Cup creamy peanut butter
1 teaspoon honey
3 fresh berries, cleaned and stems removed or replace with sliced bananas
24 mini rice cakes
Place the peanut butter into a small mixing bowl.
Add the honey and stir until well combined.
Cut each strawberry into 4 equal slices.
Spread the peanut butter mixture onto one side of each rice cake.
Place a strawberry onto 12 of the prepared rice cakes.
Top each strawberry with another rice cake peanut butter side down.
Blueberry Muffins
Ingredients:
2 Cups flour
1 Cups sugar
1 tsp. Baking powder
1/2 tsp. Baking soda
1/2 tsp. Salt
1/4 Cups butter, cold
2/3 Cups buttermilk
2 tsp. Vanilla
1 egg, beaten
1 Cup fresh blueberries
Directions:
Preheat oven at 350 degrees F. Grease one loaf pan. In mixer add together flour, sugar, baking powder, baking soda and salt. With pastry blender, cut in 1/4 cup cold butter until crumbly. Add buttermilk, vanilla and egg into crumbly mixture. Stir until just moist. Gently stir in blueberries with a spoon. Pour into greased pan. Bake for one hour or until toothpick inserted in center comes out clean.
Berry Heaven Smoothie
by Kayleigh,(London)
Ingredients:
half cup of strawberries
half cup of blueberries
half cup of blackberries
half cup of raspberries
cherries(optional)
half cup of orange or apple juice
Blend all together in blender.
Berry Smoothie Video
Try this
Strawberry Margarita Mocktail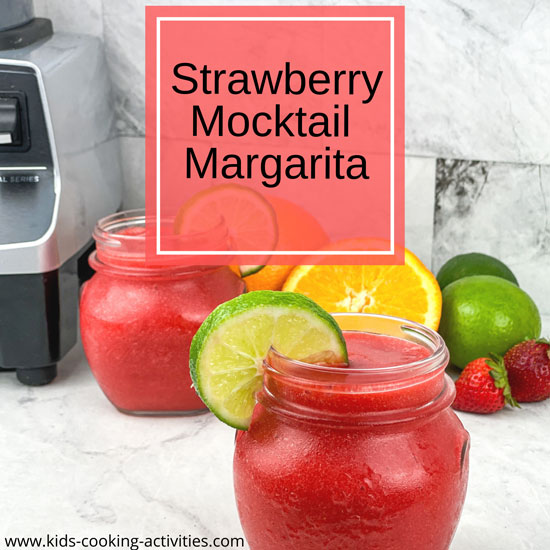 Strawberry Spinach Salad
Fresh spinach
Fruit of choice: sliced strawberries, sliced kiwi, taste great and add nice color to your salad but choose whatever you'd like
Spinach Salad Dressing
1 Cup oil
4 Tablespoon sour cream
5 Tablespoon vinegar
½ teaspoon mustard
2 garlic cloves
½ teaspoon salt
2 Tablespoons sugar
2 teaspoon parsley
In a jar or salad shaker, add oil and sour cream. Then mix in vinegar and other ingredients. Store in the fridge until ready to serve. Shake well before using.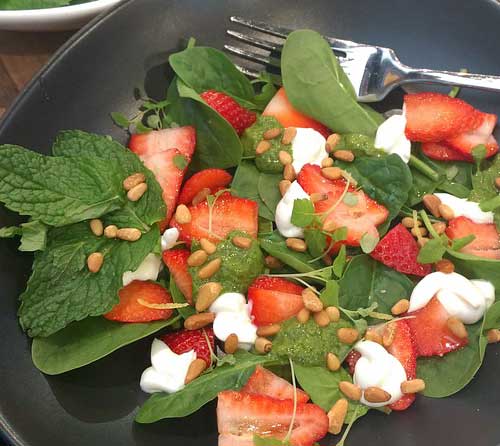 Strawberry Muffins
3/4 cup milk
1/2 cup vegetable oil
1 egg
2 cups all-purpose flour
1/3 cup sugar
1 tablespoon baking powder
1/4 teaspoon salt
1 cup chopped strawberries
In mixing bowl combine milk, oil and egg. Blend in flour, sugar, salt and baking powder. Blend until smooth. Stir by hand or gently add in chopped strawberries.
Add mini or regular muffin liners to muffin pans. Add spoonfuls of dough into muffin liners. Bake at 400 degrees until golden brown.
Chocolate Berries
Dip berries in chocolate with this
easy chocolate strawberries recipe.

Kids Cooking Video: Blueberry Ice Cream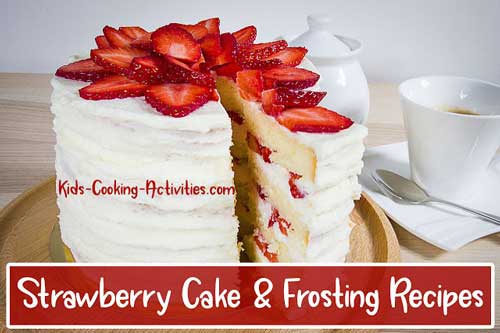 Use your fresh strawberries with these cake recipes

Share your food facts and recipes
Do you have a food facts or recipe to share?
Reader's Submitted Recipes
Click below to see contributions from other visitors to this page...

Blueberry Crisp Not rated yet
Prep time: 15 minutes Cook time: 45-50 minutes Serves: 4-6 Ingredients: 4 c. fresh blueberries, rinsed ¼ c. real maple syrup ¾ t. ground cinnamon …
Strawberry Cookie Short Cake Not rated yet
What You Need: 1 (18 oz.) pkg. refrigerated sugar cookie dough or homemade sugar cookie dough 2 tbsp of sugar 1 qt. of fresh strawberries, washed, …
Strawberry Cake and Frosting Recipes Not rated yet
Easy Strawberry Yogurt Cake White cake mix 6 oz. strawberry yogurt Prepared Frosting Fresh sliced strawberries Beat mix according to directions …
---
Related Food Facts Pages:
~
Apple
, ~
Apricot
, ~
Avocado
, ~
Banana
, ~
Berry
, ~
Cherry
, ~
Coconut
, ~
Cranberry
, ~
Dates
, ~
Figs
, ~
Grapefruit
, ~
Grapes
, ~
Kiwi
, ~
Lemon and Limes
, ~
Mango
, ~
Melon
, ~
Orange
, ~
Papaya
, ~
Peach
, ~
Pear
, ~
Pineapple
, ~
Plums
, ~
Tomato
, ~
Artichoke
, ~
Asparagus
, ~
Beets
, ~
Broccoli
, ~
Brussels Sprouts
, ~
Cabbage
, ~
Carrot
, ~
Cauliflower
, ~
Celery
, ~
Corn,
~
Cucumber
, ~
Eggplant
, ~
Garlic
, ~
Green Beans
, ~
Kale
, ~
Lettuce/Salad Greens,
~
Mushrooms,
~
Okra
, ~
Onion
, ~
Parsnip,
~
Peas,green
, ~
Peppers,
~
Potato
, ~
Radish
, ~
Rhubarb
, ~
Spinach
, ~
Summer Squash and Zucchini
, ~
Sweet Potato
, ~
Turnip
, ~
Winter Squash, including Pumpkins
, ~
Beans
, ~
Eggs
, ~
Nuts
, ~
Seeds
, ~
Meat
, ~
Dairy
, ~
Grains
---
Follow Kids Cooking Activities