Gingerbread House Recipes and Ideas
Gingerbread house recipes can look rather intimidating but if done step by step or an easier version they can be great fun for kids and a chance for their creativity to shine.
Kids Cooking Activities Teaching Materials
Make teaching easier with our activities and recipes compiled in theme sets and books with an easy to read format
Perfect for teaching!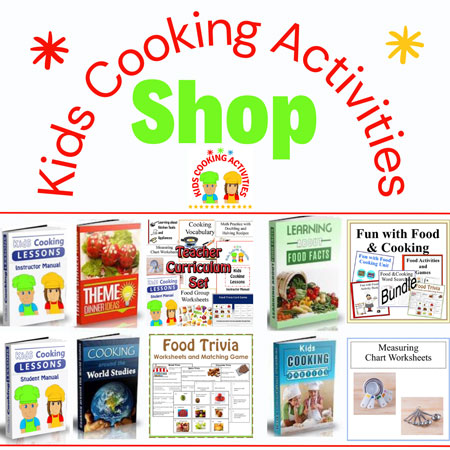 ~This post may contain affiliate links and I'll earn a small commission if you shop through them. There is no extra cost to you. This is how we help support our family and continue to bring you amazing content. To learn more see the
affiliates disclosure here.
~
Basic Gingerbread House Recipe
Gingerbread Recipe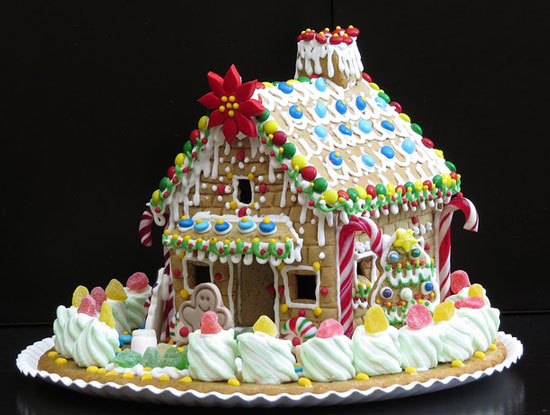 1 ½ cups packed brown sugar
1 ½ cups shortening
1 ½ cups dark molasses
¾ cup cold water
1 ½ teaspoons baking soda
2 teaspoons ground ginger
¾ teaspoon ground allspice
2 teaspoons ground cinnamon
¾ teaspoon ground cloves
2 teaspoons salt
7 1/2 cups all-purpose flour
In mixing bowl beat shortening, sugar, molasses and water together until well blended. Then add in baking soda, ginger, allspice, cinnamon, cloves and salt. Blend together and add flour. Form into a ball and chill for 1-2 hours. Roll out dough onto a floured surface and using templates or make your own cardboard house dimensions cut out pieces.
Bake in a 375 degree oven for 8-10 minutes. Don't allow to brown.
Lay your pattern pieces on top of the cooked gingerbread and trim if needed. The dough may have spread while cooking and you want your pieces to fit nicely together. Let cool at least 30 minutes-1 hour. Then construct your gingerbread house.
Here is a
gingerbread house template
you can download.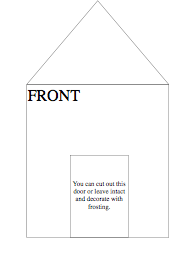 Buttercream Frosting
You can also use a
royal icing
to decorate gingerbread houses.
½ Cup shortening
3 ½ Cups powdered sugar
1 teaspoon clear vanilla (other vanilla is okay also but the frosting won't have a pure white look)
¼ teaspoon almond extract
3-4 Tablespoons of milk (add less for a thicker frosting)
In mixing bowl, add all ingredients and blend together. If using different colors separate into smaller bowls and add coloring.
Gingerbread House Assembling Tips
Here are some ideas to get those sides to stay up! To start with, pull a few cans of food out of your pantry.
Next, lay down some icing for the sides of the house to sit on top.
Stick one side into the icing and then take a can of food and support your house with the can so that it can dry.
Quickly apply icing to the sides of the back of your house and glue that to the edge of the side you just cemented in.
Let dry about 10 minutes.
Now do the second side much the same way that you did the first one. Lay down some more icing for the side to sit in. Smooth some icing onto the edge of the back and the current side you are working on. Glue them together. Again, you'll want to support them with a can of food. Let dry another 10 minutes.
Now the roof can get attached! (but, before you do put that roof on why don't you fill the inside of your house with a pile of candy.) Again, apply some icing to the sides and back edges of the house. Also apply icing to the roof edges where it connects to the sides and back of your gingerbread house.
Press roof on gently, connecting all the sides and the back of the house. If you are using the door, you can apply this at the same time. Let dry for about 10 more minutes before doing the final decorating. Prepare a serving tray or square piece of cardboard for the base of your house. Pipe frosting on edges of sides and attach together. Let dry for 20-30 minutes. Then attach the roof. Let dry another 20-30 minutes or overnight if your kids can wait that long! Then let the decorating begin.
Christmas Printable Fun Games!

Christmas Theme Crafts- Edible and just for decoration.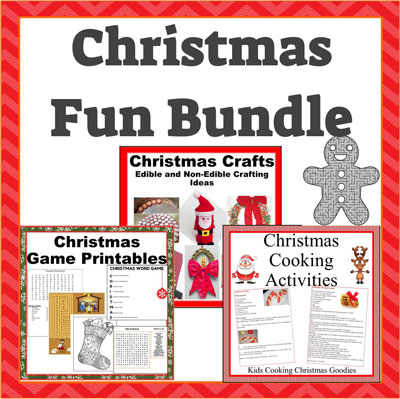 Printable Games, Coloring Sheets, and More
Gingerbread House Decorating Ideas
Use any of these ideas for your decorating:
Pretzel sticks for windows or fences
Miniature chocolate bars for roof tiles
Peppermint candies
Ice cream cones decorated with green frosting-(evergreen trees)
Chopped nuts for gravel
Gum drops
Jellybeans
Candy canes
Cake decorations or sprinkles
Mini marshmallows
Shredded wheat cereal for roof
Mini candy bars
And where ever the imagination takes you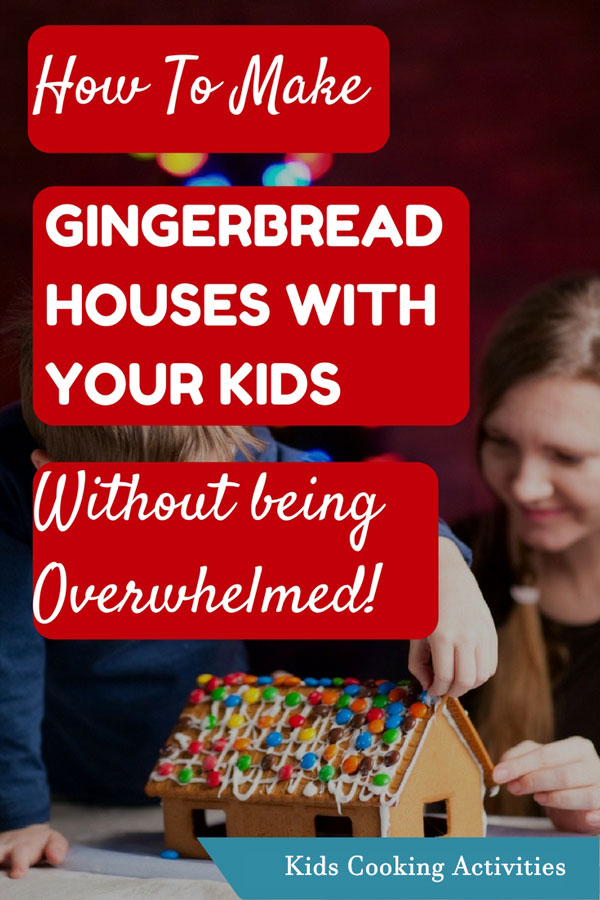 An Easy Graham Cracker Gingerbread House
Square box or small 8 oz. milk carton
graham crackers
White frosting
decorations
Place your box on a serving platter or tray. With the frosting attach graham crackers on each side of the milk carton. Then attach the roof with two crackers pointing up. Leave the house out to dry overnight. Then decorate however you choose.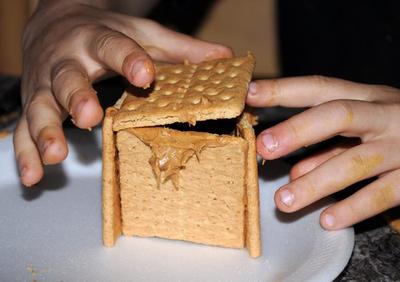 Gingerbread House Cookie Guide
---
Related Seasonal Recipe Pages:
~
School Lunches
, ~
Apples
, ~
Autumn Activities
, ~
Pumpkins
, ~
Kids Halloween Recipes
, ~
Halloween Recipe Ideas
, ~
Thanksgiving
, ~
Hanukkah Recipes
, ~
Kids Christmas cooking
, ~
Christmas Candy Recipes
, ~
Reindeer
, ~
Make Homemade Chocolates
, ~
Jar Mixes
, ~
Gift Basket Ideas
, ~
Homemade Fudge Recipes
, ~
Homemade Suckers
, ~
Christmas Cookie Recipes
, ~
Gingerbread House Recipes
, ~
Food Gift Ideas
, ~
Dough Ornament Recipes
, ~
Hot Cocoa
, ~
Happy New Year
, ~
Snowman Theme Recipes
, ~
Valentine's Day
, ~
Valentine Dessert Recipes
, ~
St. Patrick's Day
, ~
April Fool's Day Recipes
, ~
Passover Recipes
, ~
Kids Easter Recipes
, ~
Sugar Eggs Recipe
, ~
Resurrection Cookies Recipe
, ~
Italian Easter Bread
, ~
Russian Easter Bread Recipe
, ~
Earth Day
, ~
Cinco de Mayo, May 5
, ~
Mother's Day Recipes
, ~
Father's Day Recipes
, ~
Summer Cooking
, ~
Kid's Campfire Cooking Recipes
, ~
Dutch Oven Cooking for Kids
, ~
4th of July Recipes
, ~
Ice Cream Recipes
, ~
Popsicle Recipes
, ~
Simple Smoothie Recipes
, ~
Picnic Ideas and Recipes
, ~
Easy Grilling Recipes
, ~
Grow your own Garden
---
Follow Kids Cooking Activities