Hanukkah Kid Recipes
Finding some easy to make Hanukkah kid recipes can help to get your child truly involved in the Festival of Lights. Children will enjoy the fact that a lot of Hanukkah food is fried to celebrate the magical lighting of the menorah for 8 days when there was only enough oil for one day's burning.
Hanukkah is also a time of year to get together with family and friends over food, so teaching your child some simple traditional recipes can be a good way to introduce your child about cooking and about their religious heritage at the same time.
Kids Cooking Activities Teaching Materials
Make teaching easier with our activities and recipes compiled in theme sets and books with an easy to read format
Perfect for teaching!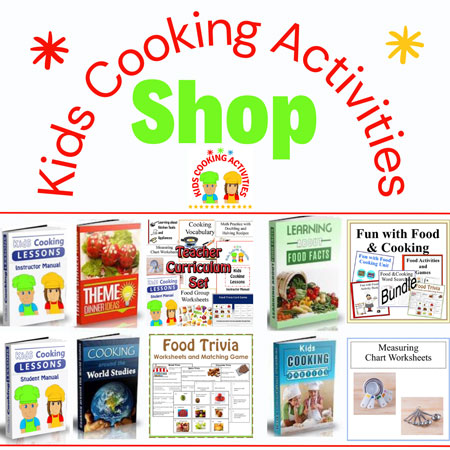 ~This post may contain affiliate links and I'll earn a small commission if you shop through them. There is no extra cost to you. This is how we help support our family and continue to bring you amazing content. To learn more see the
affiliates disclosure here.
~
Hanukkah Edible Menorah
You can make it with raw vegetables or steam them, like we have below.
To make this, you need:
9 thin green grape slices
9 asparagus spears
Green beans
Sliced carrots
Slice of cheese cut into a Star of David shape
Start by placing the grape slices along the plate, putting the middle one slightly higher than the rest. Next, rest the asparagus spears, with the tips over the grape slices, to make the grapes look like flames. Fashion the bottom of the menorah with the carrots slices and beans. Finish with the star on the asparagus in the center.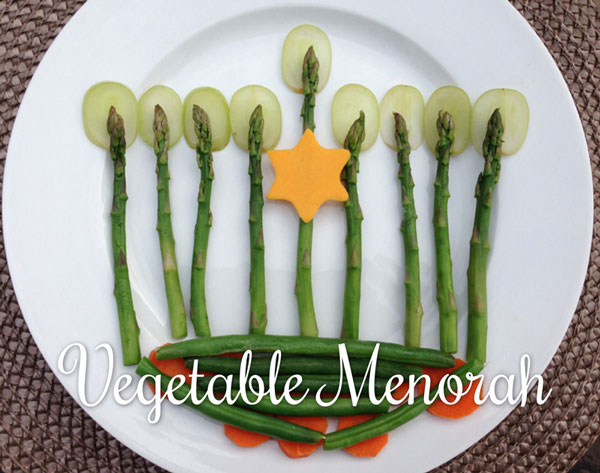 Potato Latkes
If you're thinking about easy to make Hanukkah kid recipes, Latkes, or Livivot as they're known in Hebrew, will be one of the first things to try. They require very few ingredients, none of them specialty items, and they always turn out well. Latkes do require frying in oil, so you may need to supervise or do this part for your child, depending on their age.
You will need:
5 large potatoes, washed but not peeled
1 medium onion, peeled
1 large egg
1 tablespoon white flour
½ teaspoon baking powder
Salt and pepper for seasoning
Oil for frying
Using the largest holes possible, completely grate the potatoes and onions. You'll then need to use a sieve or a colander to squeeze as much of the liquid out as you can. This does involve getting your hands covered in potato and onions and children tend to enjoy this bit the most.
In a separate large bowl, mix the rest of the ingredients apart from the oil. Add the squashed potato and onion mix and stir the whole thing together. This simple preparation makes Latkes one of the easiest Hanukkah kid recipes around.
Get the oil, about two tablespoons for each Latke, nice and hot in a skillet. Squash Latke mixture down so that each pancake is flat and circular. You'll need to fry them for four minutes on each side, and then set them aside on paper towels to let the oil drain. If you do more than one lot of frying, stir the mixture before cooking the next set of pancakes. Serve with apple sauce or sugar.
Chocolate Coins
Making your own chocolate coins can be a great way to personalize the
Dreidel Game
prize pot, and again they're one of the simplest Hanukkah kid recipes to make. You will need: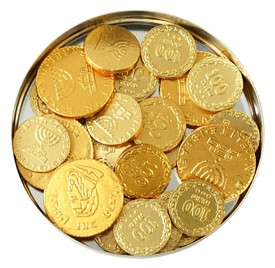 good quality chocolate
disposable cups
aluminum foil
any decorations you want to add such as sprinkles or jelly beans
Melt the chocolate in a microwave safe bowl in the microwave or in a double boiler on the stove. Pour the melted chocolate into the bottom of the cups up to a quarter inch in height.
Do your decorating while the chocolate is still warm as the decorations will be more likely to stick. Let it cool and allow them to set. Then turn them out of the cups and wrap them up in the foil as neatly as possible. If you're feeling artistic, try to draw a face on one side and a menorah on the other.
Food plays an important part around Hanukkah, and it's possible to turn complex traditional meals such as Challah or Gelt into Hanukkah kid recipes that will get you and your child working together in the kitchen. When you're getting your child involved in cooking, make sure that they have specific roles to do within the recipe and that you offer plenty of praise and support at all times. Cooking will be a large part of their religious life as they grow older, so you need to do all you can to make it a positive and exciting experience.
Do you have a Hanukkah cooking activity to share?
Seasonal Cooking Activity
Do you have a seasonal activity or recipe to share?
---
Related Seasonal Recipe Pages:
~
School Lunches
, ~
Apples
, ~
Autumn Activities
, ~
Pumpkins
, ~
Kids Halloween Recipes
, ~
Halloween Recipe Ideas
, ~
Thanksgiving
, ~
Hanukkah Recipes
, ~
Kids Christmas cooking
, ~
Christmas Candy Recipes
, ~
Reindeer
, ~
Make Homemade Chocolates
, ~
Jar Mixes
, ~
Gift Basket Ideas
, ~
Homemade Fudge Recipes
, ~
Homemade Suckers
, ~
Christmas Cookie Recipes
, ~
Gingerbread House Recipes
, ~
Food Gift Ideas
, ~
Dough Ornament Recipes
, ~
Hot Cocoa
, ~
Happy New Year
, ~
Snowman Theme Recipes
, ~
Valentine's Day
, ~
Valentine Dessert Recipes
, ~
St. Patrick's Day
, ~
April Fool's Day Recipes
, ~
Passover Recipes
, ~
Kids Easter Recipes
, ~
Sugar Eggs Recipe
, ~
Resurrection Cookies Recipe
, ~
Italian Easter Bread
, ~
Russian Easter Bread Recipe
, ~
Earth Day
, ~
Cinco de Mayo, May 5
, ~
Mother's Day Recipes
, ~
Father's Day Recipes
, ~
Summer Cooking
, ~
Kid's Campfire Cooking Recipes
, ~
Dutch Oven Cooking for Kids
, ~
4th of July Recipes
, ~
Ice Cream Recipes
, ~
Popsicle Recipes
, ~
Simple Smoothie Recipes
, ~
Picnic Ideas and Recipes
, ~
Easy Grilling Recipes
, ~
Grow your own Garden
---
Follow Kids Cooking Activities