Russian Easter Bread Recipe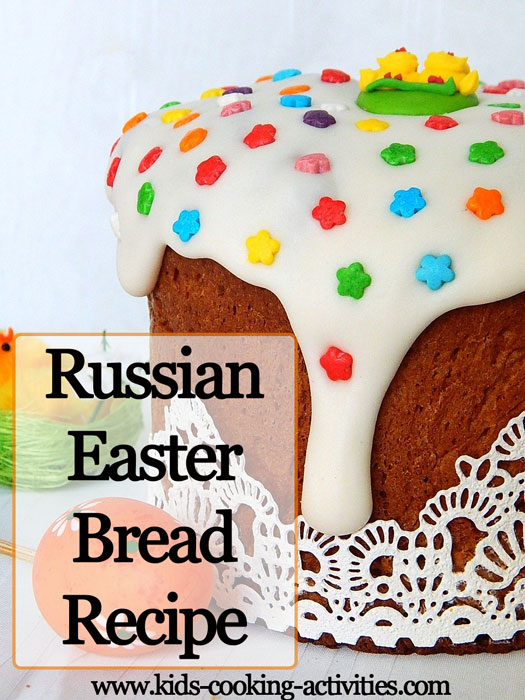 This traditional Russian Easter Bread could also be called Babka, meaning sweet yeast cake. In Bulgaria it is called Kozunak. Russian's call it Kulich. Anyway you name it try this Easter bread recipe for a nice addition to your Easter dinner or holiday.

Kids Cooking Activities Teaching Materials
Make teaching easier with our activities and recipes compiled in theme sets and books with an easy to read format
Perfect for teaching!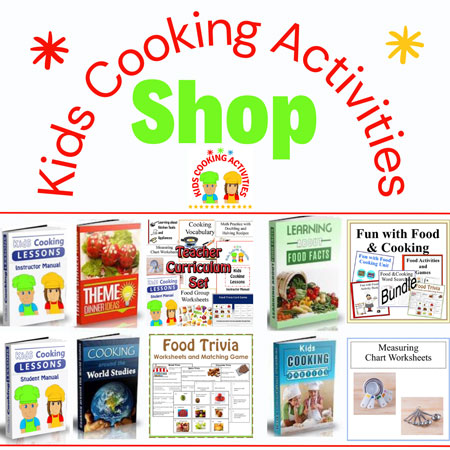 ~This post may contain affiliate links and I'll earn a small commission if you shop through them. There is no extra cost to you. This is how we help support our family and continue to bring you amazing content. To learn more see the
affiliates disclosure here.
~
Recipe for Easter Bread
Ingredients
1 Cup milk, warm
1 tablespoon or 1 pkg. Yeast
1 tablespoon sugar
½ Cup warm water
2 eggs
10 egg yolks
¾ cup butter, melted
2 teaspoons vanilla extract
½ cup sugar
2 teaspoons lemon zest about 2 lemons
juice from one lemon
¾ Cup raisins
5 1/2-6 cups flour
Directions
Warm milk and pour into mixing bowl. Warm water and add sugar and yeast. Set aside and let dissolve. In mixing bowl add 2 eggs and egg yolks. Save some egg whites in the fridge for brushing on the top later. Melt butter and add in bowl. Rub the outside of your lemons with a small grater and add to mixing bowl. Add in vanilla, sugar and lemon juice. Blend all together. Add in 2 cups flour and yeast mixture. Blend together. Add
raisins
and remaining flour to make a nice soft ball.

Add dough to a floured surface and knead several minutes. Knead in raisins. Place a tablespoon of oil in a large clean bowl and add your dough. Cover with a towel and let rise 1 hour. Punch down and rise another 30 minutes.

Shape dough into loaves if making loaves or shape into a braid, rolls, whatever you'd like. In a typical Russian Easter Bread recipe the dough is often placed in clean coffee cans or gallon cans at this point. Filling about ½ full. Cover your dough and let rise another 30 minutes.

Take out your egg whites you saved before and add 2 tablespoons water. Sprinkle with sugar. Brush tops of your dough and bake at 350 degrees until golden brown. Time will vary as to the size and shape of your bread.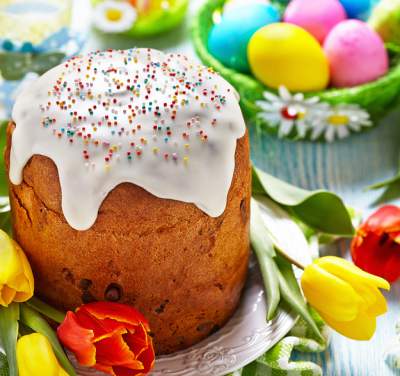 ** This Easter Bread recipe is similar in many countries including Ukraine, Bulgaria, Moldova and Poland.
Now you can try a Italian Easter Bread with dyed eggs.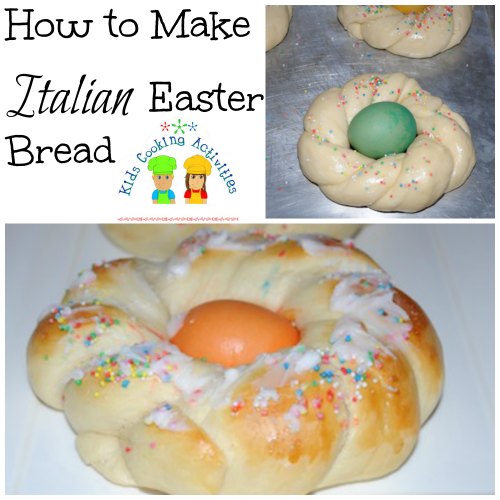 Easter Fun Printables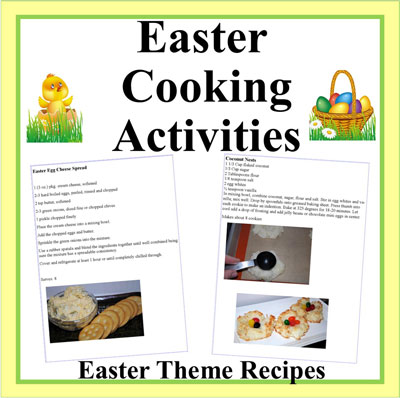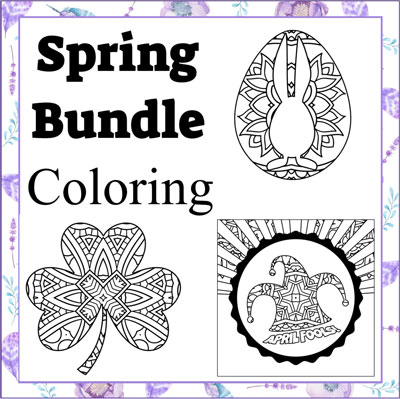 ---
Related Seasonal Recipe Pages:
~School Lunches, ~ Apples, ~ Autumn Activities, ~ Pumpkins, ~Kids Halloween Recipes, ~ Halloween Recipe Ideas, ~ Thanksgiving, ~Hanukkah Recipes, ~Kids Christmas cooking, ~Christmas Candy Recipes, ~ Reindeer, ~ Make Homemade Chocolates, ~Jar Mixes, ~Gift Basket Ideas, ~Homemade Fudge Recipes, ~ Homemade Suckers, ~ Christmas Cookie Recipes, ~ Gingerbread House Recipes, ~ Food Gift Ideas, ~ Dough Ornament Recipes, ~Hot Cocoa, ~ Happy New Year, ~ Snowman Theme Recipes, ~ Valentine's Day, ~ Valentine Dessert Recipes, ~ St. Patrick's Day, ~ April Fool's Day Recipes, ~Passover Recipes, ~Kids Easter Recipes, ~ Sugar Eggs Recipe, ~ Resurrection Cookies Recipe, ~Italian Easter Bread, ~ Russian Easter Bread Recipe, ~Earth Day, ~ Cinco de Mayo, May 5, ~ Mother's Day Recipes, ~ Father's Day Recipes, ~Summer Cooking, ~ Kid's Campfire Cooking Recipes, ~Dutch Oven Cooking for Kids, ~ 4th of July Recipes, ~ Ice Cream Recipes, ~ Popsicle Recipes, ~ Simple Smoothie Recipes, ~ Picnic Ideas and Recipes, ~ Easy Grilling Recipes, ~Grow your own Garden
---
Follow Kids Cooking Activities