Valentine Recipes
In honor of St. Valentine we've compiled recipes for kids to celebrate Valentine's day on February 14th. It is a day to show loved ones you care.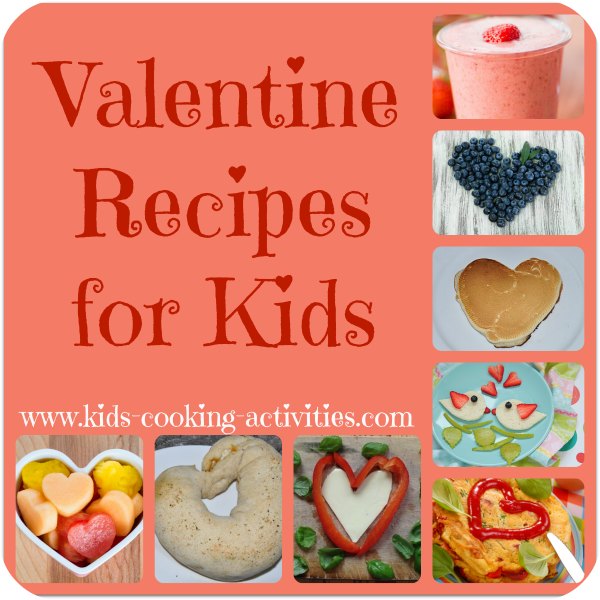 Chocolates, flowers, cards, balloons are all common Valentine's day gifts. The holiday originated by someone who indeed was named St. Valentine. After being imprisoned he sent notes signed, from your Valentine to his love. He was also martyred on February 14th hence why we celebrate on this particular day.
Kids Cooking Activities Teaching Materials
Make teaching easier with our activities and recipes compiled in theme sets and books with an easy to read format
Perfect for teaching!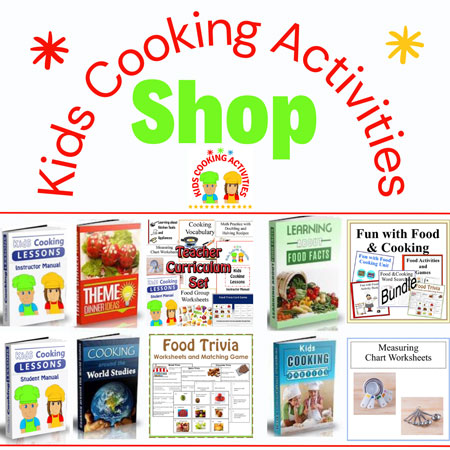 ~This post may contain affiliate links and I'll earn a small commission if you shop through them. There is no extra cost to you. This is how we help support our family and continue to bring you amazing content. To learn more see the
affiliates disclosure here.
~
Breakfast Valentine Recipes
Try some of these healthy valentine recipes for your Valentine's breakfast.
Love Potion Smoothie
1/2 cup frozen strawberries
1/2 cup frozen raspberries
1 small carton of yogurt
1/2 Cup ice cubes
1 cup apple juice
Place strawberries, raspberries and juice in blender. Blend several seconds. If you would like a thicker smoothie add more fruit or for a drinkable smoothie add 1/4 Cup more juice. This is one of those Valentine recipes that can be used year round. Find more
easy smoothie recipes here.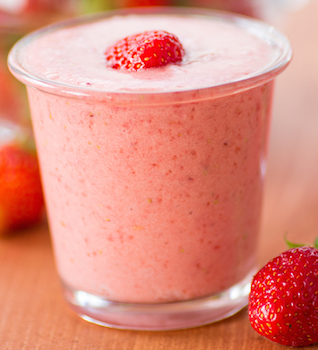 Fruit Flowers
Kids can use their creativity to make flowers out of cut fruit. Try using sliced strawberries for a flower and petals and use sliced kiwi for stems. Sliced peaches, raspberries, or blueberries all work great also. Create a flower on a plate or turn this simple Valentine recipe into a bouquet of flowers for your Valentine.
Blueberry Kiss Smoothie
2 small cartons of blueberry yogurt
1/2 Cup milk
2 scoops vanilla frozen yogurt or ice cream
Whip together in a blender and pour into glasses. If you'd like this in a more Valentine's color use strawberry, raspberry or cherry yogurt.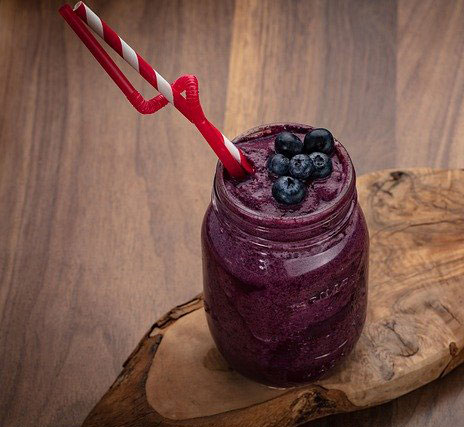 Cherry Crepes
4 Cup milk
5 eggs
½ teaspoon salt
1 Tablespoon sugar
2 Cup flour
1 Tablespoon oil for frying
Lightly beat eggs. Stir in milk, sugar and salt. Add flour and mix well with an electric mixer. Let rest for 10 minutes. If necessary add more milk so batter is thin. Heat small fry pan to very hot. Add oil to coat pan. Reheat. Add batter to just cover bottom of pan. Turn to brown other side. Set on plate and cover with a towel. Reheat pan no need to add more oil. Stir batter before each crepe. This recipe makes a lot!!
Cherry Filling
1/4 Cup sugar
1 Cup sour cream
1 jar canned sour cherries, or 2-3 Cups fresh pitted cherries mixed with 3/4 Cup-1 Cup sugar
Mix together sugar and sour cream until sugar is dissolved. Set aside. Set one crepe on a board, put a row of cherries across the crepe, in the lower ¼th. Roll the crepe from the bottom over the cherries and to the top. Drizzle with sugar/sour cream mixture.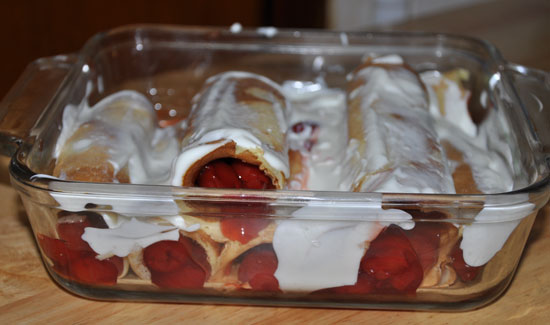 Here are more
crepe recipes
including savory and sweet variations.
Simple Valentine Breakfast Ideas
Cut toast into heart with a cookie cutter and spread with red jam.




Top a bowl of oatmeal or hot cereal with berries in a heart shape.




Make biscuits or scones shaped like hearts.

Valentine Snacks
Make frozen yogurt bites shaped like hearts and flowers.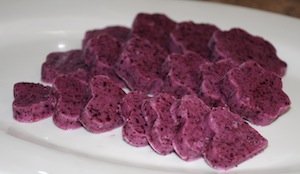 Shape
homemade pretzels into heart shapes.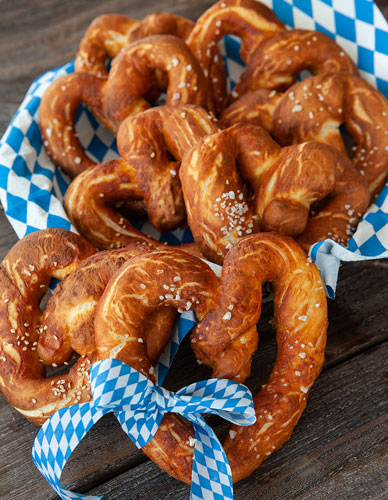 Use
heart cookie cutters
to create heart sandwiches kabobs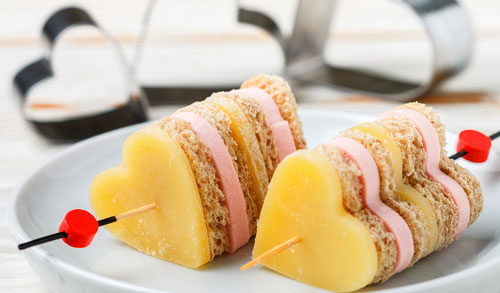 Spread strawberry or plain cream cheese, then strawberry jam on top of a tortilla. Roll up and cut into slices.
Create this Heart Berry Toast with strawberry slices and banana slices cut out in hearts. Spread Nutella or peanut butter on a slice of bread and add berries and fruit.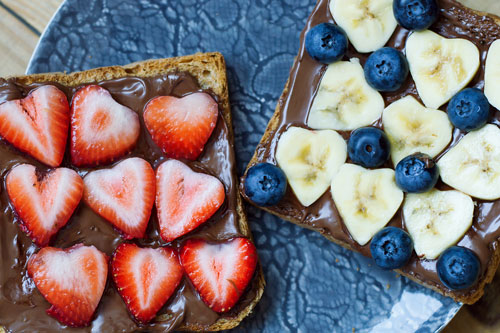 Valentine Dinner Menu Recipes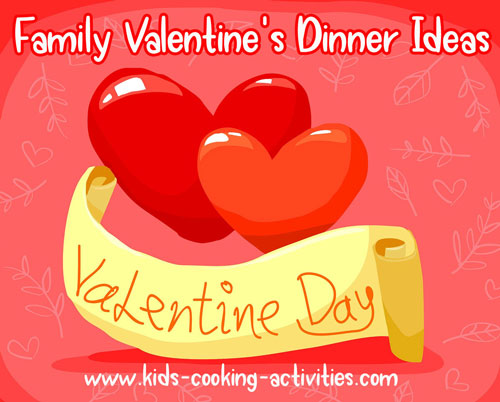 Try serving some of these fun Valentine recipes for kids at dinnertime or they are easy enough kids can put them together for their parents.
Individual Heart Shaped Pizzas
Pizza dough
Mozzarella cheese
Pizza sauce
Toppings of your choice
Divide pizza dough into balls according to the number of servings you will need. Shape dough into a heart shape by making a round circle and forming the top of a heart to the top of the pizza round. Make a point at the bottom. If you have a heart shaped cake pan you can use that also. Top with pizza sauce, cheese and toppings of your choice. Give this Valentine recipe more hearts by cutting pepperoni or ham slices into heart shapes or making heart shapes out of green or red pepper slices.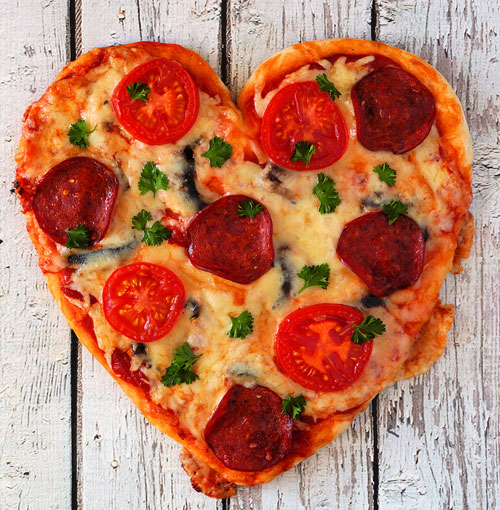 Heart Stromboli
Make a
pizza stromboli recipe
and shape it into a heart for a fun Valentine's Dinner. Serve with spaghetti or tomato sauce for dipping.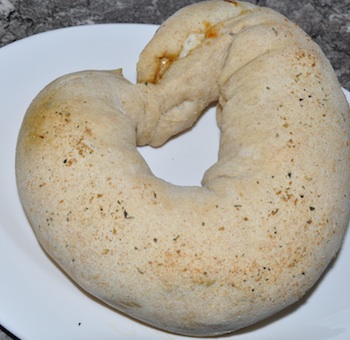 Valentine Pizza Soup
8 oz. Can of sliced mushrooms
1 can black olives sliced
Pepperoni cut in small pieces
4 Cups water
Large jar of spaghetti sauce or homemade spaghetti sauce
2 Tablespoons Italian seasoning
1 teaspoon parsley
1 teaspoon basil
In saucepan add all ingredients together. You can add or omit any ingredients as you would like. Simmer on medium 15-20 minutes until warm. Serve with garlic bread.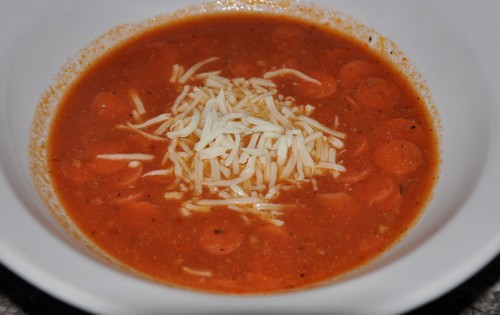 One of our favorite soups for this holiday is
Borscht.
The red beets make the soup a bright red color and perfect for Valentine's Day. Serve with a dollop of sour cream on top and the soup will turn pink once you stir it in, too!
Heart Meatballs
1 egg beaten
½ Cup Spaghetti sauce
¼ Cup bread crumbs, seasoned
½ teaspoon Italian seasoning
1 ½ lbs. Ground beef
1½ Cup shredded mozzarella cheese
Combine all ingredients together in a large bowl. With your hands shape meat into a heart. These will be much bigger than average size meatballs. Bake in a 350 degree oven for 20-25 minutes until done in the middle or grill. (test with a meat thermometer)

It is rather easy to shape these into a heart shape and they are great placed on a mound of spaghetti or eaten as it is with a dot of red ketchup on the top. One of the easiest and fun kids Valentine recipes.
---
Make teaching easier with our activities and recipes compiled in one easy to read format.
---
Fun Valentine Recipes for Kids
Fondue
Have a Fondue Party
- this is great fun for a Valentine Celebration.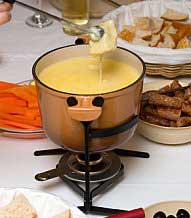 10 Heart Theme Ideas for your Valentine Recipes
You don't have to go all out for Valentine's Day. Here are some simple ways to add some love to your Valentine's meals. (or anytime of year!)
Heart Salad
Create a green tossed salad with whatever vegetables you'd like. Add some healthy Valentine hearts by cutting red peppers in half. Remove the seeds and cut out the core. With a small mini heart cookie cutter cut out hearts out of your red pepper halves. Toss into your salad. It is a lot of fun for those at dinner to find these red hearts.



Trace a heart shape onto a piece of tinfoil. Cut out the heart. Make a pizza or a spaghetti pie, place the tin foil heart in the middle of your dish and sprinkle with cheese all around the edges. Bake. Your valentine dish will come out looking very festive with a red heart (spaghetti sauce) in the middle and white around the edges (cheese).



Use heart cookie cutters to make simple changes to everyday food.



Cut bread with a heart cookie cutter and make homemade croutons. Add to a favorite soup recipe.



Make an omelet and top with a ketchup heart.



Prepare a sandwich into a delight with a peek a boo heart using cookie cutters and red jam.



Create Valentine pancakes by pouring batter into a heart shape or pouring batter into a metal heart cookie cutter.



Use cantaloupe, watermelon and pineapple to design a fruit salad filled with love.



Add a Valentine garnish with a cream drizzle shaped like a heart to a red bowl of soup like borscht or pizza soup recipe above.



Start Valentine's Day with a heart egg breakfast.

Looking for Valentine Dessert Recipes?

Valentine Printable Games
Wait there is a whole lot more Valentine Recipe Ideas for you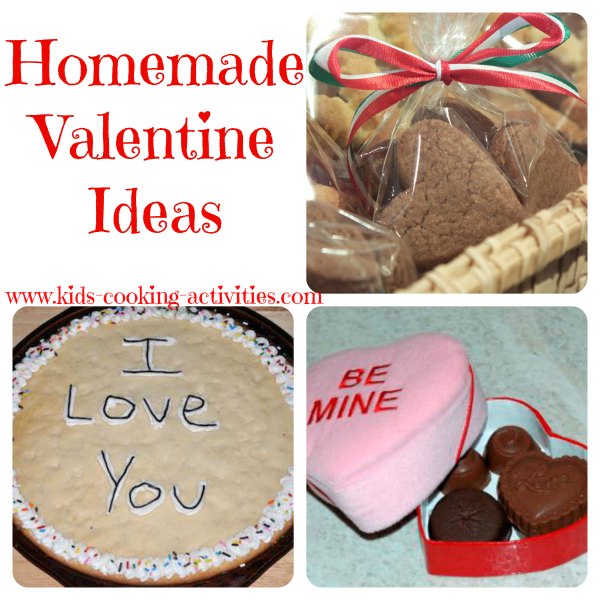 10 Homemade Valentine Food Ideas

Valentine Desserts
Share one of your favorite Valentine's Recipes

Submit your favorite kids recipe
Do you have a favorite recipe your kids love to make? Or a recipe your kids ask you to make again and again? Share it with us!
---
Related Seasonal Recipe Pages:
~
School Lunches
, ~
Apples
, ~
Autumn Activities
, ~
Pumpkins
, ~
Kids Halloween Recipes
, ~
Halloween Recipe Ideas
, ~
Thanksgiving
, ~
Hanukkah Recipes
, ~
Kids Christmas cooking
, ~
Christmas Candy Recipes
, ~
Reindeer
, ~
Make Homemade Chocolates
, ~
Jar Mixes
, ~
Gift Basket Ideas
, ~
Homemade Fudge Recipes
, ~
Homemade Suckers
, ~
Christmas Cookie Recipes
, ~
Gingerbread House Recipes
, ~
Food Gift Ideas
, ~
Dough Ornament Recipes
, ~
Hot Cocoa
, ~
Happy New Year
, ~
Snowman Theme Recipes
, ~
Valentine's Day
, ~
Valentine Dessert Recipes
, ~
St. Patrick's Day
, ~
April Fool's Day Recipes
, ~
Passover Recipes
, ~
Kids Easter Recipes
, ~
Sugar Eggs Recipe
, ~
Resurrection Cookies Recipe
, ~
Italian Easter Bread
, ~
Russian Easter Bread Recipe
, ~
Earth Day
, ~
Cinco de Mayo, May 5
, ~
Mother's Day Recipes
, ~
Father's Day Recipes
, ~
Summer Cooking
, ~
Kid's Campfire Cooking Recipes
, ~
Dutch Oven Cooking for Kids
, ~
4th of July Recipes
, ~
Ice Cream Recipes
, ~
Popsicle Recipes
, ~
Simple Smoothie Recipes
, ~
Picnic Ideas and Recipes
, ~
Easy Grilling Recipes
, ~
Grow your own Garden
---
Follow Kids Cooking Activities