Edible Gift Basket Ideas
Regardless of the occasion, edible gift basket ideas are a personal and inexpensive way to show your loved ones how much you care. Edible gifts make great presents because they are easily put together and can be completely customized to reflect the person to whom you are gifting it.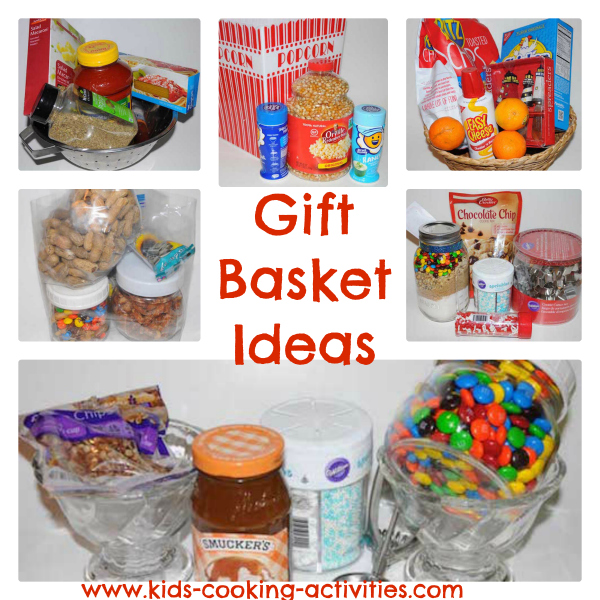 You have two options when looking for edible gift basket ideas: commercial and handmade gift baskets. You can purchase and assemble handmade edible gift components and decorations at a much lower cost than buying the already assembled basket from a gift store and handmade shows you put a lot of time and effort into the gift.
Kids Cooking Activities Teaching Materials
Make teaching easier with our activities and recipes compiled in theme sets and books with an easy to read format
Perfect for teaching!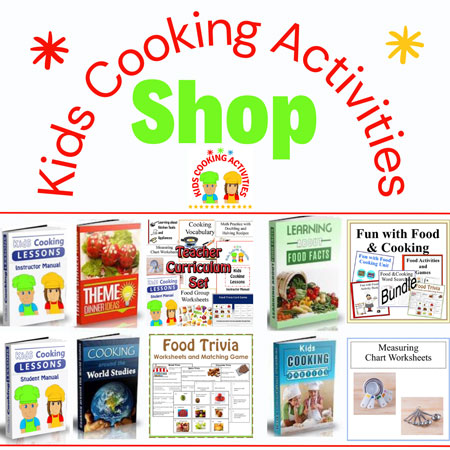 ~This post may contain affiliate links and I'll earn a small commission if you shop through them. There is no extra cost to you. This is how we help support our family and continue to bring you amazing content. To learn more see the
affiliates disclosure here.
~
Types of Edible Gift Baskets
With so many types to choose from, deciding on edible gift basket ideas can be a challenge. The easiest way to choose is to
build an edible basket around the favorite foods and interests
of the person who will be receiving it. Some of the varieties of edible gift baskets include:
Completely Edible Ideas
If you're looking for edible gift basket ideas that make great hosting gifts for parties, gatherings and holidays, consider a completely edible basket. In this type of gift basket, everything within is edible in its original form. This type of gift is perfect for gatherings because the hostess can simply unwrap the gift and share it with her guests. Ideas for this type of basket include but are not limited to
Candy Craze Baskets
Find out what your hosts favorite candies are and fill a basket full of them. Leave them in their store bought wrappers or but them in decorative jars for an extra personal touch. As an alternative, if your gift recipient loves chocolate, fill the basket with that instead.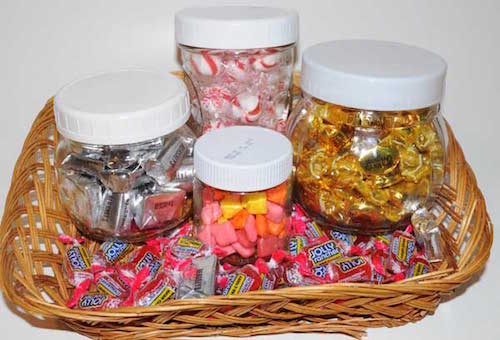 What a Nut Basket
Fill small decorative jars or boxes with all different kinds of whole nuts, cracked nuts and trail mixes. Arrange in a basket and add a
nutcracker
.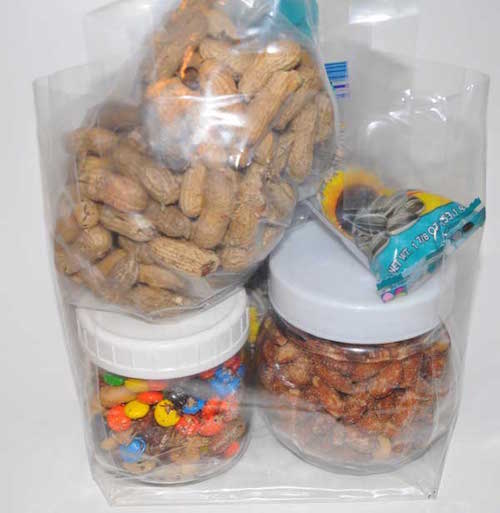 Tutti Fruity Basket
Great for summer parties, pack a basket full of citrus fruits, grapes, a pineapple and even containers of berries. Add a container of low fat yogurt dip or caramel dip and Voila! The taste of sunshine!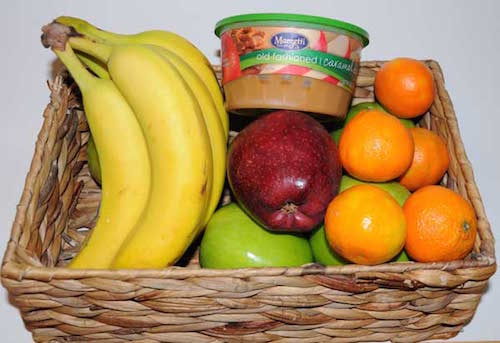 Bakers Basket
If you love to bake, consider packing your basket full of several varieties of traditional or holiday cookies and homemade breads. Not only will they be made with love but everyone will love you for sharing. Or create a cookie theme basket that they can bake and create their own easily. Include a
cookie jar mix
for them to make themselves.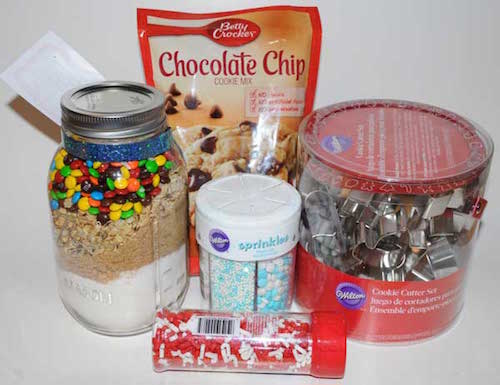 Hot Cocoa Mug Basket
Use a
fun mug
as your basket and include some hot cocoa mixes, peppermint sticks or candy canes, chocolate spoons or cocoa stirrers.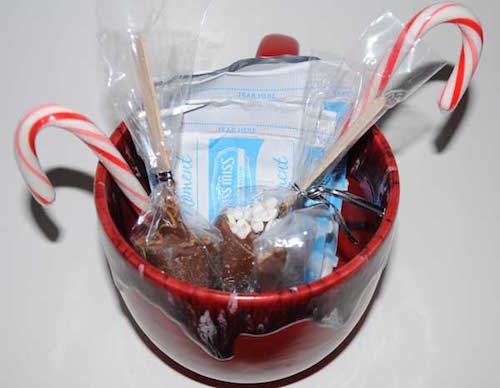 ---
Make teaching easier with our activities and recipes compiled in one easy to read format.
---
Recipe Baskets
The perfect holiday or birthday gift for co-workers, recipe baskets provide all of the ingredients you will need to make a special meal or treat for your loved one and their family to enjoy.
Cheese and Crackers Gift Basket
Include a cheese ball or cheese dip, crackers, fruit, cut up vegetables and a
cheese spreader
. Prepare the cheese dip recipe below and place in a fancy pint jar. This recipe also has festive colors of green and red which makes for a nice addition to a Christmas food gift basket.
Cheese Dip Recipe
1 8-ounce package cream cheese softened
1 teaspoon lemon juice
1/2 teaspoon seasoning salt
1 cucumber, finely chopped
5 radishes finely chopped
2 green onions finely chopped
1 teaspoon paprika
1 tablespoon parsley finely chopped or 1 teaspoon dried
Mix ingredients together and place in a pretty pint jar or bowl. Chill for several hours. Attach a note to the basket to refrigerate cheese dip and Enjoy the Holidays.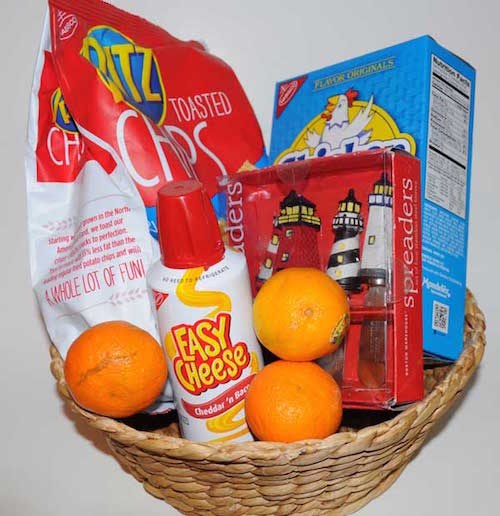 Pasta Gift Basket
Stuff a basket full of different colors and shapes of pasta along with a few jars of
homemade spaghetti sauce
or a jar of Alfredo mix. For extra fun, include a jar of Italian seasonings. A fun
strainer
or
serving bowl
makes a nice touch to this Christmas food gift.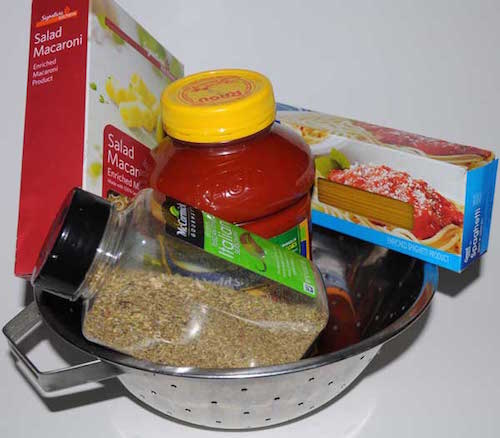 Popcorn Basket
Include a fun popcorn bowl, gourmet popcorn kernels, seasonings and a DVD or movie rental coupon.
Try some of these popcorn or caramel popcorn recipes and include a batch in the gift basket.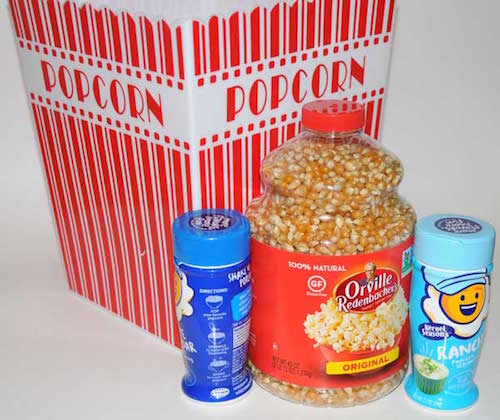 Breakfast Basket
Give the gift of a hearty breakfast with this unique variation on the edible gift basket. Include items such as
muffin mix, pancake mix
,
homemade granola
and fresh berries.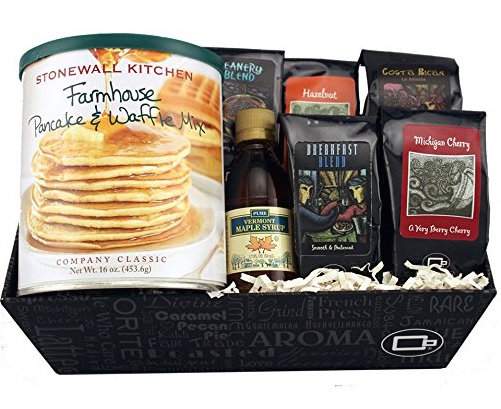 Cookie Basket
You can make a delicious arrangement from our
Christmas cookie recipes page,
or try a cookie mix in a jar. (They can make cookies at a later time when the holidays are over.) See our
jar mixes recipes
. Add both fresh cookies and a cookie jar mix for double the enjoyment. Include a fun milk container/pitcher or a cookie jar to the basket for a complete Christmas food gift.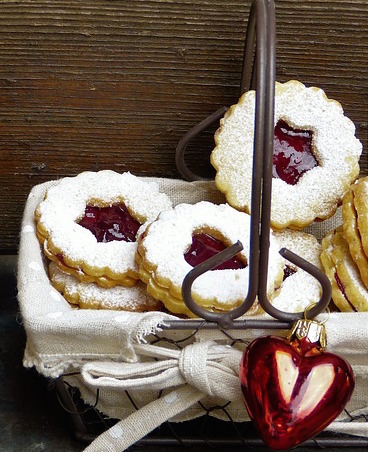 Party Basket
Include this onion cheese dip mix with a bag of chips or vegetables and a
new family game
or a drink mix to complete this food basket idea.
Onion Cheese Dip Mix
1 tablespoon minced onion
1 tablespoon grated Parmesan cheese
1 ½ teaspoons beef bouillon
¼ teaspoon garlic salt
Mix together in bowl until well combined. Place in a Ziploc baggie or small spice container. Add a label for Onion Cheese Dip mix:
Mix in bowl 1 Cup sour cream and contents of onion cheese dip mix. Chill 1 hour.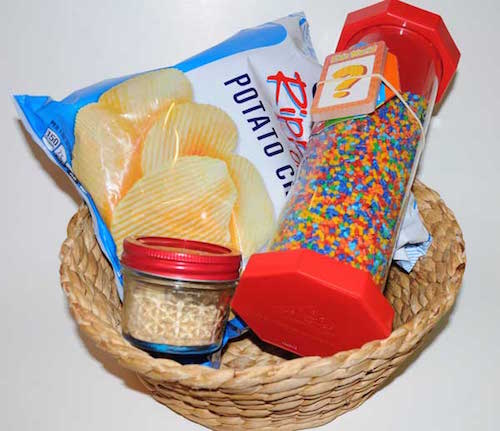 Gingerbread Family Fun Basket
Many families don't have the time to make gingerbread houses in the bustling Holiday season. This basket can help a family put one together without all the preparation work. Include in your basket
homemade gingerbread (find the recipe here)
that they can assemble, candies for decorating, and frosting or the frosting recipe they can make on their own.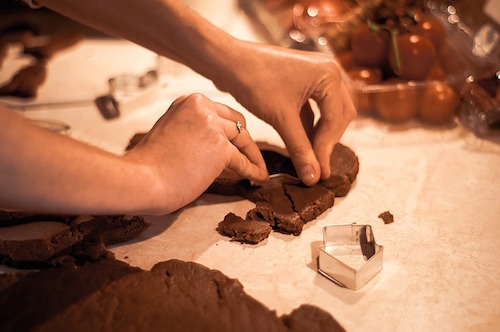 Sundae Fun Basket
Edible gift basket ideas don't always have to be for meals. Try filling your basket full of all the items you need to make a special ice cream sundae. Include candies, chocolate or caramel ice cream sauce, sprinkles and even cherries for a unique one of a kind gift. This homemade fudge sauce poured in a nice jar, decorative ice cream bowls, or an
ice cream scoop
can finish off the edible gift basket nicely.
Hot Fudge Sauce
3 tablespoons butter real
1/3 cup granulated sugar
1/3 cup brown sugar firmly packed
1/2 cup unsweetened cocoa
1/3 cup half and half
Pinch of salt
In a saucepan heat ingredients together, when butter is melted turn heat down to low. Continue cooking until sugar is dissolved. Allow to cool and pour into decorative jars. Attach a label to warm up in saucepan.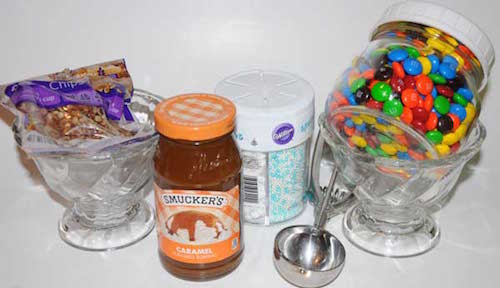 Edible gift basket ideas are not hard to come up with and make for perfect gifts for almost every type of person. Remember as you plan your basket to keep in mind the tastes and interests of the person you are giving it to. This type of gift is an excellent way to show your loved ones you care without having to spend large amounts of money.
10 Budget Friendly Gift Basket Ideas
Christmas Printable Fun Games!

Christmas Theme Crafts- Edible and just for decoration.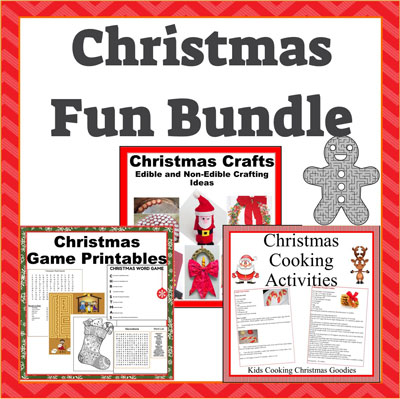 Printable Games, Coloring Sheets, and More
---
Related Seasonal Recipe Pages:
~
School Lunches
, ~
Apples
, ~
Autumn Activities
, ~
Pumpkins
, ~
Kids Halloween Recipes
, ~
Halloween Recipe Ideas
, ~
Thanksgiving
, ~
Hanukkah Recipes
, ~
Kids Christmas cooking
, ~
Christmas Candy Recipes
, ~
Reindeer
, ~
Make Homemade Chocolates
, ~
Jar Mixes
, ~
Gift Basket Ideas
, ~
Homemade Fudge Recipes
, ~
Homemade Suckers
, ~
Christmas Cookie Recipes
, ~
Gingerbread House Recipes
, ~
Food Gift Ideas
, ~
Dough Ornament Recipes
, ~
Hot Cocoa
, ~
Happy New Year
, ~
Snowman Theme Recipes
, ~
Valentine's Day
, ~
Valentine Dessert Recipes
, ~
St. Patrick's Day
, ~
April Fool's Day Recipes
, ~
Passover Recipes
, ~
Kids Easter Recipes
, ~
Sugar Eggs Recipe
, ~
Resurrection Cookies Recipe
, ~
Italian Easter Bread
, ~
Russian Easter Bread Recipe
, ~
Earth Day
, ~
Cinco de Mayo, May 5
, ~
Mother's Day Recipes
, ~
Father's Day Recipes
, ~
Summer Cooking
, ~
Kid's Campfire Cooking Recipes
, ~
Dutch Oven Cooking for Kids
, ~
4th of July Recipes
, ~
Ice Cream Recipes
, ~
Popsicle Recipes
, ~
Simple Smoothie Recipes
, ~
Picnic Ideas and Recipes
, ~
Easy Grilling Recipes
, ~
Grow your own Garden
---
Follow Kids Cooking Activities