Kids Thanksgiving Recipes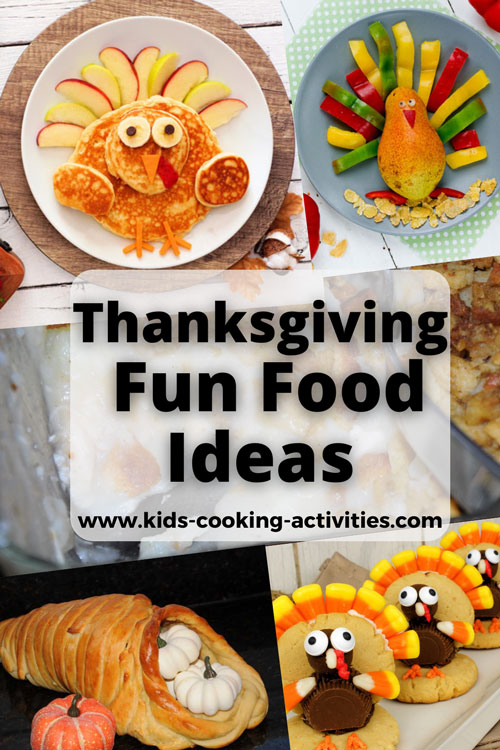 We've included here kids Thanksgiving recipes and Thanksgiving ideas for kids. Thanksgiving recipes can often times be time consuming or a whole gourmet meal but we have some simple fun ideas for how to get your kids involved in the Thanksgiving preparation.
Kids Cooking Activities Teaching Materials
Make teaching easier with our activities and recipes compiled in theme sets and books with an easy to read format
Perfect for teaching!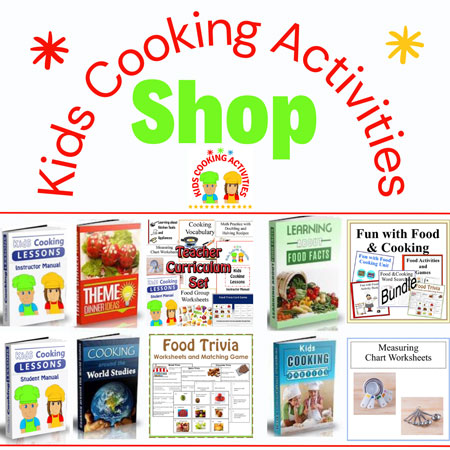 ~This post may contain affiliate links and I'll earn a small commission if you shop through them. There is no extra cost to you. This is how we help support our family and continue to bring you amazing content. To learn more see the
affiliates disclosure here.
~
What Was for Dinner at the First Thanksgiving?
The first thanksgiving was a celebration of harvest with pioneers and Native American Indians. Traditionally back in 1621 they probably had deer, wild turkeys, fish, duck, goose, wild cranberries, blueberries, cherries, carrots, turnips, onions, cabbages, and corn. Deer was probably the main dish compared to turkey now a days. It was a feast to celebrate freedom, harvest, and friendship and lasted for three days.
Start a Gratitude Tradition this Thanksgiving
A great Thanksgiving idea for kids is to start a gratitude tradition. Did you know that when the pilgrims first came to America they had very little to eat that first winter? They were allotted 5 kernels of corn per day because food was so scarce. A wonderful tradition to start is handing out 5 kernels to each person around the dinner table and each person has to think of 5 things they are grateful for. It is a great reminder that we are all blessed with lots of food and many wonderful things to be grateful for.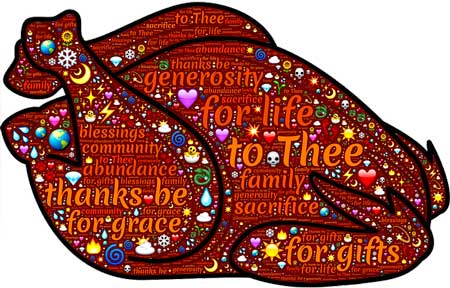 Kids Thanksgiving Recipes: Decorating your Table
Baked Cornucopia Centerpiece
or frozen bread dough
1 egg white
Aluminum foil, pizza pan or heavy duty foil
Roll foil pan or large sheet of heavy foil into a cone shape. Twist the end to form a horn shape. Spray foil with cooking spray and place on cookie sheet. Roll bread dough out into large rectangle. Cut into 10 strips about 1 ½ inch wide. Start at end of cone shape and wrap bread strips around and pinch ends together.
Overlap strips so no foil is showing. Continue laying down strips and wrap around pinching ends together until completely filled. You can add a braided edge with remaining pieces of dough. With pastry brush, brush egg white all over bread. Let rise for 20 minutes. Bake at 350 degrees for 25 minutes. Cover with foil and bake 20 minutes longer. Allow to cool and remove foil. Use as a decoration with autumn fruits and vegetables of choice.
Harvest Feast Centerpiece
3-4 Pillar candles of varying sizes
harvest vegetables such as green beans, asparagus, carrot sticks, other vegetables
Place a rubber band around each pillar candle. Tuck green beans or other vegetables under the rubber band so that they are lined up all around the candle. Wrap a pretty ribbon or satin ribbon on top of the rubber band so that the rubber band isn't visible. Place on a pretty platter and tuck fresh fall leaves or flowers around bottom of platter. These candles look great around a table with your favorite Thanksgiving recipes.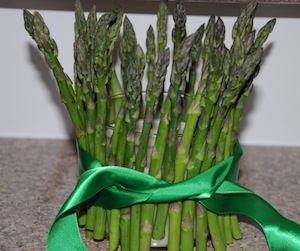 Kids Thanksgiving Recipe Snack Mix: Class Cornucopia Trail Mix
This activity works well for a cooking group or class. Before the actual cooking day, have each student bring in 1 Cup of something to share in a cornucopia trail mix. Such as raisins, nuts, popcorn, bite size snacks, dried fruit, etc. Sugar cones look like cornucopias. At Thanksgiving the Pilgrims and the Indians shared their food together and had a feast this is a fun way to get kids to act out the same idea.
The kids add all their ingredients to a large bowl, stir it together and fill their cornucopia sugar cones.
Or try this mix for the holiday:
Pretzels (that symbolize arms folded in thanks and pray)
Candy corn (see the gratitude tradition further on)
Circle shaped cereal (circle of unity)
Dried fruits (represent fruits available at harvest time)
Seeds or Peanuts (represent planting new crops)
Goldfish Crackers (fish was available and part of the first thanksgiving dinner)
Pour ingredients in large bowl and stir together. Serve in sugar cone cornucopias or a fun serving bowl.
Mini Cornucopias
Using
Bugles snack chips,
(they are shaped like mini cornucopias) add a dot of frosting inside. Place 3-4 Runt candies or Trix cereal on top of your frosting. Either of these are shaped like fruit so it makes a fun cornucopia snack.
---
How Can Kids Help with the Thanksgiving Meal?
For young kids, Thanksgiving dinner is something they aren't usually able to help with considering cooking dinner is centered around the stove and lots of hot dishes. If your kids are old enough, get them involved in cooking the turkey. It is a rather easy task. Or pick out another kids Thanksgiving recipe and find a task or two for them to help with.
How to Cook a Turkey
Every turkey you buy will tell you just how to cook it but it is not as scary or as difficult as some may think. Wash it, place it in a roasting pan and place it in the oven. If your kids are too young for cooking, another idea is to use Cornish hens. Kids can handle it easy, wash it and stuff if and place it in the baking pan. Then they feel a little more like they are part of the meal preparation.
Kids Thanksgiving Recipes for Making Pies
Kids can easily help with making pie dough or rolling out the dough. Here is a recipe for pie crust. If they can't do the cooking they can definitely get in on the prep work. And this is part of the thanksgiving meal that can be done ahead of time.
Apple Pie Recipe
Pumpkin Pie Recipe
Make Mini Pies
For a fun kids Thanksgiving recipe, use pie dough and cut out 5 circles with a 4 inch wide bowl and reserve scraps for strips. Press 5 circles into muffin tins. Press up sides. Fill with your favorite pie filling and top with strips. Bake at 425 degrees for 18 minutes. You can try this with any type of pie and kids can make their own and enjoy the benefits of their labor.
Check out our pie recipes here.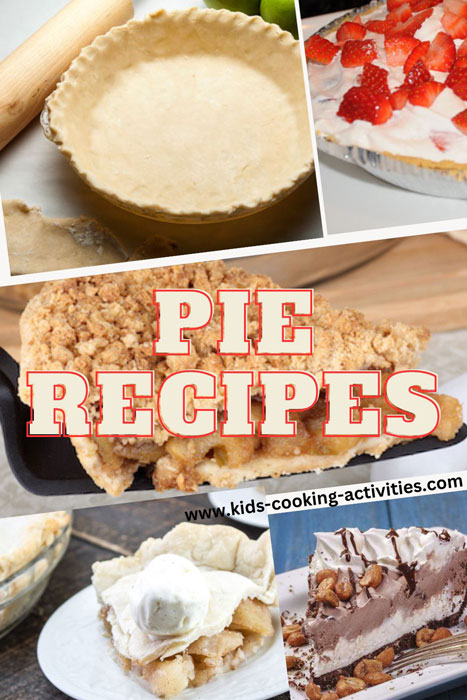 Thanksgiving Relish Tray
Put your kids in charge of the relish tray. If they are too young to cut vegetables for the tray have an adult cut and place in a bowl. Then put the kids in charge of designing and creating the platter. Let their creativity soar by having them design a turkey out of the vegetables. They can use red, green, and yellow peppers as feathers and other vegetables for the head and bodies. This is a great project for the younger chefs although the older chefs would enjoy it also.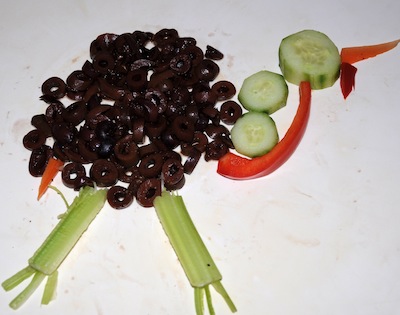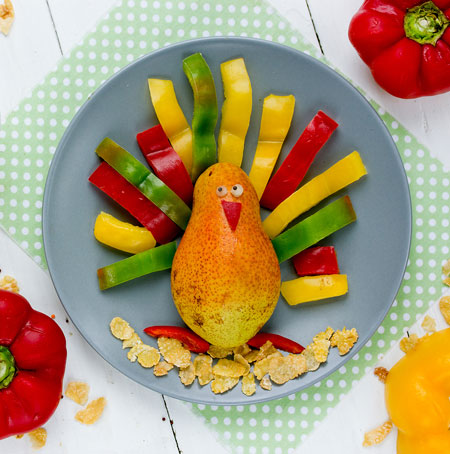 Or prepare a fruit platter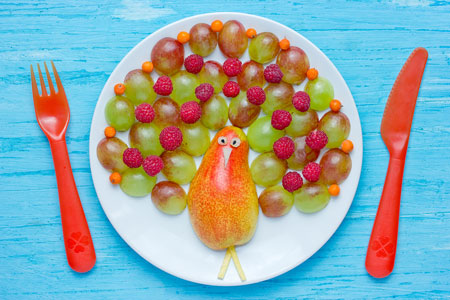 Have the kids help with the entertainment and fun. Try these
Printable Thanksgiving Recipes and Games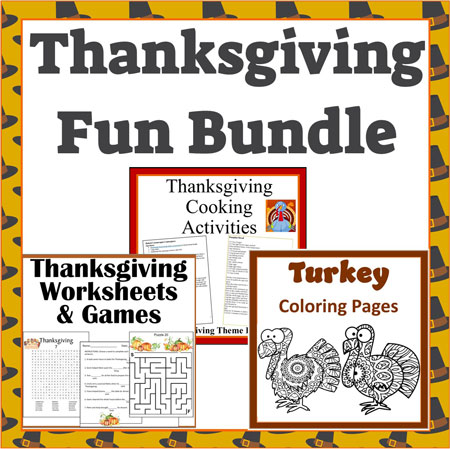 Turkey Fun Recipes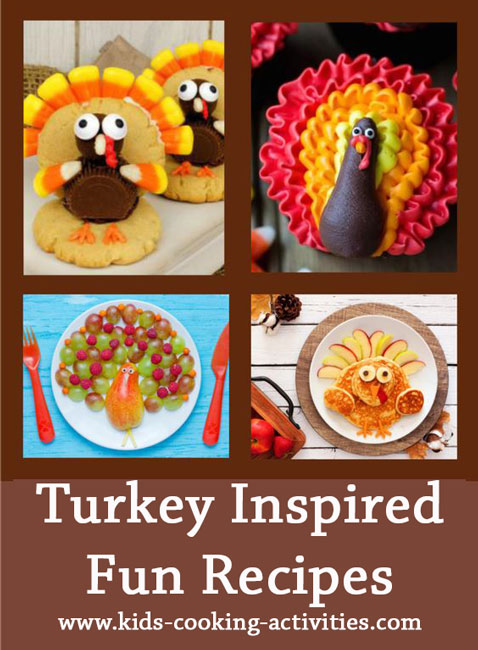 Turkey Hand Print Cookies
Sugar Cookie dough
White frosting
Candy corn for beaks and feet
Red hots for eye
Roll sugar cookie dough out on a floured surface. Place a kids'
clean
hand on the dough and with toothpick trace around hand. Remove their hand then cut out with a sharp knife. Place on a greased cookie sheet or parchment paper lined cookie sheet. Continue with all dough. Bake at 350 degrees for 8-10 minutes. Let cool. Have kids decorate with white frosting, a candy corn beak, 2 candy corn feet and a red hot for an eye.
Striped Turkey Cookies
You will need:
Oreo cookies
Frosting
Striped chocolate cookie
Malt milk balls or Hershey kisses
Candy corn
Directions
Use an Oreo cookie for the base of your cookie. With a dab of frosting, place a striped chocolate cookie on the end, with the striped part showing out. You may have to cut a sliver off the end to make it flat. Add a dab of frosting to front and add a malted milk ball for a head. Add a candy corn tip for his beak.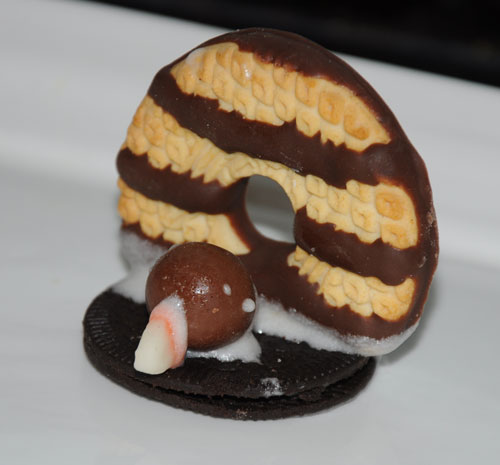 Turkey Bread
Use
homemade bread dough
or you can buy frozen bread dough to make this turkey. Shape dough into a turkey body and add feathers, feet and a neck and head. Lay on a greased cookie sheet and press dough together to form turkey. Bake until golden brown at 350 degrees.
Allow to cool for a few minutes while you prep the color. Melt butter and add a few drops of food coloring for the feathers. With a pastry brush, brush color on the feathers.
Fruit Loop Apple Turkey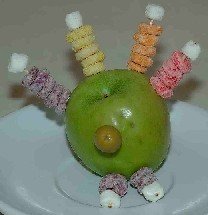 Each child can have their own apple to work with. Have the adult or kid chef place 5 toothpicks into the apple. Have a bowl of fruit loop cereal (or other circle 0 shaped cereal) available. Kids can fill up the toothpicks until the turkey feathers are all full. Place a mini marshmallow on the top to keep the fruit loops from falling off. For a turkey head use a toothpick and insert raisins almost to the end then place a green olive at the end. These turkeys are lots of fun for kids to put together.
Turkey Fun Toast Snack
Cut out a turkey from a piece of bread with a turkey shaped cookie cutter. Have kids add candy corns for feathers and a raisin for an eye with peanut butter or cream cheese as their glue. Pieces of fruit leather also work well for feathers.
Turkey Pancakes
Using something as easy as pancakes of different sizes and fruit slices you can create a fun breakfast, brunch or addition to the Thanksgiving table.
Turkey Popcorn Balls
Use a
recipe for popcorn balls
, add a dried apple for a head and fruit roll-ups to make feathers.
Turkey Fun Toast Snack
Cut out a turkey from a piece of bread with a turkey shaped cookie cutter. Have kids add candy corns for feathers and a raisin for an eye with peanut butter or cream cheese as their glue. Pieces of fruit leather also work well for feathers.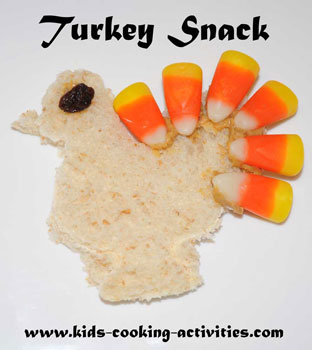 Cookie Turkeys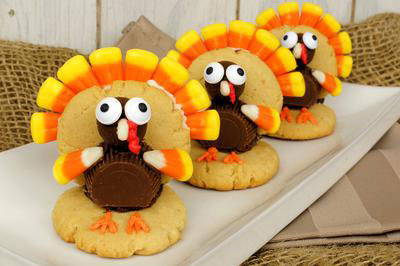 A fun variation of the turkey cookie using sugar cookies, peanut butter cups (body), malted milk balls (head), white mints( eyes), frosting and candy corn. A fun way for kids to create their own cooking craft project while you are waiting for the turkey to cook.
Nutter Butter Turkeys
Kids Fun Thanksgiving Recipes
Pilgrim Hats
Chocolate striped cookie
Marshmallows
Chocolate chips
Melt the chocolate chips in the microwave for 20 seconds intervals until melted. To make pilgrim hat treats, place a chocolate stripe cookie on serving platters with the chocolate side facing up. Dip marshmallows into melted chocolate chips. You can stick a toothpick or fork into marshmallow then dip. Place dipped marshmallow on top of chocolate cookie. You can draw a yellow buckle with yellow icing if desired.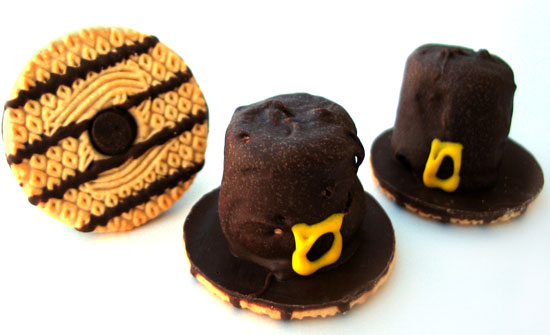 Here is one of our readers step by step directions on making these fun cookies.
Mini Indian Corn Cakes
White or yellow cake mix and ingredients needed, according to package directions
Vanilla frosting
Reese's pieces candies or other candies that come in orange, yellow or brown colors
Prepare cake mix according to directions. Bake in small mini loaf pans. Allow to cool. Take out of pan and frost with vanilla frosting covering all sides except the bottom. Layer candies all over the top and sides of cake to look like Indian corn kernels.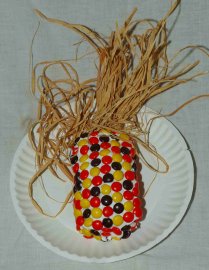 Turkey Cupcake Ideas for Kids
Learn how to make these
cupcake turkeys here.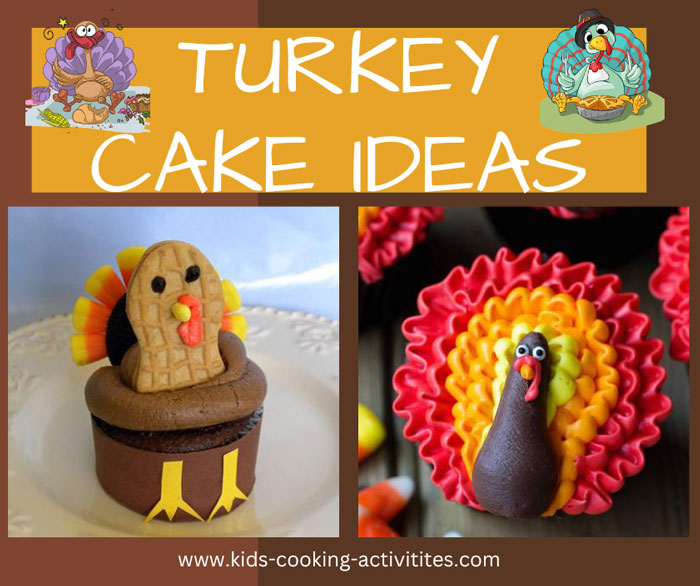 Turkey Leftovers
Turkey Sweet Potato Soup
½ Cup chopped onion
1 teaspoon butter
5 Cups turkey broth**
1 ½ pounds sweet potatoes, peeled and cubed
2 Cups cooked turkey, shredded or cut in cubes
½ teaspoon salt
1 ½ Cups corn
Saute onion in butter. In soup pan, add broth, potatoes, turkey, onion, salt and corn. Simmer for 20 minutes until sweet potatoes are tender.

For turkey broth: boil your leftover turkey bones with a full pot of water for 1 hour. Then strain off broth and reserve for soup. You can also use this for a great turkey soup.
Turkey Panini
Panini is like a grilled cheese sandwich. For this sandwich place a slice of turkey between two slices of cheese and grill or fry in pan.
Barbecue Turkey Rolls
Add barbecue sauce to shredded turkey and serve on rolls or croissants.
Turkey Casseroles
Use your leftover turkey in some turkey casserole recipes.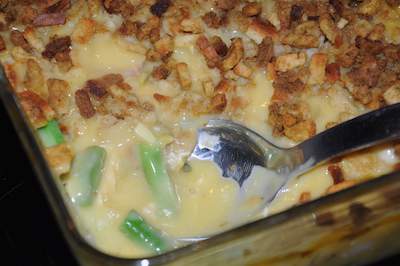 Share your Kid Friendly Thanksgiving Recipes
Submit your favorite kids recipe
Do you have a favorite recipe your kids love to make? Or a recipe your kids ask you to make again and again? Share it with us!
Reader's Submitted Recipes
Click below to see contributions from other visitors to this page...

Marshmallow Pilgrim Hats
Ingredients chocolate-striped shortbread cookies package of chocolate chips marshmallows yellow decorators frosting Instructions step 1. Set the …
---
Related Seasonal Recipe Pages:
~
School Lunches
, ~
Apples
, ~
Autumn Activities
, ~
Pumpkins
, ~
Kids Halloween Recipes
, ~
Halloween Recipe Ideas
, ~
Thanksgiving
, ~
Hanukkah Recipes
, ~
Kids Christmas cooking
, ~
Christmas Candy Recipes
, ~
Reindeer
, ~
Make Homemade Chocolates
, ~
Jar Mixes
, ~
Gift Basket Ideas
, ~
Homemade Fudge Recipes
, ~
Homemade Suckers
, ~
Christmas Cookie Recipes
, ~
Gingerbread House Recipes
, ~
Food Gift Ideas
, ~
Dough Ornament Recipes
, ~
Hot Cocoa
, ~
Happy New Year
, ~
Snowman Theme Recipes
, ~
Valentine's Day
, ~
Valentine Dessert Recipes
, ~
St. Patrick's Day
, ~
April Fool's Day Recipes
, ~
Passover Recipes
, ~
Kids Easter Recipes
, ~
Sugar Eggs Recipe
, ~
Resurrection Cookies Recipe
, ~
Italian Easter Bread
, ~
Russian Easter Bread Recipe
, ~
Earth Day
, ~
Cinco de Mayo, May 5
, ~
Mother's Day Recipes
, ~
Father's Day Recipes
, ~
Summer Cooking
, ~
Kid's Campfire Cooking Recipes
, ~
Dutch Oven Cooking for Kids
, ~
4th of July Recipes
, ~
Ice Cream Recipes
, ~
Popsicle Recipes
, ~
Simple Smoothie Recipes
, ~
Picnic Ideas and Recipes
, ~
Easy Grilling Recipes
, ~
Grow your own Garden
---
Follow Kids Cooking Activities