Easy Passover Recipes
The Seder meal associated with
Passover
is a great way to find some Passover recipes to get your child into cooking. You can use it as a way of getting your child interested in preparing food for large groups of people or as a way to get them talking about why Passover is celebrated, depending on the age of your child.
You can talk about the importance of separating the eggs instead of using yeast to make the bread and how the Jews left Egypt so fast that they had no time to let the bread rise. When you're chopping up the horseradish, you can discuss the Torah's passage about the bitterness of slavery. However, you can just make some traditional recipes for fun as a way of spending time with your child.
Kids Cooking Activities Teaching Materials
Make teaching easier with our activities and recipes compiled in theme sets and books with an easy to read format
Perfect for teaching!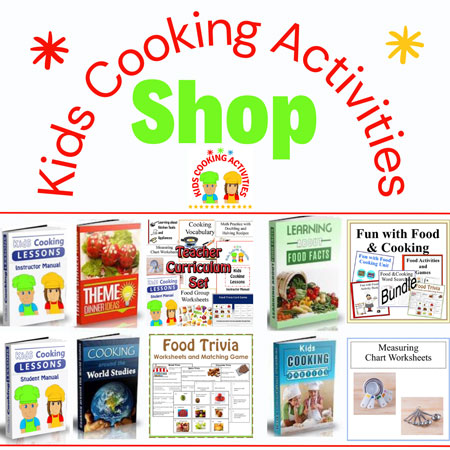 ~This post may contain affiliate links and I'll earn a small commission if you shop through them. There is no extra cost to you. This is how we help support our family and continue to bring you amazing content. To learn more see the
affiliates disclosure here.
~
Haroseth
This sweet mixture is incredibly easy to make which makes this a good choice when you're looking for easy Passover recipes. It goes really with pancakes and matzah. You will need:
8 medium apples peeled and quartered. Red apples tend to work better as they are naturally sweeter than their green counterparts.
Half a cup of almonds
3 tablespoons of sugar. You may need more if your apples are tart, or if your guests have a sweet tooth.
½ teaspoon cinnamon
Rind of a medium lemon, grated
4 tablespoons sweet red wine.
Chop all the dry ingredients together until the largest pieces are the size of half a peanut. Add the red wine to taste. The overall mixture should be fairly thick, and these measurements will give you around 3 cups worth.
Matzo Brei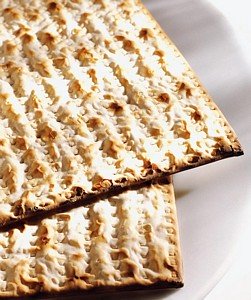 If you're trying to introduce your child to the religious aspect of Passover, you'll need to include some unleavened bread at some point.
Matzo can be used in lots of easy Passover recipes, and Matzo Brei is one of the tastiest sweet snacks to try. To serve 4 people, get together:
3 matzo
2 eggs
1 tablespoon of honey
A sprinkling of cinnamon
Salt to taste
Some margarine or vegetable oil for frying
Break the matzos up into quarter size pieces and soak them in warm water for a few minutes. Drain the water out and use some paper towels to squeeze the mush as dry as possible. Beat the eggs with a fork and then mix in with the rest of the ingredients. Get the oil nice and hot in a skillet and fry 2 tablespoons of the mixture at a time. You can eat them as they come off the skillet or serve with honey for dipping.
Matzo Chicken
Passover can be a tough time for children as a lot of their favorite foods like chicken fingers are off the menu due to their grain content. However, with a little creative thinking, you can make easy Passover recipes that will satisfy young appetites. Use these ingredients for a kosher alternative to chicken fingers:
4 chicken breasts cut into small strips
1 large egg
3 cups of crushed up matzos, normally around 8 matzos
Salt and pepper for seasoning
Oil for frying
Lemon wedges for serving
Beat the eggs well in a bowl. In a separate bowl mix the salt, pepper and matzo. Dip each strip into the egg mixture, then into the matzo, making sure that the matzo mixture sticks all the way round each strip. Then fry at a high temperature for 2 minutes on each side, or until the chicken is fully cooked through.
Try to get your child to help you make these easy Passover recipes as both an introduction to the tradition of Passover and to create an interest in cooking.

Do you have a Passover Cooking Activity?
Seasonal Cooking Activity
Do you have a seasonal activity or recipe to share?
---
Related Seasonal Recipe Pages:
~
School Lunches
, ~
Apples
, ~
Autumn Activities
, ~
Pumpkins
, ~
Kids Halloween Recipes
, ~
Halloween Recipe Ideas
, ~
Thanksgiving
, ~
Hanukkah Recipes
, ~
Kids Christmas cooking
, ~
Christmas Candy Recipes
, ~
Reindeer
, ~
Make Homemade Chocolates
, ~
Jar Mixes
, ~
Gift Basket Ideas
, ~
Homemade Fudge Recipes
, ~
Homemade Suckers
, ~
Christmas Cookie Recipes
, ~
Gingerbread House Recipes
, ~
Food Gift Ideas
, ~
Dough Ornament Recipes
, ~
Hot Cocoa
, ~
Happy New Year
, ~
Snowman Theme Recipes
, ~
Valentine's Day
, ~
Valentine Dessert Recipes
, ~
St. Patrick's Day
, ~
April Fool's Day Recipes
, ~
Passover Recipes
, ~
Kids Easter Recipes
, ~
Sugar Eggs Recipe
, ~
Resurrection Cookies Recipe
, ~
Italian Easter Bread
, ~
Russian Easter Bread Recipe
, ~
Earth Day
, ~
Cinco de Mayo, May 5
, ~
Mother's Day Recipes
, ~
Father's Day Recipes
, ~
Summer Cooking
, ~
Kid's Campfire Cooking Recipes
, ~
Dutch Oven Cooking for Kids
, ~
4th of July Recipes
, ~
Ice Cream Recipes
, ~
Popsicle Recipes
, ~
Simple Smoothie Recipes
, ~
Picnic Ideas and Recipes
, ~
Easy Grilling Recipes
, ~
Grow your own Garden
---
Follow Kids Cooking Activities