Italian Easter Bread
This Easter bread recipe is fun to create during Easter time with kids.
Before you start your bread recipe dye eggs in various colors and set in the fridge until needed.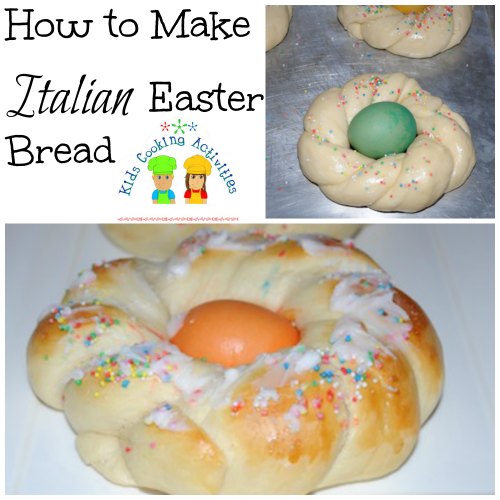 Kids Cooking Activities Teaching Materials
Make teaching easier with our activities and recipes compiled in theme sets and books with an easy to read format
Perfect for teaching!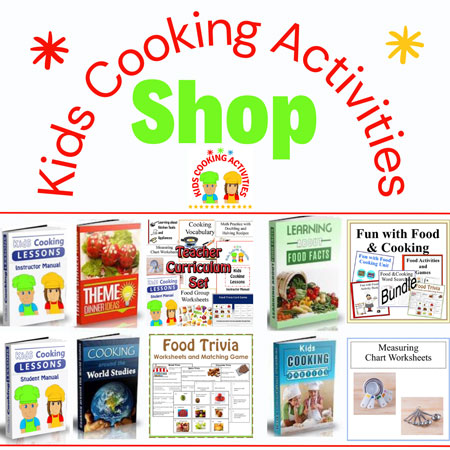 ~This post may contain affiliate links and I'll earn a small commission if you shop through them. There is no extra cost to you. This is how we help support our family and continue to bring you amazing content. To learn more see the
affiliates disclosure here.
~
Italian Easter Bread recipe
Ingredients
1/2 Cup warm water
1 1/2 Tablespoon yeast or 1 pkg
2 Cup warmed milk
1/2 Cup shortening or butter
2 teaspoons salt
2 eggs
1 Cup sugar
1 teaspoon vanilla
7-8 Cups flour
1/2 Cup chopped dried fruit, optional
1/4 Cup slivered almonds, optional
* dyed eggs
egg white, for brushing on the top
Directions
In a small bowl combine warm water and yeast. Sprinkle a little sugar on top and set aside. In a mixing bowl, add warm milk, shortening, salt, eggs, sugar and vanilla. Blend together until smooth.
Add 3 Cups of flour and yeast mixture and blend together. Continue to add the remaining flour 1 Cup at a time until dough forms a ball.
Knead in fruit and almonds if using. Knead 3-4 minutes longer and place dough in a large oiled bowl to rise for 1 hour.
After 1 hour, take off pieces of dough and roll into ropes. Braid two ropes together. Place two ends of rope together forming a wreath. Place on a cookie sheet.
Place a colored egg in the middle of the wreath. Let rise 20 minutes. In a small dish crack an egg white and discard the egg yolk. Brush the tops of each wreath with egg white and add colored sprinkles to tops. Bake at 30 minutes or until golden brown. Add a drizzle of frosting if desired.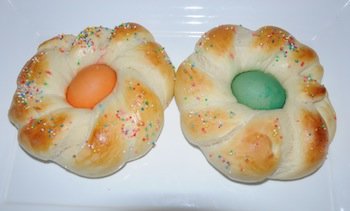 * We recommend boiling your eggs first instead of using raw colored eggs however you can color your eggs raw, carefully, and then let them cook in the oven.
*You can also make a large wreath or braided loaf with three ropes and tuck eggs within the braids.
Now you can try a
Russian Easter bread recipe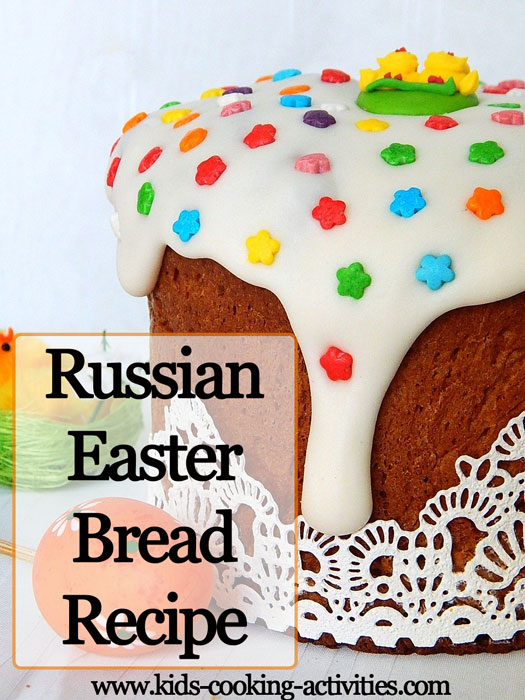 Easter Fun Printables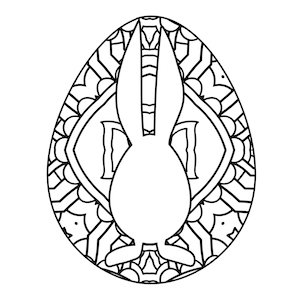 ---
Related Seasonal Recipe Pages:
~
School Lunches
, ~
Apples
, ~
Autumn Activities
, ~
Pumpkins
, ~
Kids Halloween Recipes
, ~
Halloween Recipe Ideas
, ~
Thanksgiving
, ~
Hanukkah Recipes
, ~
Kids Christmas cooking
, ~
Christmas Candy Recipes
, ~
Reindeer
, ~
Make Homemade Chocolates
, ~
Jar Mixes
, ~
Gift Basket Ideas
, ~
Homemade Fudge Recipes
, ~
Homemade Suckers
, ~
Christmas Cookie Recipes
, ~
Gingerbread House Recipes
, ~
Food Gift Ideas
, ~
Dough Ornament Recipes
, ~
Hot Cocoa
, ~
Happy New Year
, ~
Snowman Theme Recipes
, ~
Valentine's Day
, ~
Valentine Dessert Recipes
, ~
St. Patrick's Day
, ~
April Fool's Day Recipes
, ~
Passover Recipes
, ~
Kids Easter Recipes
, ~
Sugar Eggs Recipe
, ~
Resurrection Cookies Recipe
, ~
Italian Easter Bread
, ~
Russian Easter Bread Recipe
, ~
Earth Day
, ~
Cinco de Mayo, May 5
, ~
Mother's Day Recipes
, ~
Father's Day Recipes
, ~
Summer Cooking
, ~
Kid's Campfire Cooking Recipes
, ~
Dutch Oven Cooking for Kids
, ~
4th of July Recipes
, ~
Ice Cream Recipes
, ~
Popsicle Recipes
, ~
Simple Smoothie Recipes
, ~
Picnic Ideas and Recipes
, ~
Easy Grilling Recipes
, ~
Grow your own Garden
---
Follow Kids Cooking Activities