Mushroom Facts
Mushroom facts and general information about mushrooms.
Kids Cooking Activities Teaching Materials
Make teaching easier with our activities and recipes compiled in theme sets and books with an easy to read format
Perfect for teaching!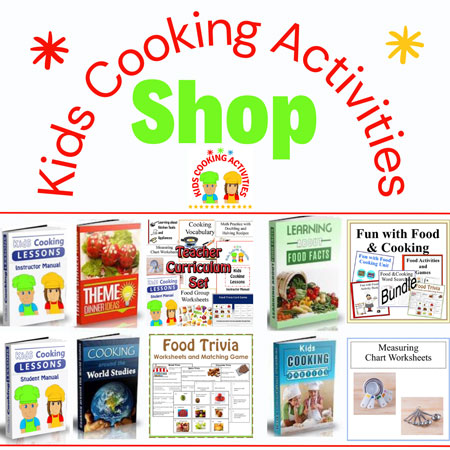 ~This post may contain affiliate links and I'll earn a small commission if you shop through them. There is no extra cost to you. This is how we help support our family and continue to bring you amazing content. To learn more see the
affiliates disclosure here.
~
Mushrooms are Available:
Available year round
How Do Mushrooms Grow:
Mushrooms are a fungi that grows in dirt. Only buy mushrooms from the grocery store or a reputable market. Never eat wild mushrooms.
What to Look for When Buying Mushrooms:
Buy mushrooms that are dry. Avoid damp, dark or soft mushrooms.
Mushroom Facts - Storage Tips:
Store on a shelf in the fridge
How to Cook with Mushrooms:
Sauté with butter and use in recipes. Make stuffed mushrooms. Add in main dishes or side dishes.
Mushroom Nutrition Facts:
Mushrooms are low in calories. They are high in B vitamins including riboflavin, (healthy skin and vision) niacin (healthy nervous and digestive system) and selenium. (healthy immune system)
Mushroom Recipes:
Stroganoff with Mushrooms
See our beef stroganoff recipes here.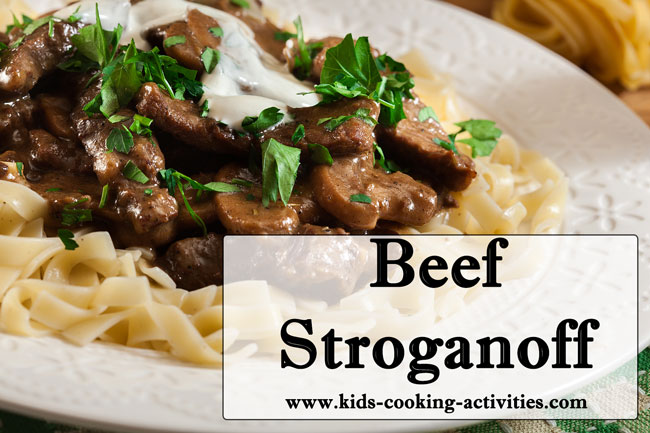 Mushroom Cheese Sandwich
Portobello Mushroom Salad
3 Tablespoons of olive oil, divided
2 Cups Portobello mushrooms, sliced
1/2 teaspoon crushed red pepper
3 Cups mixed greens, torn
1 Cup of mozzarella cheese, cubed
3 Tablespoons balsamic vinegar
Place 1 Tablespoon of the oil into a skillet.
Place the skillet over medium heat and allow the oil to heat.
Stir in the mushrooms and red pepper.
Cook the mushrooms, stirring almost constantly, for 2 minutes.
Place the torn greens into a salad bowl.
Add the mushrooms and mozzarella cheese tossing to combine.
In a small bowl whisk together the remaining oil and vinegar until well blended.
Pour the dressing over the salad and toss to coat.
Cream of Mushroom Soup
Try this
homemade cream of mushroom soup
and substitute in recipes that call for the canned version. Or eat as is.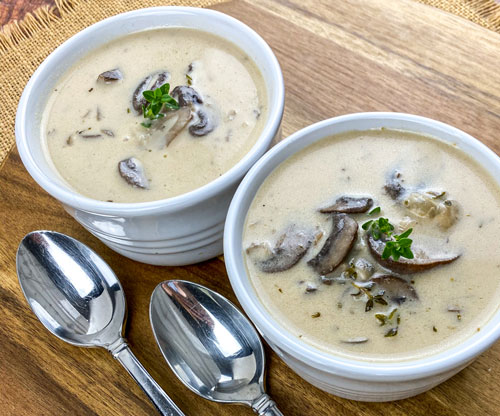 Mushroom Bacon Burgers
4 slices bacon
onion, chopped or pureed
1 small can mushrooms, drained and chopped
1 lb. ground hamburger
1 lb. pork sausage
1/4 Cup Parmesan Cheese
Black pepper
2 Tablespoons Worcestershire sauce
Cook bacon and drain on paper towel. Set aside. Cook onion and mushrooms in bacon grease. In mixing bowl, add hamburger and sausage. Blend together. Sprinkle with cheese, pepper and Worcestershire sauce. Add onion, bacon and mushrooms. Combine together. Form into patties and grill.
Kids Cooking Video: Stuffed Mushrooms

Turkey Stuffed Mushrooms
Ingredients:
3 T. extra virgin olive oil, divided
1 lb. bulk turkey sausage
4 oz. goat cheese, room temp, cut into small chunks
16 oz. medium Portobello mushrooms, rinsed, stems removed, and patted dry
Optional:
Sea salt and black pepper, to taste
Directions:
Preheat oven to 350°F and lightly grease a large roasting pan with one tablespoon olive oil. Set aside.
Heat remaining olive oil in a large skillet over medium heat. Add turkey sausage to the skillet. Cook until no longer pink, approximately 6-8 minutes, breaking up the sausage into small pieces while cooking.
Add goat cheese to skillet and cover for 1-2 minutes. Remove cover and stir until cheese is completely melted and combined with the turkey mixture. Remove from heat and set aside.
Fill each mushroom cap with some of the turkey mixture. Drizzle the mushrooms with remaining olive oil and season with salt and black pepper, as desired.
Place pan in the pre-heated oven and roast until the mushrooms are slightly browned around the edges, approximately 10-12 minutes. Remove from oven and serve immediately. Enjoy!
Share your food facts and recipes
Do you have a food facts or recipe to share?
---
Related Food Facts Pages:
~Apple, ~Apricot, ~Avocado, ~Banana, ~Berry, ~Cherry, ~Coconut, ~Cranberry, ~Dates, ~Figs, ~Grapefruit, ~Grapes, ~Kiwi, ~Lemon and Limes, ~Mango, ~Melon, ~Orange, ~Papaya, ~Peach, ~Pear, ~Pineapple, ~Plums, ~Tomato, ~Artichoke, ~Asparagus, ~Beets, ~Broccoli, ~ Brussels Sprouts, ~Cabbage, ~Carrot, ~Cauliflower, ~Celery, ~Corn, ~Cucumber, ~Eggplant, ~Garlic, ~Green Beans, ~Kale, ~Lettuce/Salad Greens, ~Mushrooms, ~Okra, ~Onion, ~Parsnip, ~Peas,green, ~Peppers, ~Potato, ~Radish, ~Rhubarb, ~Spinach, ~Summer Squash and Zucchini, ~Sweet Potato, ~ Turnip, ~ Winter Squash, including Pumpkins, ~Beans, ~Eggs, ~Nuts, ~Seeds, ~ Meat, ~ Dairy, ~ Grains
---
Follow Kids Cooking Activities