Corn Facts
Corn facts and general information about corn.
Kids Cooking Activities Teaching Materials
Make teaching easier with our activities and recipes compiled in theme sets and books with an easy to read format
Perfect for teaching!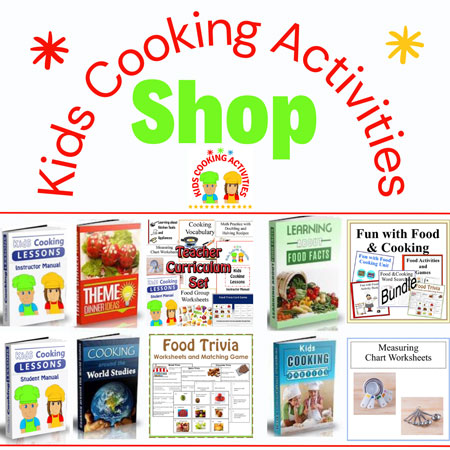 ~This post may contain affiliate links and I'll earn a small commission if you shop through them. There is no extra cost to you. This is how we help support our family and continue to bring you amazing content. To learn more see the
affiliates disclosure here.
~
Corn is Available:
Fresh in Summertime.
How Does it Grow:
Corn grows on a stalk in the garden.
What to Look for When Buying:
Pick ears of corn with yellow or white niblets and inspect each ear of corn before buying. Avoid any corn that has dark spots,
Storage Tips:
Store in fridge until ready to use.
How to Cook:
Remove husks and silks off corn cob and boil 5-8 minutes in a large pot of water. You can also grill corn in their husks for several minutes on an outdoor grill.
Nutrition Facts:
Corn is high in Vitamin B, Fiber, Vitamin C and thiamin.
Corn Recipes
Creamed Corn
2 Cups fresh or frozen corn
1/2 package of cream cheese
2 Tablespoons butter or margarine
1 Tablespoon sugar
1/2 teaspoon salt
In a saucepan, combine all ingredients and bring to a boil. Reduce heat and simmer uncovered for 6-8 minutes.
Corn Chowder
3 Cup milk
6-8 slices bacon fried, optional
2 cans creamed corn or fresh corn on the cob cooked and cut off cob about 3-4 Cups
2 Cup potatoes, peeled, boiled, cubed
1 teaspoon salt
½ Cup shredded cheese
pepper
Cook potatoes in boiling water until tender. Fry bacon in microwave or in skillet. In large pan add milk, corn, cooked potatoes and salt. Cook until corn is tender or soup is heated through. Season with pepper. Spoon into serving bowls. Sprinkle each helping with cheese and bacon.
Grilled Corn
6 to 8 ears of corn, husks and silk removed, trimmed
1/2 cup butter, softened
3 tablespoons Parmesan cheese
1/2 teaspoon salt
pepper to taste
Mix butter, cheese, salt and pepper in bowl. Roll each corn cob in butter mixture and wrap in tin foil. Have an adult grill for 15 minutes.
Spicy BBQ Corn
8 ears of corn, husked and cleaned
1 stick of butter, melted
2 tbsp spicy barbecue sauce
Set the grill temperature to medium high.
Wrap each ear of corn tightly in aluminum foil.
Place the wrapped corn on the grill and cook 18 minutes, turning occasionally.
Remove the corn and unwrap.
Place the melted butter into a small mixing bowl.
Whisk the barbecue sauce into the butter.
Use a pastry brush and brush each ear of corn with the barbecue butter mixture being sure to cover the whole ear of corn.
Makes 8 servings
Kids Cooking Video: Creamed Corn Recipe
Share your food facts and recipes
Do you have a food facts or recipe to share?
---
Related Food Facts Pages:
~
Apple
, ~
Apricot
, ~
Avocado
, ~
Banana
, ~
Berry
, ~
Cherry
, ~
Coconut
, ~
Cranberry
, ~
Dates
, ~
Figs
, ~
Grapefruit
, ~
Grapes
, ~
Kiwi
, ~
Lemon and Limes
, ~
Mango
, ~
Melon
, ~
Orange
, ~
Papaya
, ~
Peach
, ~
Pear
, ~
Pineapple
, ~
Plums
, ~
Tomato
, ~
Artichoke
, ~
Asparagus
, ~
Beets
, ~
Broccoli
, ~
Brussels Sprouts
, ~
Cabbage
, ~
Carrot
, ~
Cauliflower
, ~
Celery
, ~
Corn,
~
Cucumber
, ~
Eggplant
, ~
Garlic
, ~
Green Beans
, ~
Kale
, ~
Lettuce/Salad Greens,
~
Mushrooms,
~
Okra
, ~
Onion
, ~
Parsnip,
~
Peas,green
, ~
Peppers,
~
Potato
, ~
Radish
, ~
Rhubarb
, ~
Spinach
, ~
Summer Squash and Zucchini
, ~
Sweet Potato
, ~
Turnip
, ~
Winter Squash, including Pumpkins
, ~
Beans
, ~
Eggs
, ~
Nuts
, ~
Seeds
, ~
Meat
, ~
Dairy
, ~
Grains
---
Follow Kids Cooking Activities