Green Pea Facts
Green Pea facts and general information about green peas.
Kids Cooking Activities Teaching Materials
Make teaching easier with our activities and recipes compiled in theme sets and books with an easy to read format
Perfect for teaching!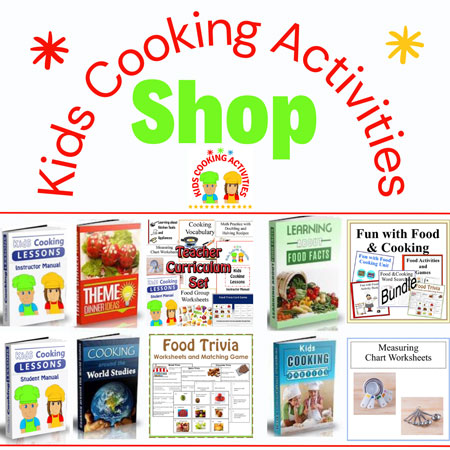 ~This post may contain affiliate links and I'll earn a small commission if you shop through them. There is no extra cost to you. This is how we help support our family and continue to bring you amazing content. To learn more see the
affiliates disclosure here.
~
Green Peas are Available:
Green peas grow fresh in Summertime
How do Green Peas Grow:
Peas grow in a pod. They grow on a plant in the garden.
What to Look for When Buying Green Peas:
Look for bright green and firm, plump pods. You can also buy peas frozen or canned.
Green Pea Storage Tips:
Store fresh peas in fridge
How to Cook Green Peas:
Shell peas and eat as is or add fresh to salads. Add peas to soups or casseroles. Freeze fresh peas for later use.
Green Peas Nutrition Facts:
1/2 cup serving size is full of Vitamin K, Vitamin C and Vitamin A. Green peas are also a good source of fiber.
Green Peas Recipes:
Creamed Peas and Potatoes
1 Tablespoon butter
1 Tablespoon flour
1/2 teaspoon salt
1 Cup milk
1 1/2 Cups new potatoes, cooked
1 pint fresh green peas, cooked and drained
Melt butter in pan, blend in flour and salt. Whisk together until well combined. Gradually add milk. Continue blending together. Cook until bubbly and thick. Add cooked potatoes and cooked peas. Serve warm.
Sesame Snap Peas
by Danyel, Ventura,CA,USA
1 1/2 teaspoons Asian sesame oil
1 teaspoon chili oil
2 cups sugar snap peas, trimmed
1 pinch sea salt to taste
1 pinch freshly cracked black pepper
1 tablespoon sesame seeds
Directions
Heat the sesame oil and chili oil in a pan over medium-high heat until the oil shimmers with heat.
Cook and stir the snap peas until they turn bright green and start to become tender, about 4 minutes. Sprinkle with salt and black pepper as they cook.
Sprinkle peas with sesame seeds, and stir a few times to mix before serving.
Green Pea Salad Video
Share your food facts and recipes
Do you have a food facts or recipe to share?
---
Related Food Facts Pages:
~
Apple
, ~
Apricot
, ~
Avocado
, ~
Banana
, ~
Berry
, ~
Cherry
, ~
Coconut
, ~
Cranberry
, ~
Dates
, ~
Figs
, ~
Grapefruit
, ~
Grapes
, ~
Kiwi
, ~
Lemon and Limes
, ~
Mango
, ~
Melon
, ~
Orange
, ~
Papaya
, ~
Peach
, ~
Pear
, ~
Pineapple
, ~
Plums
, ~
Tomato
, ~
Artichoke
, ~
Asparagus
, ~
Beets
, ~
Broccoli
, ~
Brussels Sprouts
, ~
Cabbage
, ~
Carrot
, ~
Cauliflower
, ~
Celery
, ~
Corn,
~
Cucumber
, ~
Eggplant
, ~
Garlic
, ~
Green Beans
, ~
Kale
, ~
Lettuce/Salad Greens,
~
Mushrooms,
~
Okra
, ~
Onion
, ~
Parsnip,
~
Peas,green
, ~
Peppers,
~
Potato
, ~
Radish
, ~
Rhubarb
, ~
Spinach
, ~
Summer Squash and Zucchini
, ~
Sweet Potato
, ~
Turnip
, ~
Winter Squash, including Pumpkins
, ~
Beans
, ~
Eggs
, ~
Nuts
, ~
Seeds
, ~
Meat
, ~
Dairy
, ~
Grains
---
Follow Kids Cooking Activities