Green Bean Facts
Green Bean facts and general information about green beans.
Kids Cooking Activities Teaching Materials
Make teaching easier with our activities and recipes compiled in theme sets and books with an easy to read format
Perfect for teaching!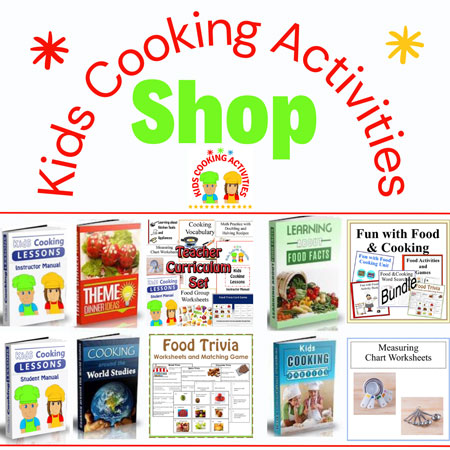 ~This post may contain affiliate links and I'll earn a small commission if you shop through them. There is no extra cost to you. This is how we help support our family and continue to bring you amazing content. To learn more see the
affiliates disclosure here.
~
Green Beans are Available:
Fresh in the summer. Canned or frozen available year round.
How do Green Beans Grow:
Beans grow as a plant in your garden. They can climb high on trellis or supports.
What to Look for When Buying Green Beans:
Look for long and slender beans. They should not be too fat and you should not be able to see the actual beans through the skins. These are older and not as tasty.
Green Bean Storage Tips:
Store in the fridge in the crisper section or in a plastic bag for freshness.
How to Cook Green Beans:
Snap off ends and boil in large pot of water 3-5 minutes. Test for tenderness-don't overcook. Try cooking fresh green beans in a food steamer
Green Beans Nutrition Facts:
Green beans have Vitamin A and Vitamin C, Vitamin B and Vitamin K. One serving size equals one cup.
Green Bean Recipes:
Quick Bean Salad
1 1/2 Cups fresh green beans or green peas- substitute frozen if fresh isn't available
1 1/2 Cups kidney beans, rinsed and drained
1/2 Cup chopped green peppers
5 –7 slices bacon, diced
1/4 Cup Chopped walnuts or almonds
Mix all ingredients together and toss.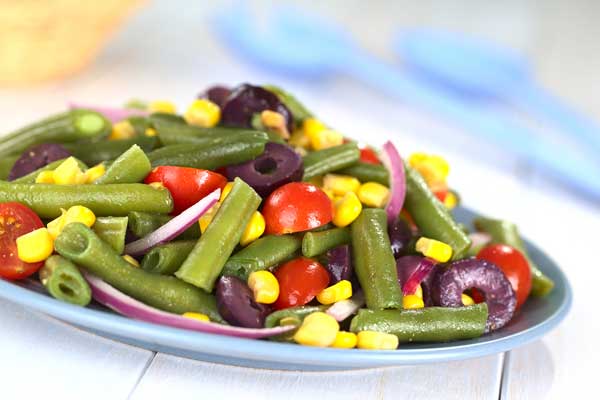 Mozzarella Three Bean Salad
1 (15 oz.) can garbanzo beans, rinsed and drained well
1 (15 oz.) can butter beans, rinsed and drained well
fresh green beans washed and cooked or one canned drain green beans
1 cucumber, quartered lengthwise and sliced
2 tomatoes cut into wedges
1/4 Cup green onions, sliced thin
1/2 Cup oil and vinegar salad dressing
1 (8 oz.) pkg. mozzarella cheese, shredded
Place the beans into a large salad bowl.
Add the cucumbers, tomatoes and onions and toss to combine well.
Pour the dressing over the top and stir until the ingredients are well coated.
Sprinkle the cheese over the top and toss to combine.
Makes 4 servings
Kids Cooking Video: Green Beans Dish
Share your food facts and recipes
Do you have a food facts or recipe to share?
---
Related Food Facts Pages:
~
Apple
, ~
Apricot
, ~
Avocado
, ~
Banana
, ~
Berry
, ~
Cherry
, ~
Coconut
, ~
Cranberry
, ~
Dates
, ~
Figs
, ~
Grapefruit
, ~
Grapes
, ~
Kiwi
, ~
Lemon and Limes
, ~
Mango
, ~
Melon
, ~
Orange
, ~
Papaya
, ~
Peach
, ~
Pear
, ~
Pineapple
, ~
Plums
, ~
Tomato
, ~
Artichoke
, ~
Asparagus
, ~
Beets
, ~
Broccoli
, ~
Brussels Sprouts
, ~
Cabbage
, ~
Carrot
, ~
Cauliflower
, ~
Celery
, ~
Corn,
~
Cucumber
, ~
Eggplant
, ~
Garlic
, ~
Green Beans
, ~
Kale
, ~
Lettuce/Salad Greens,
~
Mushrooms,
~
Okra
, ~
Onion
, ~
Parsnip,
~
Peas,green
, ~
Peppers,
~
Potato
, ~
Radish
, ~
Rhubarb
, ~
Spinach
, ~
Summer Squash and Zucchini
, ~
Sweet Potato
, ~
Turnip
, ~
Winter Squash, including Pumpkins
, ~
Beans
, ~
Eggs
, ~
Nuts
, ~
Seeds
, ~
Meat
, ~
Dairy
, ~
Grains
---
Follow Kids Cooking Activities