Egg facts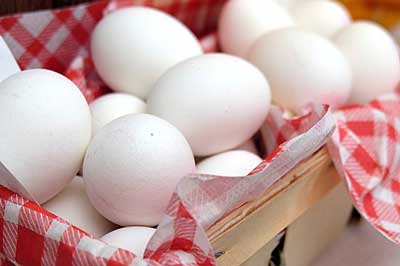 Egg facts and general information about eggs.
Kids Cooking Activities Teaching Materials
Make teaching easier with our activities and recipes compiled in theme sets and books with an easy to read format
Perfect for teaching!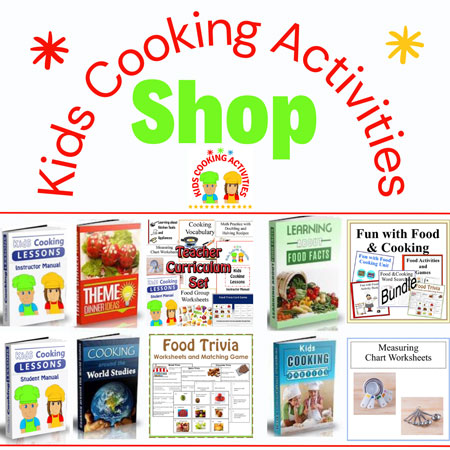 ~This post may contain affiliate links and I'll earn a small commission if you shop through them. There is no extra cost to you. This is how we help support our family and continue to bring you amazing content. To learn more see the
affiliates disclosure here.
~
Egg Facts: Where Do Eggs Come From:
Eggs come from poultry including chickens, ducks, and quail.
Chicken eggs are used the most.
Egg Facts: Why We Need Eggs:
Eggs provide protein and other nutrients our bodies need.
Egg Facts: Some Things You Use Eggs For:
Besides eating eggs fried, boiled, scrambled and many other ways, eggs are used for a variety of dishes.
In meatloaf, eggs bind the meat together.
In baking, eggs are mixed in the cake and cookie mix.
Brush egg whites on bread before it is baked for a glaze.
Mayonnaise is made from eggs.
Other fun things with eggs are deviled eggs and dying Easter eggs.
Egg Facts: Eggs Cooking Lesson
A fun idea for an egg cooking lesson is to teach kids a variety of
cooking methods with eggs
. Teach them how to boil eggs, fry eggs, poach eggs, scramble eggs, make an omelet and even blend eggs into a meringue. Then have them taste test each variety, (except the meringue) and decide what their favorite type of egg is. If you have a larger class have them graph the results. Use your cooking skills and create a recipe for our
egg ingredient challenge
.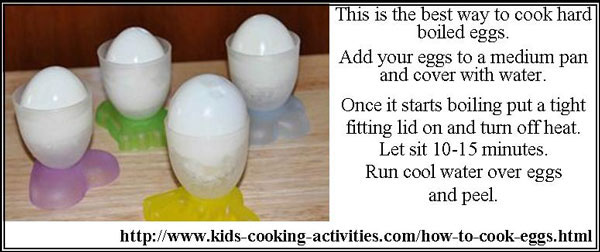 Cooking with Eggs Help
If you are looking for a inexpensive
microwave egg cooker, try this one.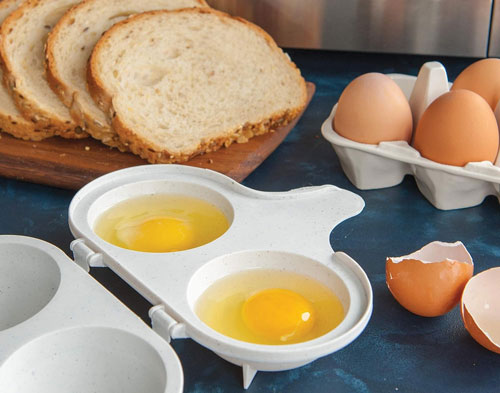 Egg Facts: Egg Recipes
Avocado and Egg Toast
Easy Peazy Scrambled Eggs
by Annalena T., Winston-Salem, NC, USA
2 eggs
1/2 stick butter
1 spoonful salsa (if desired)
How to make it:
Crack the eggs on a flat surface; such as the kitchen counter.
Place the eggs in a medium-size bowl.
Use a fork to check for shells. If there is, get a spoon to bring it out. Next, stir the eggs with fork.
Make sure it's all yellow and not clear. Then, get a small or medium-size pan. Crank the heat to 4 or 5 and put the butter in. Make sure when you melt the butter, spin the pan around to fill the pan. Once that's done, pour the egg carefully in the pan.
Wait about 30 seconds til' you stir it again. Then after it have been 1 or 2 minutes, stir the egg and slice or break it into pieces. Once your parents/guardian says it's ready to take out, place on a plate. And if desired, have 1 spoonful of salsa onto the egg and your meal is finished. Enjoy!
Toad in a Hole
by Antonette, (Coral springs, FLORIDA)
1 slice bread
Butter
1 egg
Salt and pepper, to taste
Cut out center of bread slice with a round biscuit cutter. Butter bread generously on both sides Brown bread on one side in moderately hot buttered frying pan. Turn over.
Break egg into hole in center of bread. Cook slowly until egg white is set (cover pan until white starts to set). Sprinkle lightly with salt and pepper. Lift out with pancake turner and serve.
Makes 1 serving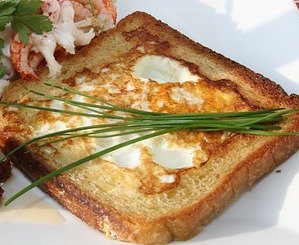 Super Spicy Scrambled Eggs
by Candy Logan, (New Jersey)
1. Prepare egg mix as usual (1 egg and a splash of milk)
2. Add 1 teaspoon of chili powder and a pinch each of salt, tarragon and pepper
3. Put 1 tablespoon of oil-olive or sunflower- in a frying pan and cook as usual scrambled eggs
4. Serve in a bowl mixed with a tablespoon+ of tomato sauce.
Coop's Wonder Eggs
by Cooper Boone, (New York, New York)
One red, one green and one yellow pepper, coarsely chopped
One onion, coarsely chopped
One loaf WHITE Wonder Bread (or soft white bread)…no crusts
One dozen eggs
3/4 cup milk
2 cups shredded cheddar cheese
Salt and pepper to taste
Directions:
Pre-heat oven to 375 degrees. Saute peppers and onion in a little olive oil until slightly undercooked. Set aside.
In a well greased oblong baking dish, cover the bottom with Wonder Bread slices. Lightly whip eggs and milk and pour over bread pieces. Top with cooked peppers and onion, salt and pepper to taste, and then sprinkle with a thick layer of the shredded cheddar cheese.
Bake until fluffy and slightly golden brown on top, approximately 40 minutes. Serves 4 to 6.
Bacon Egg Sandwich
2 eggs
1 tsp skim milk
1/4 tsp salt
1/8 tsp pepper
2 slices of Canadian bacon
1 English muffin, split and toasted
2 tbsp low fat cheddar cheese, shredded
Whisk the eggs, milk, salt and pepper together well.
Spray 2 microwave safe custard cups with non stick cooking spray.
Pour the egg mixture into the 2 prepared cups.
Microwave the eggs on high for 20 seconds.
Stir and continue microwaving on high for 20 seconds or until the center of the eggs are almost set.
Place 1 slice of the bacon on each of the English muffin pieces.
Top the bacon with the egg mixture.
Sprinkle the cheese evenly over the eggs.
Place on a microwave safe dish and microwave for 10 seconds or until the cheese has melted.
Let stand 1 minute before serving.
Makes 2 servings
~~Using the microwave shortens the cooking time so your sandwich is ready to eat when you are.
Scrambled Eggs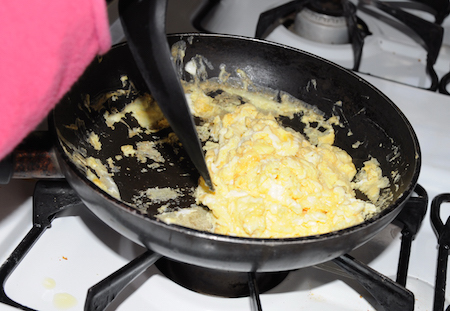 by Ann Kaderly, (Monticello, Wi )
I am a family and consumer education teacher who has developed recipes that are task by task. I have used these recipes with young children and special needs students. They work great and I hope others can use them.
Get out a small bowl
Crack an egg into the bowl (check for eggshells)
Add 1 T. of milk
Add a dash of salt
Add a dash of pepper
Using a wire whisk or fork beat the egg
Get out a fry pan
Lightly spray the pan with cooking spray
Heat the pan for 1 minute at medium heat
Add the egg mixture to the heated pan
Occasionally stir the mixture with a turner
Cook until egg mixture is no longer runny
Get out a plate
Turn off the burner
Using turner,remove eggs from pan and put them on the plate
Egg Facts: Kids Cooking Video: Egg In Bread
Do you have Egg Facts or Egg Recipes to share?
Share your food facts and recipes
Do you have a food facts or recipe to share?
Reader's Submitted Recipes
Click below to see contributions from other visitors to this page...

Fancy Deviled Eggs

Ingredients: 12 large eggs Mustard Paprika Garlic salt Sea salt Vinegar Ground cumin Pepper Lemon juice Step 1: Put 12 large eggs in a pot …
---
Related Food Facts Pages:
~
Apple
, ~
Apricot
, ~
Avocado
, ~
Banana
, ~
Berry
, ~
Cherry
, ~
Coconut
, ~
Cranberry
, ~
Dates
, ~
Figs
, ~
Grapefruit
, ~
Grapes
, ~
Kiwi
, ~
Lemon and Limes
, ~
Mango
, ~
Melon
, ~
Orange
, ~
Papaya
, ~
Peach
, ~
Pear
, ~
Pineapple
, ~
Plums
, ~
Tomato
, ~
Artichoke
, ~
Asparagus
, ~
Beets
, ~
Broccoli
, ~
Brussels Sprouts
, ~
Cabbage
, ~
Carrot
, ~
Cauliflower
, ~
Celery
, ~
Corn,
~
Cucumber
, ~
Eggplant
, ~
Garlic
, ~
Green Beans
, ~
Kale
, ~
Lettuce/Salad Greens,
~
Mushrooms,
~
Okra
, ~
Onion
, ~
Parsnip,
~
Peas,green
, ~
Peppers,
~
Potato
, ~
Radish
, ~
Rhubarb
, ~
Spinach
, ~
Summer Squash and Zucchini
, ~
Sweet Potato
, ~
Turnip
, ~
Winter Squash, including Pumpkins
, ~
Beans
, ~
Eggs
, ~
Nuts
, ~
Seeds
, ~
Meat
, ~
Dairy
, ~
Grains
---
Follow Kids Cooking Activities