Melon Facts
Melon facts and general information about melons including:
Watermelon
Cantaloupe
Honeydew melon
Kids Cooking Activities Teaching Materials
Make teaching easier with our activities and recipes compiled in theme sets and books with an easy to read format
Perfect for teaching!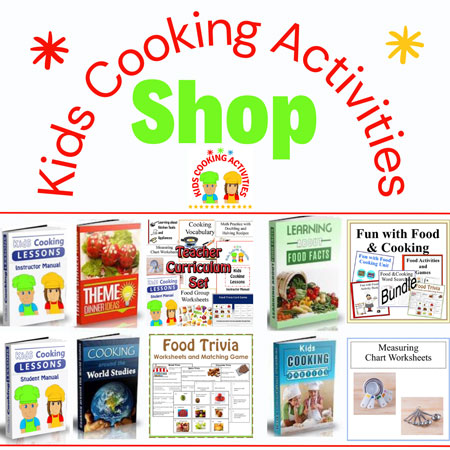 ~This post may contain affiliate links and I'll earn a small commission if you shop through them. There is no extra cost to you. This is how we help support our family and continue to bring you amazing content. To learn more see the
affiliates disclosure here.
~
Melons are Available:
Melons are available fresh in the summertime.
How Do Melons Grow:
Melons grow from seeds planted in the garden. They form vines and can grow quite long.
What to Look for When Buying Melons:
Buy a melon that is heavy. For watermelons the heavier melon means more juice and tastier. The under belly should be yellow. Cantaloupe should have a sweet smell as well as a honeydew melon.
Melon Storage Tips:
Keep cut melons in the refrigerator. If uncut, store in a cool dark place.
How to Cook with Melons:
Melons are eaten raw. Cut up or use a melon baller in fruit salads and eaten as is.
Melon Nutrition Facts:
1/2 cup cubed melons is one serving size. Melons provide Vitamin A, Vitamin C, Vitamin, potassium, Vitamin B6 and lycopene.
Melon Recipes:
Watermelon Salad
1 Cup seeded, chopped watermelon
1/2 Cup chopped strawberries
½ Cup chopped kiwifruit
½ Cup chopped peaches
3 Tablespoons lime juice
4 teaspoons honey
Mix fruit together in serving bowl. Mix lime juice and honey together and toss over fruit.
***For fun you could serve the salad in halved and hollowed limes, in hollowed out watermelon, or inside half a coconut, hollowed pineapple, etc.
Tehmena's Silly Watermelon Punch!
Ice, 8 cubes
Apple, cut into pieces
2 T. white sugar
1-2 Cups watermelon, cut in pieces
2 T. Soft Drink (like 7 up)
First you need to put the ice, chopped apple, watermelon and sugar in a blender. Blend it smooth but not as smooth as a smoothie. After that pour into serving cups, filling half way. Then fill the top with a soft drink. DRINK EAT AND ENJOY!
Try this recipe for Watermelon Slushie also.
Fruit Salad
1/4 Cup peach slices
1/4 Cup pineapple slices
1/4 Cup raspberries
1/4 Cup black berries
2 slices of fresh watermelon
Cut fruit in slices or chunks and combine into a serving bowl for an easy fruit salad.
Watermelon Cones
Ingredients:
Ice cream cake cones
Cream cheese frosting
Blueberries or chopped strawberries
Seedless watermelon
Sprinkles
Directions:
Using regular cake cones fill the bottom of each cone with a tablespoon of cream cheese frosting. Then place a spoonful of blueberries over the frosting. Using an ice cream scoop, place a scoop of seedless watermelon over the berries. Add sprinkles on top for fun and festivity. You'll have a healthy, delicious and adorable treat kids ask for again and again. Great for birthday parties, 4th of July or anytime.
Watermelon Madness
Recipe by
Nina
2 C. chopped seedless watermelon
1/4 C milk
2 C ice cubes
1/4 tsp vanilla extract
Blend together until smooth. Add a mint sprig on top for a garnish.
Watermelon Slice Snack
Up your watermelon snack with this idea!
Watermelon slice
yogurt
sliced bananas
berries
nuts or granola, optional
Add a spoonful of yogurt to a watermelon slice and add sliced fruit. Garnish with a sprinkle of nuts if desired or granola.
Kids Cooking Video Fun: Watermelon Jack o Lantern
Share your food facts and recipes
Do you have a food facts or recipe to share?
Reader's Submitted Recipes
Click below to see contributions from other visitors to this page...

Watermelon Bites Not rated yet
Prep time: 25 minutes Cook time: 5 minutes Serves: 4-6 Ingredients: 8 oz. cream cheese, softened 8 oz. Feta, crumbled 3 T. half & half 1/3 c. balsamic …
Frozen Watermelon Slush Not rated yet
Prep time: 10 minutes (+ time to freeze watermelon) Serves: 4-6 Ingredients: 6 c. seedless watermelon, cut into small chunks and frozen 2 c. water …
---
Related Food Facts Pages:
~
Apple
, ~
Apricot
, ~
Avocado
, ~
Banana
, ~
Berry
, ~
Cherry
, ~
Coconut
, ~
Cranberry
, ~
Dates
, ~
Figs
, ~
Grapefruit
, ~
Grapes
, ~
Kiwi
, ~
Lemon and Limes
, ~
Mango
, ~
Melon
, ~
Orange
, ~
Papaya
, ~
Peach
, ~
Pear
, ~
Pineapple
, ~
Plums
, ~
Tomato
, ~
Artichoke
, ~
Asparagus
, ~
Beets
, ~
Broccoli
, ~
Brussels Sprouts
, ~
Cabbage
, ~
Carrot
, ~
Cauliflower
, ~
Celery
, ~
Corn,
~
Cucumber
, ~
Eggplant
, ~
Garlic
, ~
Green Beans
, ~
Kale
, ~
Lettuce/Salad Greens,
~
Mushrooms,
~
Okra
, ~
Onion
, ~
Parsnip,
~
Peas,green
, ~
Peppers,
~
Potato
, ~
Radish
, ~
Rhubarb
, ~
Spinach
, ~
Summer Squash and Zucchini
, ~
Sweet Potato
, ~
Turnip
, ~
Winter Squash, including Pumpkins
, ~
Beans
, ~
Eggs
, ~
Nuts
, ~
Seeds
, ~
Meat
, ~
Dairy
, ~
Grains
---
Follow Kids Cooking Activities