Eggplant Facts
Eggplant facts and general information about eggplants.
Kids Cooking Activities Teaching Materials
Make teaching easier with our activities and recipes compiled in theme sets and books with an easy to read format
Perfect for teaching!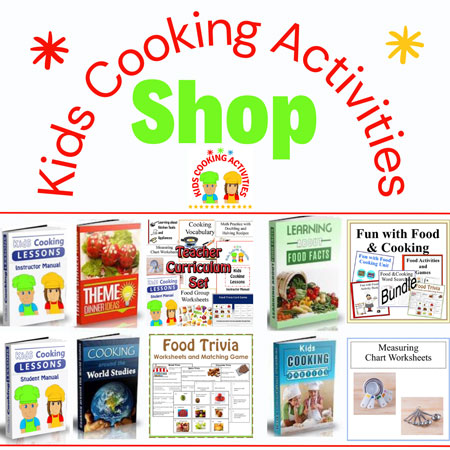 ~This post may contain affiliate links and I'll earn a small commission if you shop through them. There is no extra cost to you. This is how we help support our family and continue to bring you amazing content. To learn more see the
affiliates disclosure here.
~
Eggplant is Available:
Eggplant grow in Mid summer through fall
How Does an Eggplant Grow:
Eggplants grow from a seed planted in the garden
What to Look for When Buying Eggplant:
The flesh should bounce back when pressed softly. Eggplants should be heavy for their size, have a good purple color with no blemishes or bruises.
Eggplant Storage Tips:
Store unwrapped in a cool place or in a plastic bag in your refrigerator such as the crisper drawer.
How to Cook Eggplant:
Bake, grilled, sauted cooked in casseroles. Try chopping a peeled eggplant in squares cook in a pan and add to pasta dishes. Bake whole eggplant in oven and use meat for dishes or dips.
Nutrition Facts:
Eggplant is high in fiber, folate, potassium, Vitamin C, and Vitamin K. They are low in calories.
Eggplant Facts- Recipe:
Eggplant Parmigana
2 Cups spaghetti sauce
2 small eggplants
1 large egg
2 tablespoons water
2/3 Cup dry bread crumbs
1/3 Cup grated Parmesan cheese
1/4 Cup olive or vegetable oil
2 Cups shredded mozzarella cheese (8 ounces)
In flat pie plate or baking dish mix egg and water together. In another flat pie plate or dish mix together bread crumbs and parmesan cheese. Peel eggplant and have adult cut in slices. Dip eggplant slices first in egg mixture then in bread crumbs. Place in baking dish. Continue until bottom of dish is covered. Pour half of spaghetti sauce over top and sprinkle with mozzarella cheese. Repeat with remaining egg plant slices then sauce and mozzarella cheese. Layering in the pan until filled. Bake at 350 for 25 minutes or until bubbly.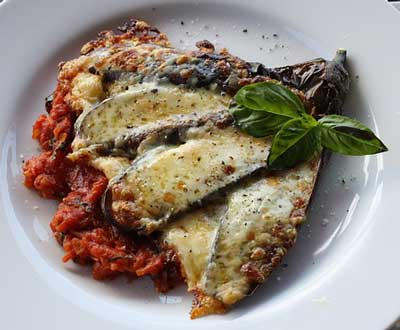 Eggplant Melts
Ratatouille
Use eggplant and vegetables to make ratatouille, then watch the Disney movie to go with it.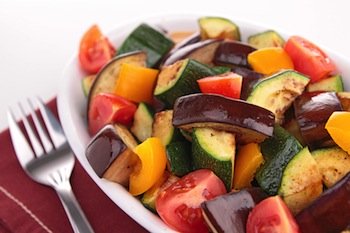 Eggplant Fries
1 medium eggplant
½ Cup milk
1 egg
1 Cup Italian bread crumbs
3 Tablespoons olive oil
pasta sauce
Peel eggplants and chop off ends. Cut eggplant into sticks and soak in ice water about 30 minutes. Meanwhile in flat dish mix milk and egg together. In another flat dish or pie plate spread bread crumbs. After chilled, dip eggplant sticks into milk mixture. Then bread crumbs to coat. Place in baking casserole dish. Chill 30 minutes. Have an adult fry in oil about 10 minutes until golden or bake at 375 degrees for 15-20 minutes until crispy. Serve with pasta sauce for dipping.
Try grilling your eggplant.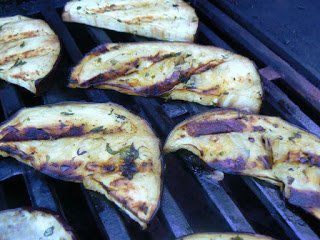 Baba Ghanoush Recipe
Try this
Baba Ghanoush recipe
This Middle Eastern recipe has a unique twist with a touch of peanut butter for those kids who love peanut butter perhaps that will entice them to give it a try.
Kids Cooking Video: Eggplant Frittata
Share your food facts and recipes
Do you have a food facts or recipe to share?
---
Related Food Facts Pages:
~
Apple
, ~
Apricot
, ~
Avocado
, ~
Banana
, ~
Berry
, ~
Cherry
, ~
Coconut
, ~
Cranberry
, ~
Dates
, ~
Figs
, ~
Grapefruit
, ~
Grapes
, ~
Kiwi
, ~
Lemon and Limes
, ~
Mango
, ~
Melon
, ~
Orange
, ~
Papaya
, ~
Peach
, ~
Pear
, ~
Pineapple
, ~
Plums
, ~
Tomato
, ~
Artichoke
, ~
Asparagus
, ~
Beets
, ~
Broccoli
, ~
Brussels Sprouts
, ~
Cabbage
, ~
Carrot
, ~
Cauliflower
, ~
Celery
, ~
Corn,
~
Cucumber
, ~
Eggplant
, ~
Garlic
, ~
Green Beans
, ~
Kale
, ~
Lettuce/Salad Greens,
~
Mushrooms,
~
Okra
, ~
Onion
, ~
Parsnip,
~
Peas,green
, ~
Peppers,
~
Potato
, ~
Radish
, ~
Rhubarb
, ~
Spinach
, ~
Summer Squash and Zucchini
, ~
Sweet Potato
, ~
Turnip
, ~
Winter Squash, including Pumpkins
, ~
Beans
, ~
Eggs
, ~
Nuts
, ~
Seeds
, ~
Meat
, ~
Dairy
, ~
Grains
---
Follow Kids Cooking Activities