Meat Facts
Meat facts and general information about meat.
Kids Cooking Activities Teaching Materials
Make teaching easier with our activities and recipes compiled in theme sets and books with an easy to read format
Perfect for teaching!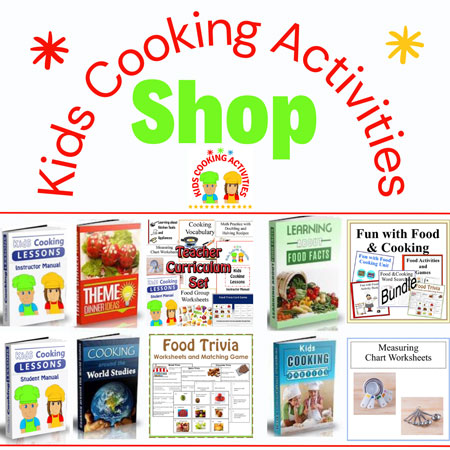 ~This post may contain affiliate links and I'll earn a small commission if you shop through them. There is no extra cost to you. This is how we help support our family and continue to bring you amazing content. To learn more see the
affiliates disclosure here.
~
Where Does Meat Come From:
Meat includes fish, beef, poultry, pork, and wild game.
Beef includes steak, beef roast, ground hamburger.
Pork includes ham, pork chops, pork roast, bacon, sausage.
Poultry includes chicken, duck, turkey and other birds.
Why We Need Meat in Our Diet:
Meat provides protein and other nutrients our bodies need.
Some Tips For Choosing Meat:
Pick meat that is lean and cut off excess fat before using.
Some Tips for Cooking Meat:
Cooking meat and fish dishes is best for you when baked, grilled or broiled and not fried. I love using a George Foreman Grill
for cooking meat.
How Much Meat Do We Need in Our Diet:
5 oz. a day, about the size of the palm of your hand.
Meat Storage and Handling Tips:
Store meat in fridge or wrapped tightly in the freezer. Never leave meat out for long periods of time. Make sure you wash counters and any dishes and utensils well after touching raw meat.
Kids Cooking Video: Tex Mex Ground Beef Skillet Recipe
Meat Facts- Recipes for Meat Dishes
If you need recipes for meat dishes visit
our Easy Kids Meals page
for ideas.
Meatloaf
How to Make Meatballs
Casseroles
Shepherds Pie
Best Lasagna
Pork
Chicken
Fish
Beef
Ham
Soups
Beef Boats
400g mince meat/ ground meat
1 carrot, grated
1/2 brown onion, chopped
2 cloves garlic, crushed
1/3 Cup soy sauce
long bread stick
Divide bread stick into three, then cut down center of bread stick and dig out most of the white bread so your left with all but the crust.
Cook onion til brown then add mince. Then after mince is brown add carrot and soy sauce.
Place meat in breadstick and top with avocado, sliced tomato and grated cheese.
Then place under grill until cheese is melted.
Simple and delicious!
Taco Salad
by Taylor (United States)
You Need:
Taco Shells, Crunched up into chips
Lettuce
Tomatoes
Hamburger Meat, Cooked with seasonings
Cheese, Shredded
Refried Beans
Mexican Salsa
Get a grown up to cook the hamburger meat. Get out a large plate, then place the crunched up taco shells on the bottom. Next, put Lettuce, Tomatoes, Refried beans, and cheese onto the chips. Next put the salsa on top of the salad, finally stick the salad in the microwave for 45 seconds. Get out of microwave and enjoy.
Chicken Stilton and Ham Roll
by Natasha (fleetwood)
Get 2 chicken breasts then flatten them out on top of cling film, with a rolling pin.
Then put some Stilton cheese in the middle and carefully roll it up.
When rolled up wrap the bacon around the rolled up chicken breast.
Cook on 160 degrees C or 350 F for 35 minutes.
Finally take it out of the oven and EAT IT !
YUM YUM YUM
Meat Cooking Ideas
Share your food facts and recipes
Do you have a food facts or recipe to share?
---
Related Food Facts Pages:
~
Apple
, ~
Apricot
, ~
Avocado
, ~
Banana
, ~
Berry
, ~
Cherry
, ~
Coconut
, ~
Cranberry
, ~
Dates
, ~
Figs
, ~
Grapefruit
, ~
Grapes
, ~
Kiwi
, ~
Lemon and Limes
, ~
Mango
, ~
Melon
, ~
Orange
, ~
Papaya
, ~
Peach
, ~
Pear
, ~
Pineapple
, ~
Plums
, ~
Tomato
, ~
Artichoke
, ~
Asparagus
, ~
Beets
, ~
Broccoli
, ~
Brussels Sprouts
, ~
Cabbage
, ~
Carrot
, ~
Cauliflower
, ~
Celery
, ~
Corn,
~
Cucumber
, ~
Eggplant
, ~
Garlic
, ~
Green Beans
, ~
Kale
, ~
Lettuce/Salad Greens,
~
Mushrooms,
~
Okra
, ~
Onion
, ~
Parsnip,
~
Peas,green
, ~
Peppers,
~
Potato
, ~
Radish
, ~
Rhubarb
, ~
Spinach
, ~
Summer Squash and Zucchini
, ~
Sweet Potato
, ~
Turnip
, ~
Winter Squash, including Pumpkins
, ~
Beans
, ~
Eggs
, ~
Nuts
, ~
Seeds
, ~
Meat
, ~
Dairy
, ~
Grains
---
Follow Kids Cooking Activities