Pear Facts
Pear facts and general information about pears.
Kids Cooking Activities Teaching Materials
Make teaching easier with our activities and recipes compiled in theme sets and books with an easy to read format
Perfect for teaching!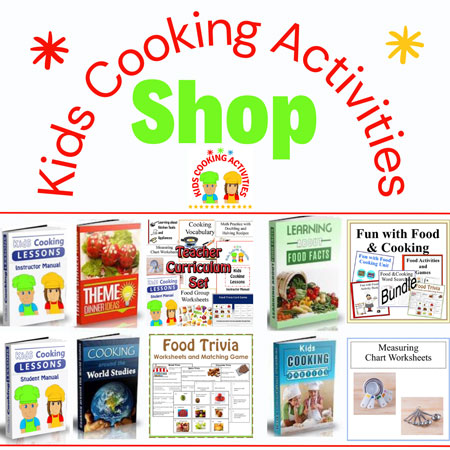 ~This post may contain affiliate links and I'll earn a small commission if you shop through them. There is no extra cost to you. This is how we help support our family and continue to bring you amazing content. To learn more see the
affiliates disclosure here.
~
Pears are Available:
Pears' natural peak season is August - October
How Do Pears Grow:
Pears grow on trees as they are a fruit.
They are often picked before they are ripe and ripen off the tree.
What to Look for When Buying a Pear:
Pear should be a little soft when touched. Avoid pears that have dark spots, are shriveled or have soft spots.
Pear Facts- Storage Tips:
Allow pears to ripen at room temperature.
How to Cook Pears:
Use as you would chopped apples in dessert recipes. Serve with cheeses, nuts or chocolate. Eat as is. They're great alongside ham or pork.
Pear Nutrition Facts:
Pears are high in fiber, potassium and Vitamin C. One serving size is one medium size pear.
Pear Facts- Recipes
Ham and Pear Croissant
In a croissant layer ham slices, cheese slices and fresh sliced pears. Toast in toaster oven or place in microwave 20 seconds until cheese is melted.
Walnut Pear Salad
by Debbie
4 pears
1/2 Cup honey
6 Cups salad greens
3 Tablespoons olive oil
1 Cup toasted walnuts, chopped or pine nuts
1 Cup shredded cheese
* Chopped beets or other vegetables
Toast walnuts on a baking sheet for several minutes in a 375 degree oven. Cool while you are making salad.
Cut pears into pieces. Drizzle with honey and set aside. Add greens to serving bowl. Drizzle with olive oil. Toss pears, walnuts and cheese with greens and serve immediately.
Maple Apricot Pear Chops
4 boneless pork chops
1/2 teaspoon salt
1/2 teaspoon pepper
1 Tablespoon olive oil
1/4 Cup butter
3 Tablespoons maple syrup
3 Tablespoons apricot preserves
1/2 teaspoon dried basil
3 pears, cored and sliced thin
Fry pork chops in skillet in oil and butter until browned on both sides. Stir in syrup and apricot preserves. Add pear slices and allow to cook for several minutes until syrup thickens.
Cream Cheese Stuffed Pears
Small pkg of strawberry cream cheese
1 teaspoon brown sugar
1 pear, unpeeled and halved
1 teaspoon lemon juice
In a bowl have child blend cream cheese and brown sugar. Have adult cut pear in half and scoop seeds out. Child can spread lemon juice over pear and then spread cream cheese mixture on top.
Pear and Nut Pizzas
Pizza crust
Chopped pears
Chopped nuts
Brown sugar
Nutmeg
Vanilla yogurt
Bake pizza crust until golden brown. Layer pears and nuts over top of pizza and sprinkle with brown sugar and nutmeg. Bake at 350 degrees for 10 minutes or until sugar is melted. Serve a slice of pizza with a scoop of vanilla yogurt on the side.
Pear Pancakes
Try adding chopped or pureed pears to your pancake batter for a little extra nutrition and flavor.
Kids Cooking Video: Poached Pears
Share your food facts and recipes
Do you have a food facts or recipe to share?
---
Related Food Facts Pages:
~
Apple
, ~
Apricot
, ~
Avocado
, ~
Banana
, ~
Berry
, ~
Cherry
, ~
Coconut
, ~
Cranberry
, ~
Dates
, ~
Figs
, ~
Grapefruit
, ~
Grapes
, ~
Kiwi
, ~
Lemon and Limes
, ~
Mango
, ~
Melon
, ~
Orange
, ~
Papaya
, ~
Peach
, ~
Pear
, ~
Pineapple
, ~
Plums
, ~
Tomato
, ~
Artichoke
, ~
Asparagus
, ~
Beets
, ~
Broccoli
, ~
Brussels Sprouts
, ~
Cabbage
, ~
Carrot
, ~
Cauliflower
, ~
Celery
, ~
Corn,
~
Cucumber
, ~
Eggplant
, ~
Garlic
, ~
Green Beans
, ~
Kale
, ~
Lettuce/Salad Greens,
~
Mushrooms,
~
Okra
, ~
Onion
, ~
Parsnip,
~
Peas,green
, ~
Peppers,
~
Potato
, ~
Radish
, ~
Rhubarb
, ~
Spinach
, ~
Summer Squash and Zucchini
, ~
Sweet Potato
, ~
Turnip
, ~
Winter Squash, including Pumpkins
, ~
Beans
, ~
Eggs
, ~
Nuts
, ~
Seeds
, ~
Meat
, ~
Dairy
, ~
Grains
---
Follow Kids Cooking Activities