Orange Facts
Orange facts and general information about oranges which includes different varieties such as mandarin, tangerines, etc.
Kids Cooking Activities Teaching Materials
Make teaching easier with our activities and recipes compiled in theme sets and books with an easy to read format
Perfect for teaching!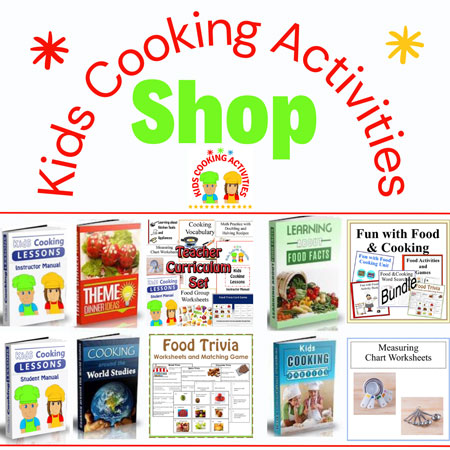 ~This post may contain affiliate links and I'll earn a small commission if you shop through them. There is no extra cost to you. This is how we help support our family and continue to bring you amazing content. To learn more see the
affiliates disclosure here.
~
Oranges are Available:
Different varieties are available throughout the year.
How Do Oranges Grow:
Oranges grow on trees in warm weather climates.
What to Look For When Buying Oranges:
Pick oranges that are heavy for their size. Heavier means more juice. The color can vary with different varieties.
Orange Storage Tips:
Store at room temperature.
How to Cook with Oranges:
Peel and eat as is. Squeeze the juice to drink or use in marinades or sauces.
Orange Nutrition Facts:
Oranges are a great source of Vitamin C. They also contain folate, fiber, and antioxidants. One medium orange is one serving.
Orange Recipes
Honey Orange Chicken
1 Cup bread crumbs
1 Tablespoon grated orange peel
1 teaspoon salt
¼ teaspoon pepper
Combine together and set aside for crumb mixture.
Chicken breasts
½ Cup orange juice
½ Cup honey
½ Cup chicken broth
¼ Cup butter
1 teaspoon cornstarch
Dip chicken in orange juice and roll in crumb mix. In greased pan place chicken and bake at 350 degrees for 45 minutes. Combine remaining ingredients and heat until butter is melted. Pour over chicken and bake 15 minutes.
Orange Creamsicle Smoothie
Cranberry Orange Fruit Salad
2 (.6 oz.) pkgs. sugar free cherry gelatin
2 Cups boiling water
1 (12 oz.) pkg. dried cranberries
1 apple, peeled, cored and chopped
1 orange, peeled, seeded and chopped
1 (1 in.) piece of orange peel
1 (20 oz.) can crushed unsweetened pineapple with juice
Place the gelatin into a mixing bowl.
Add the boiling water and stir until the gelatin is dissolved.
Add the cranberries, apple, orange, orange peel and pineapple with the juice.
Stir until all the ingredients are blended together well and allow the mixture to cool slightly.
Place the gelatin mixture in batches into the blender and blend until coarsely chopped.
Transfer the mixture to a 13X9 pan.
Refrigerate 3 hours or until firm.
Share your food facts and recipes
Do you have a food facts or recipe to share?
Reader's Submitted Recipes
Click below to see contributions from other visitors to this page...

Orange Tarts

For the crust: 3/4 cup milk 2 cups flour 1 egg 4 tablespoons sugar …
---
Related Food Facts Pages:
~
Apple
, ~
Apricot
, ~
Avocado
, ~
Banana
, ~
Berry
, ~
Cherry
, ~
Coconut
, ~
Cranberry
, ~
Dates
, ~
Figs
, ~
Grapefruit
, ~
Grapes
, ~
Kiwi
, ~
Lemon and Limes
, ~
Mango
, ~
Melon
, ~
Orange
, ~
Papaya
, ~
Peach
, ~
Pear
, ~
Pineapple
, ~
Plums
, ~
Tomato
, ~
Artichoke
, ~
Asparagus
, ~
Beets
, ~
Broccoli
, ~
Brussels Sprouts
, ~
Cabbage
, ~
Carrot
, ~
Cauliflower
, ~
Celery
, ~
Corn,
~
Cucumber
, ~
Eggplant
, ~
Garlic
, ~
Green Beans
, ~
Kale
, ~
Lettuce/Salad Greens,
~
Mushrooms,
~
Okra
, ~
Onion
, ~
Parsnip,
~
Peas,green
, ~
Peppers,
~
Potato
, ~
Radish
, ~
Rhubarb
, ~
Spinach
, ~
Summer Squash and Zucchini
, ~
Sweet Potato
, ~
Turnip
, ~
Winter Squash, including Pumpkins
, ~
Beans
, ~
Eggs
, ~
Nuts
, ~
Seeds
, ~
Meat
, ~
Dairy
, ~
Grains
---
Follow Kids Cooking Activities