Grapes Facts
Grapes facts and general information about grapes.
Kids Cooking Activities Teaching Materials
Make teaching easier with our activities and recipes compiled in theme sets and books with an easy to read format
Perfect for teaching!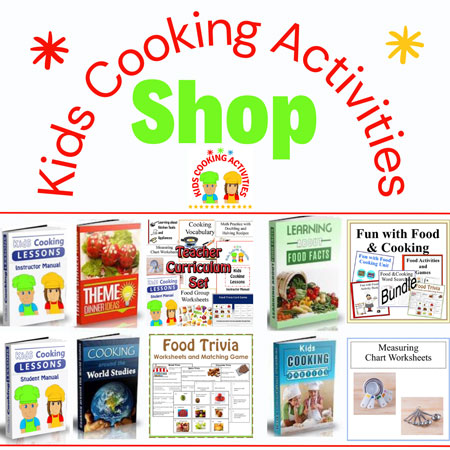 ~This post may contain affiliate links and I'll earn a small commission if you shop through them. There is no extra cost to you. This is how we help support our family and continue to bring you amazing content. To learn more see the
affiliates disclosure here.
~
Grapes are Available:
Grapes grown July- September
How do Grapes Grow:
Grapes grow on vines in a cluster.
What to Look for When Buying Grapes:
Buy grapes that are firm and good color for their variety. Avoid soft or browned grapes.
Grape Storage Tips:
Store unwashed in the fridge. Wash when ready to use or eat.
How to Cook with Grapes:
Grapes are a great snack. They can be used in salads, made into juice, dried. Try
grape fruit leather
for a healthy snack.
Grapes Nutrition Facts:
Grapes are full of Vitamin K and Vitamin C. They also have fiber, iron and calcium.
Grape Recipes:
Pork Salad Croissant Sandwich
2 Cup diced cooked pork
1 medium tart apple, diced
½ Cup halved red grapes
½ Cup mayonnaise
slivered almonds as many as desired
salt and pepper
Combine ingredients together and serve in croissants.
Grape and Nut Dessert
4 oz. cream cheese, softened
4 oz. sour cream
1/4 Cup white vinegar
1/2 teaspoon vanilla extract
1 Tablespoon brown sugar
2 lbs. grapes
2 Tablespoons pecans, chopped or whole
In mixing bowl, blend cream cheese, sour cream, vinegar, vanilla and brown sugar together. Toss in grapes and nuts and stir gently to coat.
Add a small container of this to your kids lunch boxes!
Grape Cooking Video: Grape Salad
Cottage Cheese and Grape Toast
Share your food facts and recipes
Do you have a food facts or recipe to share?
---
Related Food Facts Pages:
~
Apple
, ~
Apricot
, ~
Avocado
, ~
Banana
, ~
Berry
, ~
Cherry
, ~
Coconut
, ~
Cranberry
, ~
Dates
, ~
Figs
, ~
Grapefruit
, ~
Grapes
, ~
Kiwi
, ~
Lemon and Limes
, ~
Mango
, ~
Melon
, ~
Orange
, ~
Papaya
, ~
Peach
, ~
Pear
, ~
Pineapple
, ~
Plums
, ~
Tomato
, ~
Artichoke
, ~
Asparagus
, ~
Beets
, ~
Broccoli
, ~
Brussels Sprouts
, ~
Cabbage
, ~
Carrot
, ~
Cauliflower
, ~
Celery
, ~
Corn,
~
Cucumber
, ~
Eggplant
, ~
Garlic
, ~
Green Beans
, ~
Kale
, ~
Lettuce/Salad Greens,
~
Mushrooms,
~
Okra
, ~
Onion
, ~
Parsnip,
~
Peas,green
, ~
Peppers,
~
Potato
, ~
Radish
, ~
Rhubarb
, ~
Spinach
, ~
Summer Squash and Zucchini
, ~
Sweet Potato
, ~
Turnip
, ~
Winter Squash, including Pumpkins
, ~
Beans
, ~
Eggs
, ~
Nuts
, ~
Seeds
, ~
Meat
, ~
Dairy
, ~
Grains
---
Follow Kids Cooking Activities