Cranberry Facts
Cranberry facts and general information about cranberries.
Kids Cooking Activities Teaching Materials
Make teaching easier with our activities and recipes compiled in theme sets and books with an easy to read format
Perfect for teaching!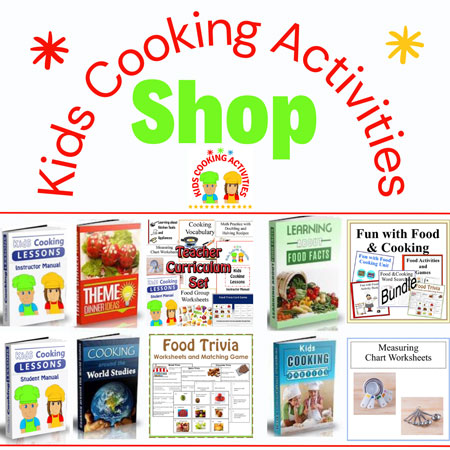 ~This post may contain affiliate links and I'll earn a small commission if you shop through them. There is no extra cost to you. This is how we help support our family and continue to bring you amazing content. To learn more see the
affiliates disclosure here.
~
Cranberries are Available:
Cranberries are harvested in September and October.
How do Cranberries Grow:
Cranberries can be found on vines that grow low to the ground. Where they are grown is called cranberry bogs. The evergreen vines blossom in white flowers and 2 months later the cranberries are ready for harvesting.
What to Look for When Buying Cranberries:
Cranberry varieties are light red—dark red in color.
Cranberry Storage Tips:
Store in fridge or freeze.
How to Cook Cranberries:
Many people drink cranberry juice or cook with cranberries at Thanksgiving and autumn time.
Usually cranberries are cooked with sugar because they are very sour or bitter. To use cranberries rinse berries off and use in any cranberry recipes. Add dried cranberries
to quick breads, cereal or granola.
Cranberry Nutrition Facts:
Cranberries are high in calcium, magnesium, potassium, Vitamin A and Vitamin B.
Cranberry Facts- Recipes:
Cranberry Sauce
4 Cups fresh or frozen cranberries (1 pound)
2 Cups sugar
2 Cups water
In saucepan heat sugar and water and bring to a boil. Boil 5 minutes. Add in washed and clean cranberries. Boil another 5 minutes. Cranberries should pop open. Take off stove and pour into serving dish. Chill in refrigerator several hours before serving.
Fruit Cocktail
2 apples, cored, peeled and cut in chunks
1 1/2 Cups pineapple chunks
1 orange, peeled and sectioned
1/2-1 Cup dried cranberries
1 tablespoon lemon juice
2 Cups apple juice
2 cinnamon sticks
1/2 teaspoon grated lemon peel
1/2 teaspoon salt
In a saucepan, add lemon juice and apple juice. Bring to a boil. Then add cinnamon sticks, lemon peel and salt. Stir together. Bring back to a boil. Reduce to low and continue to cook 10 minutes. Set aside and cool 15-20 minutes.
Meanwhile, in a mixing bowl, place apples, pineapple and orange. Take cinnamon sticks out of juice mixture, then pour juice over fruit. Chill several hours. Serve.
Cranberry Cheese Appetizer
Ingredients:
¼ pecans, finely chopped
1 T. fresh rosemary leaves, finely chopped
¼ c. dried cranberries, chopped
1 4-oz. goat cheese log
3 T. honey, divided
crackers or bread slices
Directions:
Combine chopped pecans, rosemary leaves, and cranberries in a medium bowl and stir to combine. Set aside.
Place the goat cheese log in a rimmed bowl and drizzle 2 tablespoons honey on top. Turn the cheese log while spreading the honey evenly across the entire surface with clean fingers.
Sprinkle the chopped pecan mixture across the top of the honey-covered cheese log and gently press into the surface until the entire log is evenly coated.
Drizzle the remaining honey on a small serving platter or round plate as shown to hold the cheese log in place. Position the goat cheese in the center and sprinkle any remaining cranberry-pecan mixture around it. Serve immediately with your choice of crackers or bread slices.
Cranberry Coconut Bars
Crust:
1 1/4 Cups flour
3/4 Cup oats
1/2 teaspoon baking soda
1/2 teaspoon salt
3/4 Cup butter, melted or softened
1 Cup brown sugar
1 Cup toasted walnuts or pecans
1 Cup shredded coconut
To prepare crust, stir together flour, oats, baking soda and salt in mixing bowl. In separate bowl, cream together butter and brown sugar until smooth. Add to flour mixture and blend together. Mix in pecans and coconut with a mixing spoon. Set aside 1 1/2 cups of crust mixture. In baking pan, press remaining crust ingredients in bottom of 13 x9 inch greased pan. Bake crust for 10 minutes at 400 degrees.
Filling:
2 Cups fresh or frozen cranberries
1 Cup dried cranberries
2/3 Cup white sugar
1/2 Cup water
In saucepan add cranberries, fresh and dried, sugar and water. Cook 10-15 minutes stirring often. Cranberries will pop open and you can mash them while you are stirring. Cool slightly then pour over crust. Sprinkle the reserved 1 1/2 crust mixture you set aside earlier on top of the cranberries. Bake at 400 degrees 15-20 minutes until crust is golden brown.
Kids Cooking Video: Cranberry Bread
Share your food facts and recipes
Do you have a food facts or recipe to share?
---
Related Food Facts Pages:
~
Apple
, ~
Apricot
, ~
Avocado
, ~
Banana
, ~
Berry
, ~
Cherry
, ~
Coconut
, ~
Cranberry
, ~
Dates
, ~
Figs
, ~
Grapefruit
, ~
Grapes
, ~
Kiwi
, ~
Lemon and Limes
, ~
Mango
, ~
Melon
, ~
Orange
, ~
Papaya
, ~
Peach
, ~
Pear
, ~
Pineapple
, ~
Plums
, ~
Tomato
, ~
Artichoke
, ~
Asparagus
, ~
Beets
, ~
Broccoli
, ~
Brussels Sprouts
, ~
Cabbage
, ~
Carrot
, ~
Cauliflower
, ~
Celery
, ~
Corn,
~
Cucumber
, ~
Eggplant
, ~
Garlic
, ~
Green Beans
, ~
Kale
, ~
Lettuce/Salad Greens,
~
Mushrooms,
~
Okra
, ~
Onion
, ~
Parsnip,
~
Peas,green
, ~
Peppers,
~
Potato
, ~
Radish
, ~
Rhubarb
, ~
Spinach
, ~
Summer Squash and Zucchini
, ~
Sweet Potato
, ~
Turnip
, ~
Winter Squash, including Pumpkins
, ~
Beans
, ~
Eggs
, ~
Nuts
, ~
Seeds
, ~
Meat
, ~
Dairy
, ~
Grains
---
Follow Kids Cooking Activities