Lime and Lemon Facts
Lemon facts and lime facts with general information about lemons and limes.
Kids Cooking Activities Teaching Materials
Make teaching easier with our activities and recipes compiled in theme sets and books with an easy to read format
Perfect for teaching!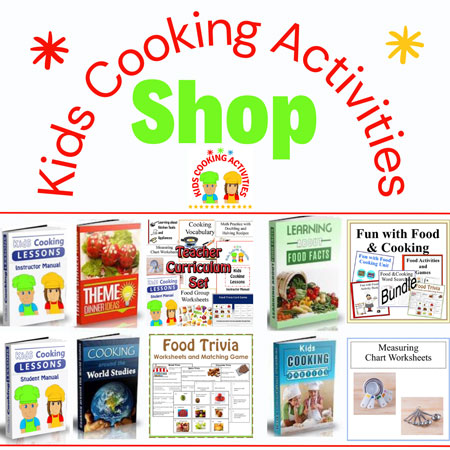 ~This post may contain affiliate links and I'll earn a small commission if you shop through them. There is no extra cost to you. This is how we help support our family and continue to bring you amazing content. To learn more see the
affiliates disclosure here.
~
Lemons are Available:
Lemons and limes are available Year round
How do Lemons Grow:
Lemons grow on a tree as well as limes in warm weather areas.
What to Look for When Buying Lemons and Limes:
Look for lemons that are bright yellow and firm. Avoid soft or mushy fruit when you press them. Look for the same qualities in a lime but a nice green color.
Lemon Storage Tips:
Store at room temperature or in the fridge for longer storage. Use lemons or lime soon after cutting.
How to Cook with Lemons and Limes:
Use the grated peel in cooking or baking. Use juice to prevent apples and other fruits from turning brown. Use juice for sauces, in marinating meats or in salad dressings. Make lemonade with a mixture of lemons and limes.
Lemon and Lime Nutrition:
Lemons and limes are a great source for Vitamin C.
Lemon Recipes:
Lemon Marinade
1/4 Cup oil
1/4 Cup lemon juice
2 Tablespoons soy sauce
2 Tablespoons honey
2 cloves garlic, minced
Mix all ingredients together. Use as a marinade for meats. It's also great for marinating chicken.
Lemon Raspberry Bread
See this
lemon raspberry bread recipe here.

Lemony Pudding
1/4 Cup of butter
2 lemons, grated rind and juice only
1/2 Cup sugar
2 egg, separated
1/2 C self rising flour
1- 1/4 Cup of milk
Allow the oven to preheat to 375 degrees and lightly grease a 5 cup baking dish.
Beat together the butter, lemon rind and sugar until light and fluffy.
Add the egg yolks and the flour and beat until well blended.
Gradually beat in the lemon juice and milk, beating as you add.
The mixture will look curdled.
Fold the egg whites into the mixture,
Spoon the mixture into the prepared baking dish.
Place the baking dish into a slightly larger roasting pan.
Fill the roasting pan with enough water to reach half way up the sides of the baking dish.
Bake 45 minutes or until the top is golden brown.
Try this
Lime Cookie Recipe

Lemon Bread Recipe
Another
lemon bread recipe topped with icing here.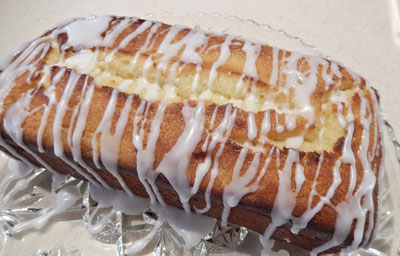 Lemon Cooking Video- Twists on Lemonade Recipes
Share your food facts and recipes
Do you have a food facts or recipe to share?
Reader's Submitted Recipes
Click below to see contributions from other visitors to this page...

Lemon Bread Recipe Not rated yet
Blend: 1 cup sugar 2 eggs 6 Tablespoons butter Add: Grated rind of one lemon Add: 1/2 Cup milk 1 1/2 Cup flour 1 tsp. Baking powder 1/4 …
---
Related Food Facts Pages:
~
Apple
, ~
Apricot
, ~
Avocado
, ~
Banana
, ~
Berry
, ~
Cherry
, ~
Coconut
, ~
Cranberry
, ~
Dates
, ~
Figs
, ~
Grapefruit
, ~
Grapes
, ~
Kiwi
, ~
Lemon and Limes
, ~
Mango
, ~
Melon
, ~
Orange
, ~
Papaya
, ~
Peach
, ~
Pear
, ~
Pineapple
, ~
Plums
, ~
Tomato
, ~
Artichoke
, ~
Asparagus
, ~
Beets
, ~
Broccoli
, ~
Brussels Sprouts
, ~
Cabbage
, ~
Carrot
, ~
Cauliflower
, ~
Celery
, ~
Corn,
~
Cucumber
, ~
Eggplant
, ~
Garlic
, ~
Green Beans
, ~
Kale
, ~
Lettuce/Salad Greens,
~
Mushrooms,
~
Okra
, ~
Onion
, ~
Parsnip,
~
Peas,green
, ~
Peppers,
~
Potato
, ~
Radish
, ~
Rhubarb
, ~
Spinach
, ~
Summer Squash and Zucchini
, ~
Sweet Potato
, ~
Turnip
, ~
Winter Squash, including Pumpkins
, ~
Beans
, ~
Eggs
, ~
Nuts
, ~
Seeds
, ~
Meat
, ~
Dairy
, ~
Grains
---
Follow Kids Cooking Activities