Cherry Facts
Cherry facts and general information about cherries.
Kids Cooking Activities Teaching Materials
Make teaching easier with our activities and recipes compiled in theme sets and books with an easy to read format
Perfect for teaching!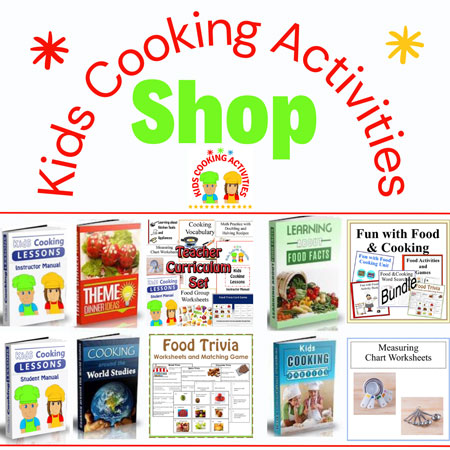 ~This post may contain affiliate links and I'll earn a small commission if you shop through them. There is no extra cost to you. This is how we help support our family and continue to bring you amazing content. To learn more see the
affiliates disclosure here.
~
Cherries are Available:
The Bing cherry or the sweet cherry is available late spring while the sour cherry is available in June-July.
How do Cherries Grow:
Cherries grow on trees like apples or plums.
What to Look for When Buying:
Buy cherries that are dark in color and plump. For sour cherries they should be a true red color. The stems should be attached and avoid any with brown spots.
Storage Tips:
Store in fridge. But do not wash before storing. Wash before using.
How to Cook:
Pit Cherries with a cherry pitter, paper clip or safety pin. Eat as is, add to fruit salads, sauces or toppings.
Cherry Nutrition Facts:
Cherries are high in antioxidants, a great source of beta carotene, Vitamin C and Vitamin E.
Cherry Recipes:
Cherry Pancakes or Crepes
Prepare your favorite crepes or pancake recipe.
Cherry filling:
1/4 Cup sugar
1 Cup sour cream
1 jar canned sour cherries, or 2-3 Cups fresh pitted cherries mixed with 3/4 Cup-1 Cup sugar
Mix together sugar and sour cream until sugar is dissolved. Set aside.
For Crepes
: Set one crepe on a board, put a row of cherries across the crepe, in the lower 1/4th. Roll the crepe from the bottom over the cherries and to the top. Drizzle with sugar/sour cream mixture.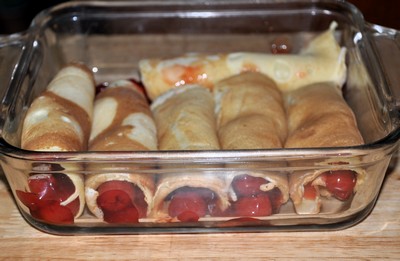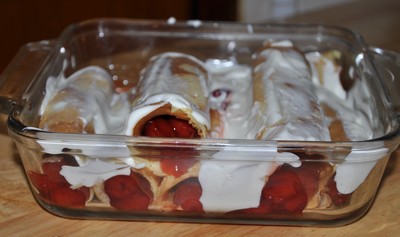 For Pancakes: Top pancakes with cherries and drizzle sour cream mixture over top.

Cherry Coke
Submitted by one of our readers.
It's really not coke, but its cherry mushed up or "cherry juice."
Just smash up or squeeze out cherry juice from cherries! Yum, they taste delicious and drink. Some people don't like MUNCHING on them, so they can drink them. That's what I do.

So instead of calling it Cherry Juice, I add the "coke" in it just to liven things up and trick people when they ask for a drink.

They ask for a drink and I say, "How about some cherry coke?" I come back with cherry juice and they look at me as if I'm weird because that's not what they intended!
Cherry Cooking Video
Share your food facts and recipes
Do you have a food facts or recipe to share?
Reader's Submitted Recipes
Click below to see contributions from other visitors to this page...

Black Forest Cake

Ingredients you will need : 100 grams/ 1/2 Cup butter 1 cup powdered sugar 2 eggs 1 cup flour 2 teaspoons cocoa powder 1 tea spoon vanilla essence …
Upside Down Cakes Not rated yet
Children love to layer the fruit and see how it turns out after baking and turned upside down. Pineapple Upside Down Cake ½ cup butter 1 ½ cups firmly …
Cherry ripe slice Not rated yet
Ingredients: 2 cups flour 2 tbsp cocoa 1 1/2 cups coconut 250 grams butter 1 cup sugar 200 grams dark chocolate 25 grams copha Cherry filling …
---
Related Food Facts Pages:
~Apple, ~Apricot, ~Avocado, ~Banana, ~Berry, ~Cherry, ~Coconut, ~Cranberry, ~Dates, ~Figs, ~Grapefruit, ~Grapes, ~Kiwi, ~Lemon and Limes, ~Mango, ~Melon, ~Orange, ~Papaya, ~Peach, ~Pear, ~Pineapple, ~Plums, ~Tomato, ~Artichoke, ~Asparagus, ~Beets, ~Broccoli, ~ Brussels Sprouts, ~Cabbage, ~Carrot, ~Cauliflower, ~Celery, ~Corn, ~Cucumber, ~Eggplant, ~Garlic, ~Green Beans, ~Kale, ~Lettuce/Salad Greens, ~Mushrooms, ~Okra, ~Onion, ~Parsnip, ~Peas,green, ~Peppers, ~Potato, ~Radish, ~Rhubarb, ~Spinach, ~Summer Squash and Zucchini, ~Sweet Potato, ~ Turnip, ~ Winter Squash, including Pumpkins, ~Beans, ~Eggs, ~Nuts, ~Seeds, ~ Meat, ~ Dairy, ~ Grains
---
Follow Kids Cooking Activities