Cabbage Facts
Cabbage facts and general information about cabbage.
Kids Cooking Activities Teaching Materials
Make teaching easier with our activities and recipes compiled in theme sets and books with an easy to read format
Perfect for teaching!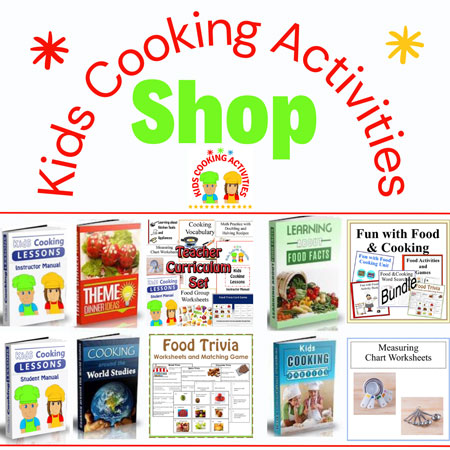 ~This post may contain affiliate links and I'll earn a small commission if you shop through them. There is no extra cost to you. This is how we help support our family and continue to bring you amazing content. To learn more see the
affiliates disclosure here.
~
Cabbage is Available:
Usually depending on where you live they are available to buy year round. It is said that autumn cabbage is the sweetest.
How does it Grow:
From a seed planted in a garden, see picture above.
What to Look for When Buying:
Cabbage should be heavy with crisp leaves not limp. It should have no apparent bruises or cuts.
Storage Tips:
Store in plastic bag, in the crisper, in the refrigerator.
How to Cook:
Chopped in soups, salads, egg rolls, stir fry, use the leaves for cabbage rolls.
Nutrition Facts:
Cabbage is high in Vitamin K, Vitamin C, Vitamin A and folate. One serving is 1 Cup raw cabbage which equals about 1/2 cup when it is cooked.
Recipes:
Stuffed Egg Rolls
1 package egg roll wrappers
1 pound ground beef, cooked
5 Tablespoons soy sauce
2-3 carrots, shredded
2 green onions
1 medium head cabbage, finely shredded
2 cloves garlic, minced
1 cup vegetable oil to fry egg rolls
Have adult cut cabbage, onions and shred carrots. Child can add vegetables, beef, soy sauce and garlic in a bowl. Mix together until well blended. Place about a tablespoon of mixture on each egg roll wrapper and roll up. Tuck in sides while you roll. Fry in oil until crispy.
Cabbage Rolls
How to make cabbage rolls.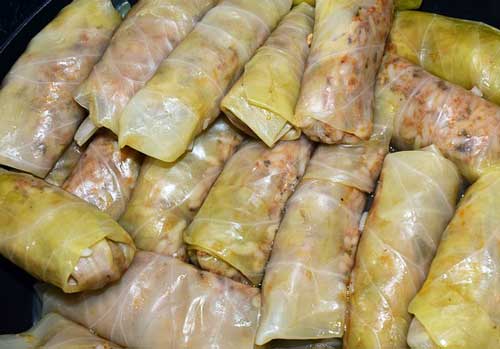 Cabbage Salad
1 Cabbage, cut up
1 pkg. chicken flavor Ramen noodles, crunched up (save the seasoning for the dressing)
slivered almonds
sunflower seeds
3-4 carrots, shredded
Cut up cabbage. Let kids crunch up noodles with a kitchen mallet. Then toss salad together in bowl. Mix salad dressing together and pour dressing over top. Serve immediately. **If you think your kids would like the salad better without the dressing leave it without.
Dressing:
3 Tablespoon white vinegar
3 Tablespoon white sugar
½ Cup oil
seasoning from Ramen noodles
1/8 teaspoon salt
1/8 teaspoon pepper
Cabbage Cooking Video: Roasted Cabbage Wedges
Share your food facts and recipes
Do you have a food facts or recipe to share?
Reader's Submitted Recipes
Click below to see contributions from other visitors to this page...

Steamed Sausage and Cabbage Not rated yet
1 cabbage 1 pkg Eckrich sausage 1/2 onion 1 tsp. Italian seasoning In large steamer, cut cabbage in quarters and cut the quarters in half. Add sausage …
---
Related Food Facts Pages:
~
Apple
, ~
Apricot
, ~
Avocado
, ~
Banana
, ~
Berry
, ~
Cherry
, ~
Coconut
, ~
Cranberry
, ~
Dates
, ~
Figs
, ~
Grapefruit
, ~
Grapes
, ~
Kiwi
, ~
Lemon and Limes
, ~
Mango
, ~
Melon
, ~
Orange
, ~
Papaya
, ~
Peach
, ~
Pear
, ~
Pineapple
, ~
Plums
, ~
Tomato
, ~
Artichoke
, ~
Asparagus
, ~
Beets
, ~
Broccoli
, ~
Brussels Sprouts
, ~
Cabbage
, ~
Carrot
, ~
Cauliflower
, ~
Celery
, ~
Corn,
~
Cucumber
, ~
Eggplant
, ~
Garlic
, ~
Green Beans
, ~
Kale
, ~
Lettuce/Salad Greens,
~
Mushrooms,
~
Okra
, ~
Onion
, ~
Parsnip,
~
Peas,green
, ~
Peppers,
~
Potato
, ~
Radish
, ~
Rhubarb
, ~
Spinach
, ~
Summer Squash and Zucchini
, ~
Sweet Potato
, ~
Turnip
, ~
Winter Squash, including Pumpkins
, ~
Beans
, ~
Eggs
, ~
Nuts
, ~
Seeds
, ~
Meat
, ~
Dairy
, ~
Grains
---
Follow Kids Cooking Activities