Fig Facts
Fig facts and general information about figs.
Kids Cooking Activities Teaching Materials
Make teaching easier with our activities and recipes compiled in theme sets and books with an easy to read format
Perfect for teaching!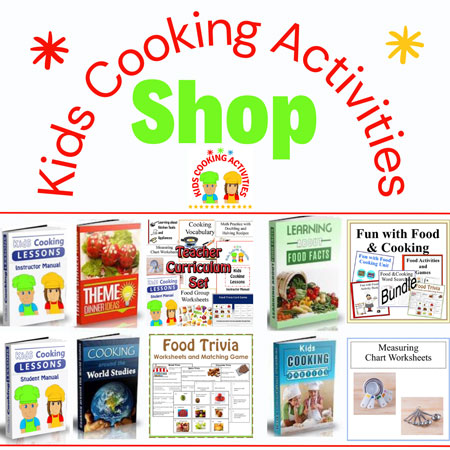 ~This post may contain affiliate links and I'll earn a small commission if you shop through them. There is no extra cost to you. This is how we help support our family and continue to bring you amazing content. To learn more see the
affiliates disclosure here.
~
Figs are Available:
Dependent on where they are growing there is usually a summer crop and an autumn crop.
How Do Figs Grow:
Figs are a fruit and grow on trees.
What to Look For When Buying Figs:
Depending on what type you are buying, figs should be a golden yellow color. However you can find some yellow, green, or brown. They should be soft but not mushy when you touch them.
Fig Storage Tips:
Store in fridge. Figs will not last long once they are bought so eat soon after buying.
How to Cook with Figs:
Eat as is, use in baking quick breads or muffins, or as a fruit dessert. Dried figs taste great added into yogurts or cereals.
If fresh figs are not available in your area, try dried figs from the dried fruit section in your grocery store. They can be chopped up and used in quick breads, cookies or fruit recipes.
Fig Nutrition Facts:
Figs are high in potassium and calcium.
Fig Facts- Recipes:
Stuffed Fresh Figs
Cut stems off figs and scoop a little of the insides out. Stuff inside with yogurt or vanilla pudding.
Fig Jam
3 Cups figs, peeled and chopped
2 Cups brown sugar or honey
2 Tablespoons lemon juice
In a saucepan, cook fig jam for 1 hour. Stir often. Allow to cool slightly and pour into freezeable containers. Place one in the fridge to use now and freeze other containers.
Baked Figs Dessert
In a glass, 11x8 or 8x8, pan place figs, stems down, until pan is completely filled tight. Prick each fig with a fork in several places to let steam out and the sugar juices to drip in. Sprinkle all with brown sugar and lemon juice. Bake at 300 degrees for one hour. You can serve with ice cream, if desired.
Fig Cake
2 Cups sugar
1/2 Cup oil
3 eggs
1-1/2 Cup pureed fresh figs
1 teaspoon cinnamon
1 teaspoon nutmeg
1 teaspoon cloves
1 teaspoon baking soda
1/8 teaspoon salt
2 Cups flour
1/2 Cup milk
1 Cup chopped pecans
In mixing bowl blend sugar, oil and eggs. Have an adult puree figs in blender. Add figs to sugar mixture. Then add cinnamon, nutmeg, cloves, baking soda and salt. Add in flour and milk and stir until well blended. Pour into greased Bundt pan. Bake at 350 degrees for 45 minutes or until toothpick inserted comes out clean.
Fig Nut Brownies
6 oz. Semisweet chocolate
10 Tablespoons butter, cut into chunks
3 eggs
2 teaspoon vanilla
1 ¼ Cup flour
1 ½ Cup sugar
½ teaspoon salt
1 pinch baking powder
1 Cup chopped figs
1/3 Cup chopped nuts
Place butter and chocolate in microwave safe dish and cook in 20 second intervals until melted. Stir until well blended. Pour into mixing bowl. Add eggs, vanilla and sugar. Blend. Then add flour, salt, and baking powder. Mix together. Stir in figs and nuts. Grease 13x9 pan and pour mixture into pan. Bake at 350 degrees for 30 minutes until toothpick inserted comes out clean.
Figs Cooking Video: How to Cook with Figs
Share your fig facts or recipes
Share your food facts and recipes
Do you have a food facts or recipe to share?
---
Related Food Facts Pages:
~
Apple
, ~
Apricot
, ~
Avocado
, ~
Banana
, ~
Berry
, ~
Cherry
, ~
Coconut
, ~
Cranberry
, ~
Dates
, ~
Figs
, ~
Grapefruit
, ~
Grapes
, ~
Kiwi
, ~
Lemon and Limes
, ~
Mango
, ~
Melon
, ~
Orange
, ~
Papaya
, ~
Peach
, ~
Pear
, ~
Pineapple
, ~
Plums
, ~
Tomato
, ~
Artichoke
, ~
Asparagus
, ~
Beets
, ~
Broccoli
, ~
Brussels Sprouts
, ~
Cabbage
, ~
Carrot
, ~
Cauliflower
, ~
Celery
, ~
Corn,
~
Cucumber
, ~
Eggplant
, ~
Garlic
, ~
Green Beans
, ~
Kale
, ~
Lettuce/Salad Greens,
~
Mushrooms,
~
Okra
, ~
Onion
, ~
Parsnip,
~
Peas,green
, ~
Peppers,
~
Potato
, ~
Radish
, ~
Rhubarb
, ~
Spinach
, ~
Summer Squash and Zucchini
, ~
Sweet Potato
, ~
Turnip
, ~
Winter Squash, including Pumpkins
, ~
Beans
, ~
Eggs
, ~
Nuts
, ~
Seeds
, ~
Meat
, ~
Dairy
, ~
Grains
---
Follow Kids Cooking Activities