Peach Facts
Peach facts and general information about peaches which includes nectarines.
Kids Cooking Activities Teaching Materials
Make teaching easier with our activities and recipes compiled in theme sets and books with an easy to read format
Perfect for teaching!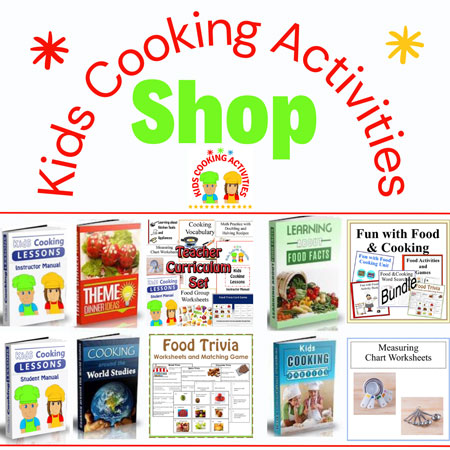 ~This post may contain affiliate links and I'll earn a small commission if you shop through them. There is no extra cost to you. This is how we help support our family and continue to bring you amazing content. To learn more see the
affiliates disclosure here.
~
Peaches are Available:
Peaches are available fresh July- August. They are also available year round frozen or canned.
How Do Peaches Grow:
Peaches grow on trees like apples or pears.
What to Look for When Buying Peaches:
Avoid spots or bruises on peaches. If ripe they should yield slightly when pressed. Nectarines have the same qualities with smooth outer skin.
Peach Storage Tips:
When ripe store in fridge. To ripen, leave out at room temperature.
How to Cook with Peaches:
Blanch peaches to remove skin by placing in boiling water for 2 minutes and then placing in cold water. This will cause the skin to peel right off. Bake in fruit dishes, freeze, can, dry or eat as is.
Peach Nutrition Facts:
One medium peach is one serving. It is full of Vitamin C, Vitamin A, Vitamin K, Vitamin B6, potassium, magnesium, calcium and iron.
Peach Recipes:
Quick Peach Cobbler
Put 1 stick of butter in casserole dish and place in a 350 degree oven until melted.
Mix together in mixing bowl:
1 Cup flour
1 Cup sugar
1 Cup milk
Remove casserole dish from oven and pour in batter.
Add 4 Cups sliced peaches.
Bake at 350 degrees for 40 minutes or until brown.
See another peach cobbler recipe here.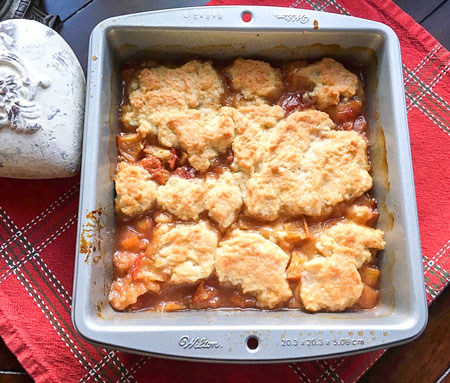 Rose Peachy Punch
by Courtney Winchester,(Forks, Washington)
1 cup of rose petals
2 peaches finely sliced
2 cups of hot water
1 cup of apple juice
Combine all ingredients in a large jug or bowl.
Peaches and Cream Breakfast
1 (15 oz) can of sliced peaches in light syrup, drained well
1 1/2 C of fat free cottage cheese
4 oz. of cream cheese, cubed
Splenda to equal 1 tbsp of sugar
Slice 4 of the peaches very thin and set aside.
Place the remaining peaches into the blender.
Add the cottage cheese and process until well blended.
Add in the cream cheese and Splenda and blend until smooth.
Spoon the mixture into 4 serving cups and garnish with the reserved peach slices.
Makes 4 servings
Spicy Peaches
Try this spicy peaches recipe.

Kids Cooking Video: Peach Bread Pudding
Share your food facts and recipes
Do you have a food facts or recipe to share?
Reader's Submitted Recipes
Click below to see contributions from other visitors to this page...

Spicy Peaches Not rated yet
Ingredients: 1 large can 29 oz. peach slices 2-3 cinnamon sticks 1/4 teaspoon ground cloves 1/2 Cup apple cider vinegar 2/3 Cup brown sugar In a …
---
Related Food Facts Pages:
~
Apple
, ~
Apricot
, ~
Avocado
, ~
Banana
, ~
Berry
, ~
Cherry
, ~
Coconut
, ~
Cranberry
, ~
Dates
, ~
Figs
, ~
Grapefruit
, ~
Grapes
, ~
Kiwi
, ~
Lemon and Limes
, ~
Mango
, ~
Melon
, ~
Orange
, ~
Papaya
, ~
Peach
, ~
Pear
, ~
Pineapple
, ~
Plums
, ~
Tomato
, ~
Artichoke
, ~
Asparagus
, ~
Beets
, ~
Broccoli
, ~
Brussels Sprouts
, ~
Cabbage
, ~
Carrot
, ~
Cauliflower
, ~
Celery
, ~
Corn,
~
Cucumber
, ~
Eggplant
, ~
Garlic
, ~
Green Beans
, ~
Kale
, ~
Lettuce/Salad Greens,
~
Mushrooms,
~
Okra
, ~
Onion
, ~
Parsnip,
~
Peas,green
, ~
Peppers,
~
Potato
, ~
Radish
, ~
Rhubarb
, ~
Spinach
, ~
Summer Squash and Zucchini
, ~
Sweet Potato
, ~
Turnip
, ~
Winter Squash, including Pumpkins
, ~
Beans
, ~
Eggs
, ~
Nuts
, ~
Seeds
, ~
Meat
, ~
Dairy
, ~
Grains
---
Follow Kids Cooking Activities