Lettuce Facts and Salad Greens
Lettuce facts and general information about lettuce and salad greens.
Kids Cooking Activities Teaching Materials
Make teaching easier with our activities and recipes compiled in theme sets and books with an easy to read format
Perfect for teaching!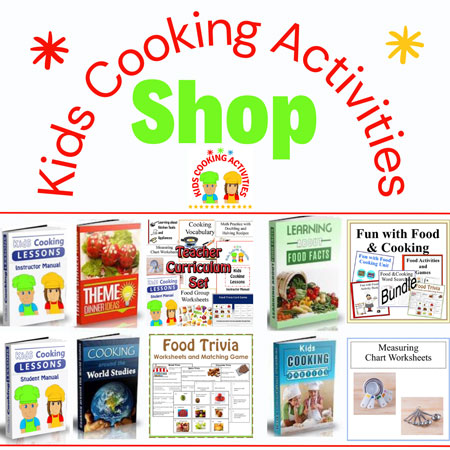 ~This post may contain affiliate links and I'll earn a small commission if you shop through them. There is no extra cost to you. This is how we help support our family and continue to bring you amazing content. To learn more see the
affiliates disclosure here.
~
Lettuce is Available:
Available year round
How Does Lettuce Grow:
See the picture below. Lettuces grow in the garden from a tiny seed.
What to Look for When Buying Lettuce:
Pick lettuces that are crisp and have a good color for their variety.
Lettuce Storage Tips:
Store in refrigerator crisper section.
How to Cook with Lettuce:
Wash your salad greens and use a salad spinner to dry.
Toss lettuce and greens in salads, sandwiches or garnish plates. Greens are not usually cooked but can be.
Lettuce and Salad Greens Nutrition Facts:
Look for salad greens that are darker green in color. Iceberg lettuce has little nutritional value. A 2 cups serving size is high in Vitamin A, Vitamin C and Vitamin K.
Lettuce Recipes:
BLT Salad
6 oz. elbow macaroni, cooked
8 slices bacon, cooked, cut up
l large tomato, cut up
4 Cup lettuce, cut up
Dressing:
1 Cup mayo or salad dressing
1/4 Cup lemon juice
2 teaspoons chicken bouillon
2 teaspoons sugar
Stir together cooked macaroni and chopped tomato in serving bowl. Mix dressing together and pour over macaroni and tomato. Cover and chill. Before serving, stir in lettuce and bacon.
Simple Greens Recipe
Snack Wrap
by Gabbie, California
All of these items are available at your local grocery store. You can make this wrap in under 3 minutes. What you will need:
Lettuce
Tortillas
Philly cream cheese
5 hungry kids (JOKE)
First, lay tortilla on plate. Spread the Philly cream cheese on the tortilla. Wash lettuce and tear it into to reasonable sizes. Roll up, and ENJOY!!!

Lettuce Wrap Recipe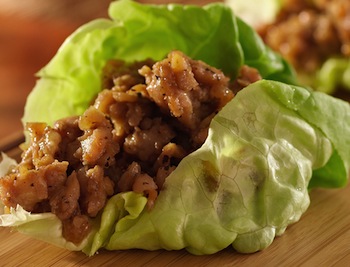 Kids Cooking Video: Lettuce Wraps

Lettuce Cooking Help
Share your food facts and recipes
Do you have a food facts or recipe to share?
---
Related Food Facts Pages:
~
Apple
, ~
Apricot
, ~
Avocado
, ~
Banana
, ~
Berry
, ~
Cherry
, ~
Coconut
, ~
Cranberry
, ~
Dates
, ~
Figs
, ~
Grapefruit
, ~
Grapes
, ~
Kiwi
, ~
Lemon and Limes
, ~
Mango
, ~
Melon
, ~
Orange
, ~
Papaya
, ~
Peach
, ~
Pear
, ~
Pineapple
, ~
Plums
, ~
Tomato
, ~
Artichoke
, ~
Asparagus
, ~
Beets
, ~
Broccoli
, ~
Brussels Sprouts
, ~
Cabbage
, ~
Carrot
, ~
Cauliflower
, ~
Celery
, ~
Corn,
~
Cucumber
, ~
Eggplant
, ~
Garlic
, ~
Green Beans
, ~
Kale
, ~
Lettuce/Salad Greens,
~
Mushrooms,
~
Okra
, ~
Onion
, ~
Parsnip,
~
Peas,green
, ~
Peppers,
~
Potato
, ~
Radish
, ~
Rhubarb
, ~
Spinach
, ~
Summer Squash and Zucchini
, ~
Sweet Potato
, ~
Turnip
, ~
Winter Squash, including Pumpkins
, ~
Beans
, ~
Eggs
, ~
Nuts
, ~
Seeds
, ~
Meat
, ~
Dairy
, ~
Grains
---
Follow Kids Cooking Activities