Dates Facts
Dates facts and general information about dates.
Kids Cooking Activities Teaching Materials
Make teaching easier with our activities and recipes compiled in theme sets and books with an easy to read format
Perfect for teaching!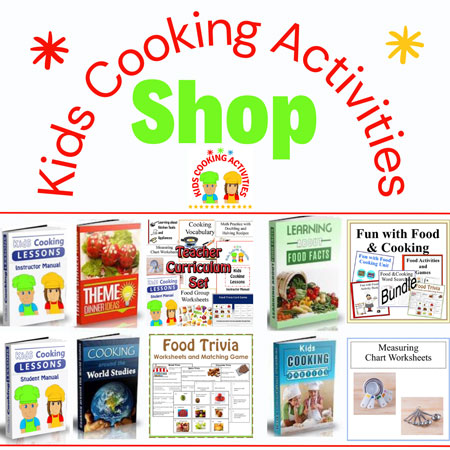 ~This post may contain affiliate links and I'll earn a small commission if you shop through them. There is no extra cost to you. This is how we help support our family and continue to bring you amazing content. To learn more see the
affiliates disclosure here.
~
Dates are Available:
Late fall-winter
How do Dates Grow:
On a palm tree where the weather is very warm. The tree grows tall reaching up to the sun.
What to Look for When Buying Dates:
Dates should be plump. Avoid dates that are hard.
Dates Storage Tips:
Store dates wrapped up in fridge so they don't absorb other odors. They also freeze well.
How to Cook with Dates:
Add chopped dates
in cereals, granola bars, cookies, or eat as is.
Date Nutrition Facts:
Dates are high in Vitamin C, Iron, Potassium and Fiber.
Recipe: Date Granola Bars
2 Cups cornflakes cereal
2/3 Cup quick-cooking oats
1/4 Cup bran cereal
1/2 Cup chopped pitted dates
1/2 Cup crunchy peanut butter
4 egg whites
5 teaspoons sugar
2 teaspoons vanilla
Add cornflakes, oats, dates and bran together in bowl. In separate bowl stir peanut butter, egg whites, sugar and vanilla together until well blended. Pour egg white mixture over cereal mixture and pour into greased 8x11 pan or 13x9. Smooth mixture flat. Bake at 350 degrees about 10 minutes until browned. Let cool and cut into bars.
Fruit Smoothie
Ingredients:
4 Raspberries
4 Strawberries
1/2 Banana
50 ml milk
5 ice cubes
Blend in a smoothie blender on mix for 15 seconds and smooth for 30 seconds. Drink immediately.
Date Snack Balls
Try these
snack ball recipes with dates inside.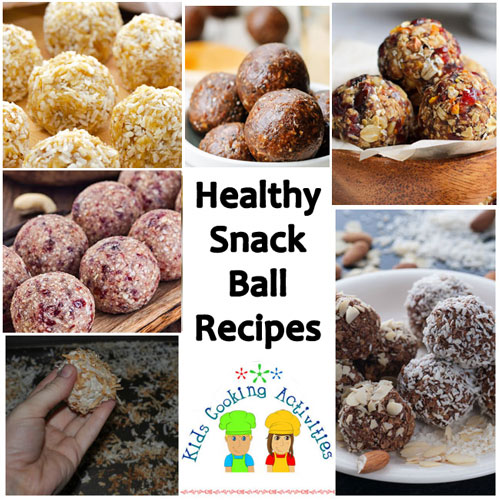 Halva: a tasty treat
by Mrs. Reschly and Daughters, (Pittsburgh, PA.)
1 cup tahini (sesame butter)- you can make your own by grinding fresh sesame seeds in a strong blender.
1/4 cup date paste- you can also make your own by smooching the dates into a paste
2 tbs. honey
Simply mix the three ingredients either in a food processor or by hand. Pat into a pan lined with plastic wrap and cover with plastic wrap. Refrigerate overnight, cut and enjoy! It is sweet and very healthy!
Share your food facts and recipes
Do you have a food facts or recipe to share?
---
Related Food Facts Pages:
~
Apple
, ~
Apricot
, ~
Avocado
, ~
Banana
, ~
Berry
, ~
Cherry
, ~
Coconut
, ~
Cranberry
, ~
Dates
, ~
Figs
, ~
Grapefruit
, ~
Grapes
, ~
Kiwi
, ~
Lemon and Limes
, ~
Mango
, ~
Melon
, ~
Orange
, ~
Papaya
, ~
Peach
, ~
Pear
, ~
Pineapple
, ~
Plums
, ~
Tomato
, ~
Artichoke
, ~
Asparagus
, ~
Beets
, ~
Broccoli
, ~
Brussels Sprouts
, ~
Cabbage
, ~
Carrot
, ~
Cauliflower
, ~
Celery
, ~
Corn,
~
Cucumber
, ~
Eggplant
, ~
Garlic
, ~
Green Beans
, ~
Kale
, ~
Lettuce/Salad Greens,
~
Mushrooms,
~
Okra
, ~
Onion
, ~
Parsnip,
~
Peas,green
, ~
Peppers,
~
Potato
, ~
Radish
, ~
Rhubarb
, ~
Spinach
, ~
Summer Squash and Zucchini
, ~
Sweet Potato
, ~
Turnip
, ~
Winter Squash, including Pumpkins
, ~
Beans
, ~
Eggs
, ~
Nuts
, ~
Seeds
, ~
Meat
, ~
Dairy
, ~
Grains
---
Follow Kids Cooking Activities