Sweet Potato Facts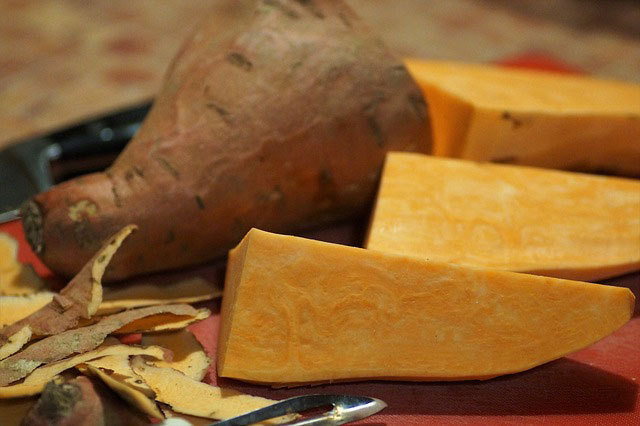 Sweet potato facts and general information about sweet potatoes.
Kids Cooking Activities Teaching Materials
Make teaching easier with our activities and recipes compiled in theme sets and books with an easy to read format
Perfect for teaching!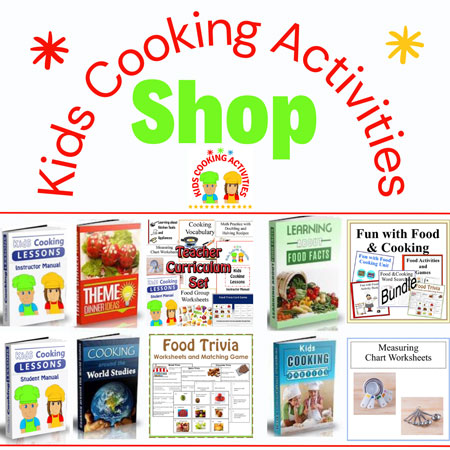 ~This post may contain affiliate links and I'll earn a small commission if you shop through them. There is no extra cost to you. This is how we help support our family and continue to bring you amazing content. To learn more see the
affiliates disclosure here.
~
Sweet potatoes are Available:
Available year round but harvested in the fall.
How Do Sweet Potatoes Grow:
Sweet potatoes grow on trailing vines that cover the ground.
What to Look for When Buying:
Select sweet potatoes that are firm with bright skin. They should have no spots or mold.
Sweet Potato Facts- Storage Tips:
Store in a cool dark dry place
How to Cook Sweet Potatoes:
Bake in oven as you would white potatoes, steam, grill or microwave.
Nutrition Facts:
Sweet potatoes are high in fiber, protein, Vitamin A, Vitamin C, iron and calcium.
Sweet Potatoes Recipe:
Baked Sweet Potatoes
Prepare 2 sweet potatoes by piercing skin with a fork in several places. Bake for 45 minutes at 400 degrees. Let cool slightly so you can handle the potatoes. Cut in half lengthwise. Take sweet potatoes out leaving the shell intact. Place potatoes in bowl and mash with a fork. Add butter, dash of cinnamon and heavy cream. Mix together and taste. If taste is as desired re-stuff potatoes. Warm up again in the oven. Serve with steak or other meat.
Sweet Potatoes Dish
A twist on a sweet potato dish that the kids can help adults put together. You can prepare this a day ahead and bake 25 minutes before serving dinner.
5 large sweet potatoes
1/2 Cup butter melted
1/4 Cup + 2 Tablespoons brown sugar
2 large eggs
2/3 Cup orange juice
2 teaspoons cinnamon
1/2 teaspoon salt
1/4 teaspoon nutmeg
1/3 Cup flour
1/4 Cup oats
1/3 Cup chopped nuts
Adult can bake sweet potatoes by placing in a baking dish. Poke with forks several times. Bake at 400 degrees for 45 minutes or until fork can be inserted in middle easily. Let cool.

Cut sweet potatoes in half and kids can scoop out pulp into bowl. Kids can do the remaining of the recipe with a little adult's help. Add butter and 2 tablespoons of brown sugar to sweet potatoes. Beat together. Add in eggs, orange juice, 1 1/2 teaspoon cinnamon, salt and nutmeg. Mix until well blended and smooth. Pour into baking dish. Flatten sweet potatoes smooth.

In separate bowl, mix together topping ingredients, flour, oats and nuts. Then add in 1/4 Cup sugar and 1/2 teaspoon cinnamon. Mix together then blend in 1/4 cup butter with fork or clean hands. Mixture should be crumbly. Sprinkle over top of sweet potatoes. Adult can bake in 350 degree oven for 25 minutes.
Sweet Potato Chips
2 large sweet potatoes, peeled and sliced thin
(If you have a slicer attachment to your mixer slice potatoes thin with that, if not use a knife, and slice thin.)
Kids can help peel potatoes. Then have an adult slice potatoes thin. Meanwhile kids can prepare a large bowl of ice water. Place potato slices in water for 1 hour. After 1 hour, drain on paper towels and pat dry. Adult should fry in oil that is 375 degrees for several minutes, until golden brown. Kids can pat dry and sprinkle with salt at this point.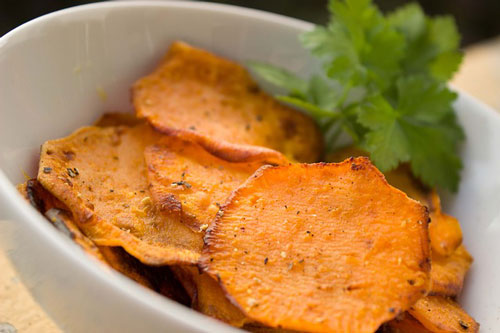 Sweet Potato Ice Cream
by Sam, China
2 baked sweet potatoes
3 cups vanilla ice cream
4 graham crackers
Mix the sweet potatoes along with the ice cream. Let chill. Crush the graham cracker. Spread evenly across the top to add crust. Chill. Enjoy
Apple Sweet Potato Casserole
2 sweet potatoes
2 apples, cored and sliced into circles
1/2 Cup orange juice
1/4 Cup brown sugar
1 teaspoon cornstarch
sprinkle of cloves
2 Tablespoons pecans, chopped
Bake sweet potatoes until tender. Cool and cut into chunks. Spray a baking dish with cooking spray. Place sweet potato pieces in bottom of baking dish. Layer apple rings over top of potatoes. Keep layering apples and potatoes.

In a pan, add orange juice, brown sugar, cornstarch and cloves. Heat until mixture thickens. Pour over sweet potatoes and apples. Top with pecan pieces. Bake at 350 degrees for 15 minutes or until apples are tender.

Sweet Potato Facts- Kids Cooking Video: Sweet Potato Pie
Share your food facts and recipes
Do you have a food facts or recipe to share?
Reader's Submitted Recipes
Click below to see contributions from other visitors to this page...

Sweet potato and marshmallow puff pastry Not rated yet
INGREDIENTS: 1 can of mashed sweet potatoes (or fresh) 1/2 cup marshmallows 1 tube puff pastry dough 1 cup brown sugar 1/2 cup flour 1/4 cup nuts …
---
Related Food Facts Pages:
~
Apple
, ~
Apricot
, ~
Avocado
, ~
Banana
, ~
Berry
, ~
Cherry
, ~
Coconut
, ~
Cranberry
, ~
Dates
, ~
Figs
, ~
Grapefruit
, ~
Grapes
, ~
Kiwi
, ~
Lemon and Limes
, ~
Mango
, ~
Melon
, ~
Orange
, ~
Papaya
, ~
Peach
, ~
Pear
, ~
Pineapple
, ~
Plums
, ~
Tomato
, ~
Artichoke
, ~
Asparagus
, ~
Beets
, ~
Broccoli
, ~
Brussels Sprouts
, ~
Cabbage
, ~
Carrot
, ~
Cauliflower
, ~
Celery
, ~
Corn,
~
Cucumber
, ~
Eggplant
, ~
Garlic
, ~
Green Beans
, ~
Kale
, ~
Lettuce/Salad Greens,
~
Mushrooms,
~
Okra
, ~
Onion
, ~
Parsnip,
~
Peas,green
, ~
Peppers,
~
Potato
, ~
Radish
, ~
Rhubarb
, ~
Spinach
, ~
Summer Squash and Zucchini
, ~
Sweet Potato
, ~
Turnip
, ~
Winter Squash, including Pumpkins
, ~
Beans
, ~
Eggs
, ~
Nuts
, ~
Seeds
, ~
Meat
, ~
Dairy
, ~
Grains
---
Follow Kids Cooking Activities