Grapefruit Facts
Grapefruit facts and general information about grapefruits.
Kids Cooking Activities Teaching Materials
Make teaching easier with our activities and recipes compiled in theme sets and books with an easy to read format
Perfect for teaching!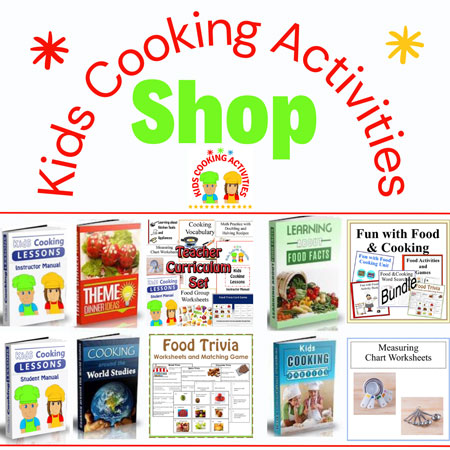 ~This post may contain affiliate links and I'll earn a small commission if you shop through them. There is no extra cost to you. This is how we help support our family and continue to bring you amazing content. To learn more see the
affiliates disclosure here.
~
Grapefruit is Available:
Grapefruit is available year round but their peak season is January—April.
How Does Grapefruit Grow:
Grapefruit grows in grape-like clusters on a tree in warm tropical areas.
What to Look for When Buying:
They should be heavy for their size, smooth skin and firm. Grapefruit should have a bright skin and no blemishes.
Storage Tips:
You can store on the counter but if stored in the fridge it will last up to 2 weeks.
How to Cook with Grapefruit:
Cut the fruit out of the segments and use them in salads, eat as is or drink the juice. Use a
grapefruit spoon
to get the grapefruit out.
Nutrition Facts:
Grapefruit are full of Vitamin C, antioxidants, folic acid and potassium.
Grapefruit Recipes:
Spinach Fruit Salad
fresh spinach or romaine lettuce
fruit of choice: sliced strawberries, sliced kiwi, avocado slices, grapefruit sections (save juice for dressing)
Toss salad together and serve with dressing below.
Fruit dressing:
1/3 Cup oil
1 teaspoon orange peel
½ Cup grapefruit juice
2 Tablespoons sugar
2 Tablespoons lemon juice
½ teaspoon mustard
¼ teaspoon Salt
Stir ingredients together in bowl or salad shaker.
Grapefruit Salad
pink grapefruit, cut in segments
orange, cut in segments
pear, sliced
1/4 Cup olive oil
1/4 Cup orange juice
1 Tablespoon honey
In serving bowl, add cut fruit. In a cup, stir together oil, orange juice and honey. Blend together and drizzle over fruit. Serve immediately.
Fruit and Yogurt Mix
by Hyrum
1 banana,cut in slices
1 apple, diced
1 orange, peeled, sectioned
1 grapefruit, sectioned
2 kiwis, peeled and sliced
Small container yogurt
4 teaspoons of brown sugar
Cut fruit and dump it into a bowl. Add brown sugar and yogurt. Stir. Chill until ready to serve.
Top a yogurt parfait with grapefruit.
Grapefruit Cooking Video
Share your food facts and recipes
Do you have a food facts or recipe to share?
---
Related Food Facts Pages:
~
Apple
, ~
Apricot
, ~
Avocado
, ~
Banana
, ~
Berry
, ~
Cherry
, ~
Coconut
, ~
Cranberry
, ~
Dates
, ~
Figs
, ~
Grapefruit
, ~
Grapes
, ~
Kiwi
, ~
Lemon and Limes
, ~
Mango
, ~
Melon
, ~
Orange
, ~
Papaya
, ~
Peach
, ~
Pear
, ~
Pineapple
, ~
Plums
, ~
Tomato
, ~
Artichoke
, ~
Asparagus
, ~
Beets
, ~
Broccoli
, ~
Brussels Sprouts
, ~
Cabbage
, ~
Carrot
, ~
Cauliflower
, ~
Celery
, ~
Corn,
~
Cucumber
, ~
Eggplant
, ~
Garlic
, ~
Green Beans
, ~
Kale
, ~
Lettuce/Salad Greens,
~
Mushrooms,
~
Okra
, ~
Onion
, ~
Parsnip,
~
Peas,green
, ~
Peppers,
~
Potato
, ~
Radish
, ~
Rhubarb
, ~
Spinach
, ~
Summer Squash and Zucchini
, ~
Sweet Potato
, ~
Turnip
, ~
Winter Squash, including Pumpkins
, ~
Beans
, ~
Eggs
, ~
Nuts
, ~
Seeds
, ~
Meat
, ~
Dairy
, ~
Grains
---
Follow Kids Cooking Activities